I try to keep my day to day makeup quite minimalistic and I'm hardly the type to bother with touch ups. In fact, you will rarely (if ever) find me in the bathroom touching up my makeup. It's a combination of sheer luck – being born with well-behaved skin, but also using the right combination of products that stay on for the hours I spend at the office.
However, as a beauty blogger, busy Millenial "girl on the go", I am conscious of the fact that I often need to drop everything at the last minute to go to events, meet friends, go networking, and many other occasions that might require me to look presentable beyond 5pm. To ensure I always have things handy, I keep a "go bag" for my makeup stash that I always keep at the office and today I'm sharing with you what I keep in them!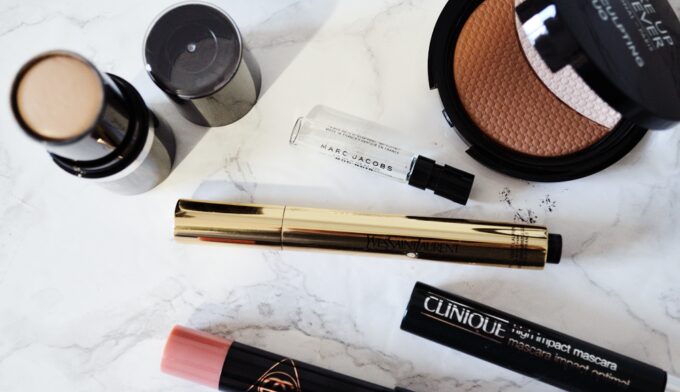 I like to keep products that are as multipurpose as they come. For any complexion touch-ups, I rely heavily on my Make Up For EverUltra HD Invisible Cover Stick foundation which can be used as a concealer or foundation, depending on how much you apply on the skin. The stick format makes it super easy to apply (no brush needed!) and the formula is easy to blend on the skin. The product just melts on the skin once the body heat comes in contact with it!
I've been reaching a lot for my Make Up For EverPro Sculpting Duo which comes with a highlighter and bronzer. The highlighter can be a little too much to wear for everyday, but for those special occasions (especially at night!) the colour just makes your cheekbones pop in the pretties way possible without going too heavy on the product. Since I always apply bronzers on both my cheeks and slightly under the cheekbone to contour, this shade is conveniently the right balance to wear as both without being too reddish or too orange!
I've been reaching more and more for the YSLTouche Eclat recently – I wasn't understanding the hype (and I still don't to be perfectly honest) but I love the way it highlights the cheekbones when I don't need too much glitter going. It gives me that subtle strobe effect and it's very flattering without being too obvious or noticeable. I'll occasionally use this as a brightener under the eyes but seriously prefer this to highlight the cheekbones for that subtle look!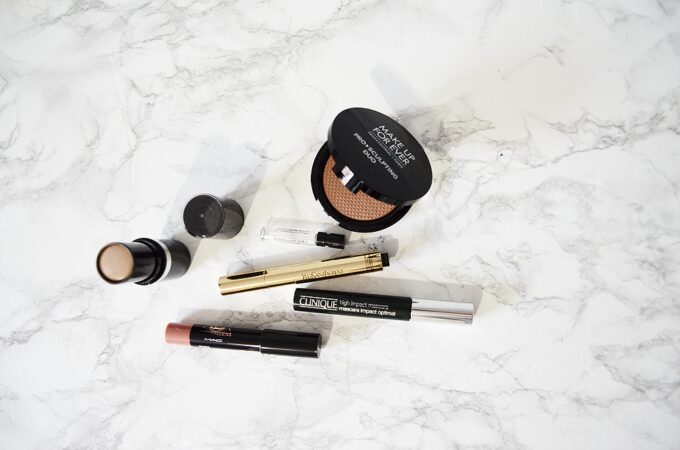 A pop of mascara pulls the look together and makes it seem you barely did anything (and you barely did!) to look that put together after 8 hours at the office. My current favourite is the Clinique High Impact mascara because this lengthens and volumizes my lashes the way Make Up For Ever'sSmokey Extravagance and Too FacedBetter than Sex mascara do without being as expensive. This formula is one I've been reaching for a lot lately and I highly recommend it if you are in the market for something new.
The MAC Patentpolish is my staple lip product of the moment – it gives colour, hydration and comfort in one swipe! This was all I brought to South Africa earlier this year and I couldn't help but realize how much I fell in love with it! My favourite shade is Revved Up which is part of the permanent range – if you've loved Shy Girl, you'll like this one as well!
A mini vial of perfume is a must-have. These days I've been obsessed with Marc Jacobs Dot which I didn't expect to work on me. I get so many compliments when I wear it – I was so taken aback! It really strikes the perfect balance of feminine elegance and floral crispness that's perfect to wear during the warmer summer months!
Although I try not to wear too much makeup on an everyday basis, I keep my emergency go back well-stocked!
What do you usually keep in your makeup bag?
---
Disclaimer:
This post features product(s) provided for editorial consideration. All opinions are my own. For more information about my review policy, please
click here
.
---