I haven't tried out too many NARS complexion products so I had to give the NARS Natural Radiant Longwear Foundation  a try given how popular it is. I always love writing foundation reviews as they are some of the most popular posts on the blog, and helpful posts I am looking up. 
Foundations are one of those products that really can make or break your makeup routine, and having a few good staples takes years of trial and error too. So here's to hoping that I can provide some information that is helpful for you!
The NARS Natural Radiant Longwear Foundation is only the third foundation from NARS I've tried. I tried the super popular NARS Sheer Glow and Sheer Matte but didn't find it sufficiently impressive to keep coming back and repurchasing it.
I opted for the shade Punjab and it appears to be the perfect match despite Sephora recommending Gobi. For ease of reference, I've listed my comparable foundation shades in other brands towards the end of this post.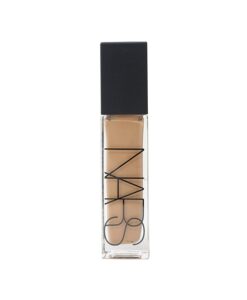 The foundation comes in a frosted glass square bottle that makes it impractical for actually travelling with but sufficiently impressive for your vanity at home. The foundation itself has a thick, creamy consistency that makes this foundation an excellent full-coverage product.
Right off the bat, I was a bit concerned by how thick the foundation was and I did find it takes a bit to properly be blended. The trick is using a denser kabuki-brush to really work the product into your skin.
The foundation dries down matte has a flat finish on my normal-dry skin. It's helpful to have some bronzer/blush to add a bit more definition and colour to your face.
The coverage of this foundation is really top notch and will not have any troubles hiding any discoloration or redness on the skin. It hides textures and any uneveness quite well too so generally speaking, this feels like one of those really all-rounded foundation.
I do find, that despite the "all day" claim in the name of the product, this foundation does like to get patchy quicker than most. Despite setting with a powder and setting spray, I find things got really patchy around the nose and chin area after a few hours.
And this is even when I'm spending a whole day at the office. I don't normally have any issues with foundation separating like this so it was disappointing considering how expensive this foundation is.
This is also not a foundation I would trust for those special occasions despite how fantastic it looks right after application. Although I take pretty good care of my skin, I noticed the foundation settling around the nose area and laugh lines quite a bit.
This is a fairly high maintenance foundation and one that needs a bit of touchups more frequently than I wished. It also doesn't leave your face with that effortless-looking finish. It's also not a foundation I would trust to wear during the more humid/hotter months as I believe this would easily melt and get all patchy quickly.
I usually lean towards light-medium to medium shades with golden or olive undertone. In MAC colouring, I wear NC25. For some additional reference, I wear the following shades in other brands:
The NARS Natural Radiant Longwear Foundation reminded me exactly why its foundations/complexion products haven't topped my list ever. It's a pretty high-maintenance product and considering its price, I was expecting quite a bit more in terms of the quality.
It's a bit disappointing to be frank as the foundation could have so much potential and it's so close to being there too.
Have you tried the NARS Natural Radiant Longwear Foundation? What are your experiences with NARS complexion products?
Check also: