I hadn't expected holiday sets to become available in-stores as early as September. When they did become available, I was pretty disappointed to see the selection from Sephora Favorites range – it's always ones I check out first because of the value for your bucks as well thanks to its fairly diverse selection of products.
In the past, I hoard the Sephora Favorites Superstars Set (here are reviews for the 2017, 2016, 2015, 2013), Glow for it Kit, and the Lashstash To Go. But I was thrilled to see that there may be hope in the form of the Mystery Kits that they also came out with, costing less than $20, which is considerably far more affordable than the other kits.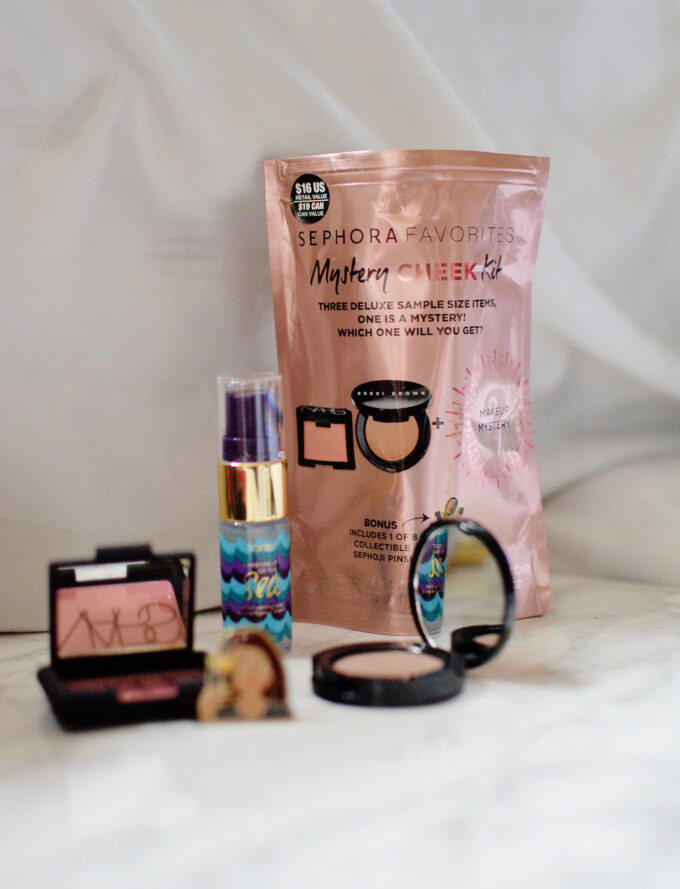 This year, what we're seeing available online seems repetitive to the previous sets I've seen which is why the new Sephora FavoritesMystery Cheek Kit (USD$16/CAD$19, sephora.ca) got my attention right away. Featuring four mini products for under $20, this was a fun treat to indulge yourself in. There are three "mystery kits" available as far as I can tell. They are available both in-stores and online.
I opted for the Cheek Kit which I thought had the best bang for your bucks. The mystery set is a fun way of getting a little surprise in your purchase and I can see how it will make for the perfect Secret Santa, stocking stuffers, and a quirky gift for yourself or someone starting out their makeup collection that won't break the bank.

The kit features 3 items and a mystery item: a mini NARSOrgasm Blush ($48, available here) – and yes, I'm aware, this blush has been overdone since its launch – it also featured the Bobby BrownBronzer in #2 Medium ($55, available here). The third item is a fun Sephora emoji pin (there are about 6 of them and it's random). The mystery item can be one of the following: a BenefitHoola Bronzer ($34, available here), Tarte4-in-1 Setting Mist – Rainforest of the Sea Collection ($30, available here), or the CoverFXCustom Enhancer Drop ($52, available here).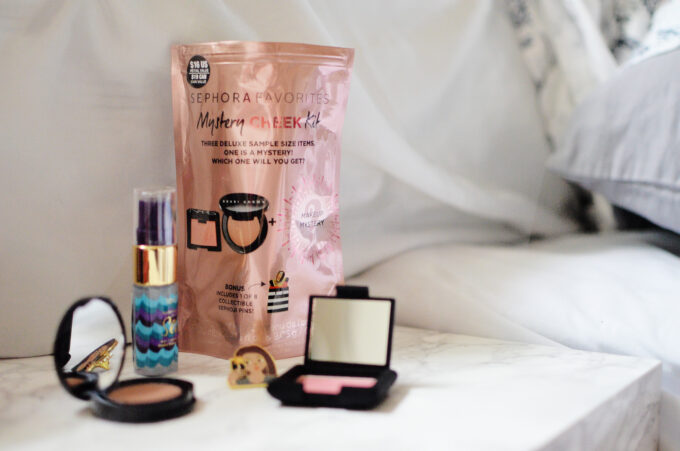 I think the Sephora Favorites Mystery Kits range is a fun way of getting some of your favourites in a mini-format. I don't care much for the Orgasm blush as I think that's been done too much, but I can't wait to try the Bobbi Brown bronzer and Tarte mist. It feels a little bit pricey for the size and what you get but it's undeniably a fun treat that's fairly affordable as well.
In addition to the cheek kit, there are two others: the Mystery Eyeliner Kit ($19, available here) and the Mystery Lip Kit ($19, available here).
Based on the reviews, it seemed the Eyeliner Kit is the worst one to get as the items included often are available as a point perk or in many other sets. Many reviews also seem to indicate the set is essentially a repackaged version of a number of old sets and that the eyeliners are dry or old. The Cheek and Lip kits appear to be most promising based on the product options.
What do you think of the new Mystery Kit from Sephora? Would you pick one up?