In between work, blogging and life in general, I try to squeeze in mini-vacations throughout the year. You all know that I do enjoy the occasional adventures abroad, and make a point of leaving home for these trips as often as possible. In the very near future, I will have used up all of my vacation days, and cover 3 continents: North America, Europe, and Africa. Not too shabby right?
Although I will adjust what I carry in my makeup bag depending upon the kind of trip it is, I realize that most of the products have not actually changed in between trips! Meaning, a lot of products I'm about to show are my staple "vacation" products because they can withstand anything from a safari in the sun, dune-buggying in Dubai desert, intense water-related spots in the Caribbean, walking 30km/day throughout Europe and a visit to a chic Parisian shopping area! Curious what kinds of products can withstand all of the above? Keep reading!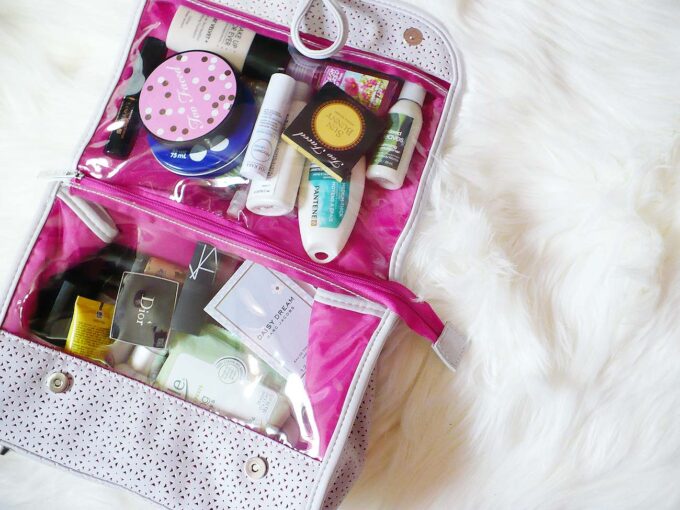 The basics include some of my must-have base products. The foundation of choice for any kinds of trip is the Make Up For EverMat Velvet+ Foundation ($41, available here). Aside from the intensely long wear time, amazing coverage, and the fact that it doesn't budge until you take it off, the foundation comes in a travel-friendly squeeze bottle like this which guarantees no-accident/mess in your suitcase, no matter what. If I am having a really bad skin week, and need just a bit more coverage, I'll pack my MACPro Longwear Concealer ($22, available here) as well. I bring this along because I use it as an eyeshadow primer as well – multi-purpose products are my favourites for traveling!
I pack as many fuss-free, tiny/sample-sized products on my trip, and my current mascara of choice is the LancomeHypnose Drama Mascara ($31, available here) which adds so much volume and length to my lashes and it makes me look awake even when I've just stepped off a 10+ hour flight. The BenefitGimme Brow ($26, available here) is perfect for brow touch ups, especially when it comes in this travel-friendly mascara format. I try to avoid bringing powders because you never know what could happen, and cleaning up broken makeup in your makeup bag is not worth the effort.
In case I need to look glammed up, I pack my Too FacedAll I Want for ChristmasPalette which conveniently comes with your basic everyday creamy white and chocolate brown eyeshadow pair and a subtle blush colour. Bronzer is optional, so I pack a mini and the one I am addicted to at the moment is also from Too Faced.
I try to pack things that won't spill either, so make up wipes tend to be the best way to go. Currently, I'm obsessed with the skin-friendly amieGentle Facial Cleansing Wipes ($5.99, available here) which comes with a month's worth of supply, more than enough! Again with the mini's, and deluxe-sized products, I pack my SephoraSupreme Cleansing Wash for no other reason than the fact that it will last me at least a week (I have a tendency to run out of cleansers during my trips!)
I also make sure to pack a sunscreen and my current choice is the NeutrogenaBeach Defense ($10, available here). I use different formula's for my day and night creams, so I usually tend to pack two (although when it's a more active trip, I'll forgo the night-time one. The ClarinsVital Light Day Moisturizer ($89, available here) is a lightweight one that smells great, moisturizes without the grease! If I feel the need to pack my night cream, or a heavier formula moisturizer in general, I will pack my Pure & Simple Skin Drink or decant my Embryolisse Lait Creme into this bottle.
A lip balm is a must for me and the BiodermaAtoderm Lip Balm is a lovely-scented, hydrating one that I always keep. A pair of good, old hair ties are also incredibly important. The extra bits are mini perfume vials/samples so that I'll smell wonderful any time of the day!
The rest of the pack includes bottles of shampoo and conditioner and these mini's that I always get from P&G Sampler Events are the best. A hand sanitizer is critical because I don't want to get sick while traveling either! A body lotion like this heavy duty NiveaCream ($6.99, available here) is easy to slip into my suitcase, but doesn't weigh a lot. The last piece is the super versatile, multi-function Dr. Bronner7-in-1 Magic Soap ($4.99, available here) which can be used as a face soap, body soap and and even as a brush soap! I tend to pack this more often than I pack any liquid cleansers or soap because the format makes it very travel friendly and guaranteed to ensure a mess-free experience!
Now it's your turn! What do you always pack in your travel makeup bag? Does it change a lot or do you tend to pack the same things? As always, I'd love to hear your thoughts! Share with me comment section or through Twitter or Instagram!