Wet n Wild is a brand that comes back to my radar every once in a while. It was my go-to brand during my beginning makeup days and have recently come back to again with their innovative cruelty-free launches.
Continuing on the last few weeks' posts, I have another product that I think you'll be excited about. The Wet n Wild Au Naturel Palette is a product that I have a lot of expectations for – I've long been a fan of the Wet n Wild ColorIcon Palettes and Single Eyeshadows so I definitely wanted to see if the quality of those products translated to a bigger palette like this.
Wet n Wild is a range that doesn't test on animals and most of their products are cruelty-free. I believe about 85% of the range is already cruelty-free and they are working towards becoming a 100% cruelty-free brand!
The Wet n Wild makeup collection can be found at select mass, and grocery retailers nationally.
Wet n Wild Au Naturel Palette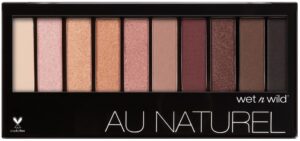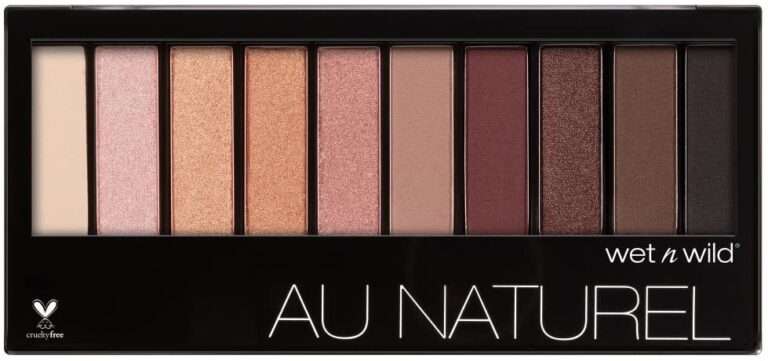 The Wet n WildAu Naturel Palette – Bare Necessities is a 10-colour palette that includes 8 shimmery shades and 2 matte colours. The colours are not named, simply identified as #1 through #10.
The dupe for Urban Decay's popular Naked eyeshadow palette series continues with this product. The plastic packaging comes with a wide clear window that lets you see all the colours immediately. The colours in this palette remind me a lot of the LORAC Pro Palette, particularly the shimmery row.
Read More: Wet n Wild Photo Focus Concealer Review.
Two things that stood out to me about this palette were the colour selection and pigmentation. I really like the variety of neutral colours included in this palette – it's just the right balance of colours that I can see working really well on a variety of different skin tones.
I do find the gold colours to be a little redundant – three variations of the same tone means it misses on including a few other colours that could make this a truly well-rounded must-have palette.
When swatched without a primer, the pigmentation of this palette just blew me away. All the shimmery shades were opaque in one swipe and has the intensity that I wasn't expecting from this palette at all.
The colours have a satin-like finish that means there is minimal to almost no fallouts. I think you can see this very clearly in shades #1-5 – the formula and texture are just so creamy, smooth and easy to blend!
The two matte colours (#7-8) didn't quite live up – they were very patchy to swatch and didn't deliver the same kind of colour intensity as the shimmers did. It was something that definitely knocked off a few points from this product though the colours are still very usable.
These two neutral brown matte shades are good enough to contour your outer-v with even if it requires two layers instead of just one, to get the same kind of intensity as the shimmery shades. Plus these brown shades are very common so it's something you probably already have in your collection.
Read More: LORAC Pro Palette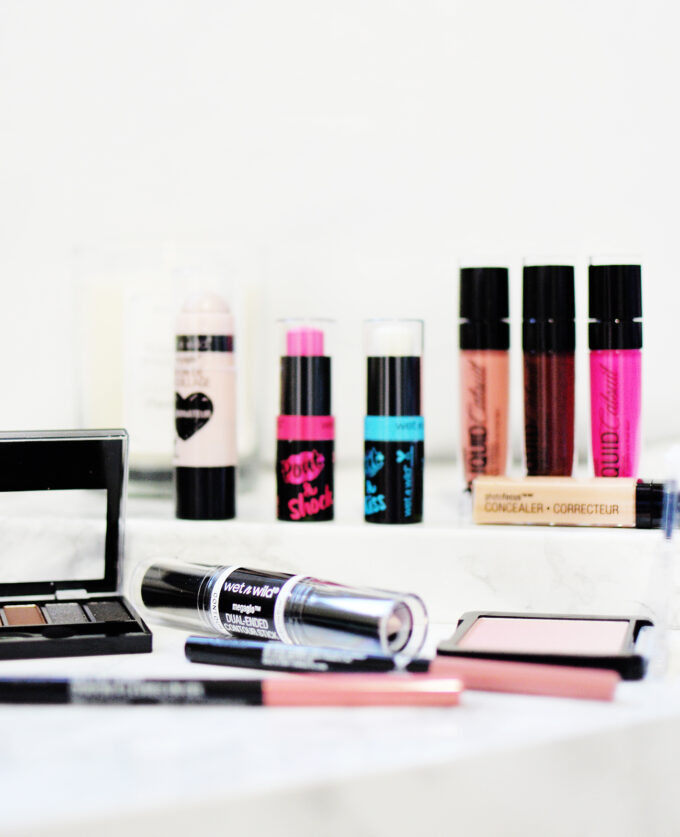 I think this palette is a decent buy from the drugstore considering that 8/10 colours are absolutely worth the price. The two underperforming shades are colours that you can easily replace with something in your collection so it wasn't something that was the biggest deal-breaker for me.
This palette would be most suitable for those who are new to makeup and probably don't need something like the Urban Decay Naked palettes just yet. It's a great beginner palette that won't break the bank and the colours are diverse enough to try out several different looks with.
In terms of pigmentation, the colours in this palette are a lot less intense than Urban Decay's or LORAC which again, maybe a relief for moms and dads. These would be a lot more school/prom appropriate and is a decent enough dupe for the higher end palettes that reflects its price point.
Are there any favourite products from the Wet n Wild makeup collection that you love? Share with me in the comment section below!
Check these also: