Have you came across a product and wished it was in your life sooner? That was certainly the case for me with the Wet n WildMegaCushion Range (USD$6.99, available here). This cushion-based complexion range has me convinced that I was wrong to skip the whole cushion makeup party! And me being wrong is a rare thing (Just kidding, but really. I'm not wrong that often).
Wet n Wild MegaCushion's range is my first attempt at trying out cushion makeup. I was never convinced by the whole idea of a cushion-based makeup as it seems to be a 1) bacteria-breeding ground and 2) I'm not sure if there's a big convenience factor at all. I adore Wet n Wild products as they were some of the first products I tried out when I began my makeup journey. They make great quality makeup that are 100% cruelty free and most of their products are also vegan. Believe it or not, you can actually get good quality makeup and dupes for department-store brands at less than $5-10 a piece.
The Wet n Wild range is carried at most mass retailers in Canada including Walmart, Rexall, Real Canadian Superstore, and online at well.ca In the US, most drugstores and mass retailers carry the brand as well.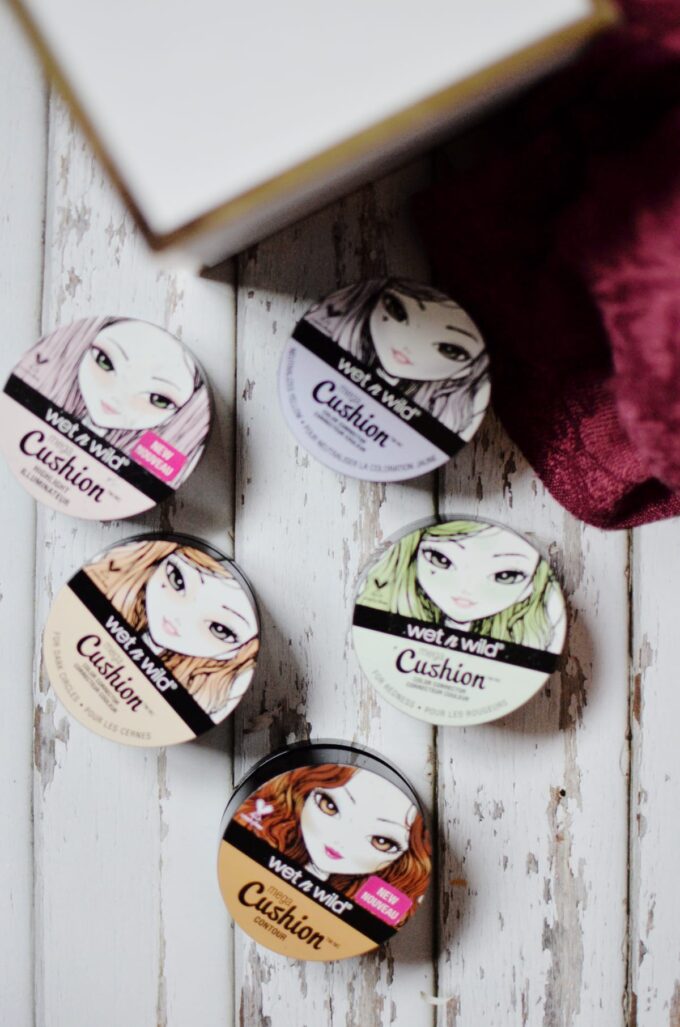 Best way to Use the Wet n Wild MegaCushion
The Wet n WildMegaCushion Range comes in these adorable compacts with twist-up lids. The lids do feel a little cumbersome only because I always feel like I'm about to drop the entire product. There's a little pouf included inside which doesn't actually look too porous so you won't have too worry about the pouf absorbing too much of the product.
I'm never a pouf kind of person so I opted to use a dense kabuki brush like the one from Real Techniques to apply the product and they work as fine. I actually do prefer using a brush to apply these only because they are easier to clean and generally works with this type of product without soaking too much of the product.
This goes without saying, but don't throw away the plastic insert included (which keeps the product "wet") and prevent any dust or air to get into the product. Furthermore, make sure you close the lid tightly to prevent any drying out.
Colour Range & Options
The whole range features a permanent highlighter and contour colour (Contour-Cafe` au Slay!). There are also four limited edition corrector shades according to the website and I have all three except for the yellow.
What surprises me most about these is probably how effective they are! I initially thought these were going to be fairly gimmicky and at best, a decent alternative on days you don't want to have an expensive makeup day. I was also extremely skeptical about this one-colour approach, particularly with the highlighter and contour. I wasn't convinced it was going to work for me.
However, I'm quite blown away by the quality of and how well all 5 colours wore on my skin. I have light-medium skin with strong yellow undertone (In MAC shades I'm an NC25-30, in Dior colours, in #21 Linen) and all 5 colours, not only show up on my skin, but they wear well and the colours do exactly as they promised to do! I wasn't really expecting too much and I got way more than I expected!

The highlighter is this beautiful milky pink colour without noticeable shimmers or glitter. Despite how subtle it looks in the swatches below, it is a little more reflective than that so you can see the highlighter on your skin even if you have lighter skintones. It's quite similar to Benefit High Beam highlighter but more reflective and luminous leaving the skin looking naturally glowy without that powdery finish.
The contour shade is another winner in my book. It is a rich chocolate colour with no hint of orange and wears incredibly well against my skin. It creates some depth and shape to my face which is an effect I'm always looking for. Since there isn't too much red or orange, it's not a stark contrast to my skin colour and looks natural with minimal effort!
The correctors are also impressive, particularly the green and lavender. The green does a phenomenal job at minimizing the looks of redness on my skin. This formula makes the product more effective on larger areas on your skin rather than to spot-correct. I really like the lavender to perk up my skin on days when my skin is super dull and need a bit of boost. The salmon is the most so-so of the bunch – it doesn't really neutralize any dark circles which I was hoping to do considering the many back-to-back travelling I was doing lately.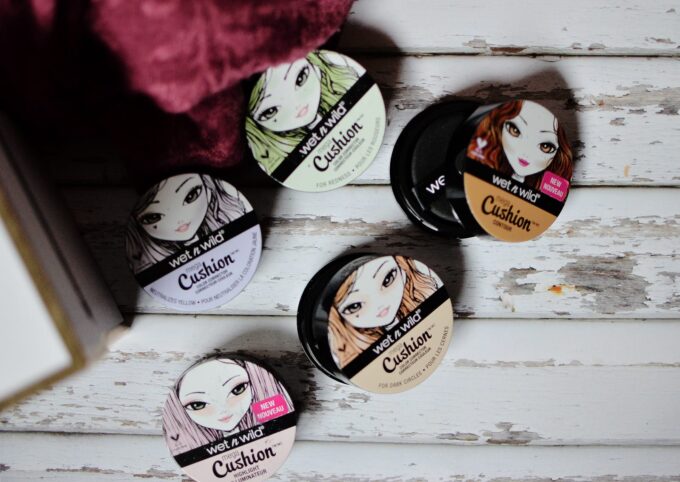 Overall, the Wet n Wild MegaCushion is an impressive line up of cushion-based complexion products that deliver at a price that's kind to your wallet. With quite a few options to choose from, colours that almost work universally as well as formula that's not only vegan but also cruelty-free, you can be sure the Wet n Wild MegaCushion range will impress new beauty users and the experienced ones!
Have you tried the Wet n Wild MegaCushion makeup range?
---
Disclaimer:
This post features product(s) provided for editorial consideration. All opinions are my own. For more information about my review policy, please
click here
.
---