Wet n Wild is a brand that comes back to my radar every once in a while. It was my go-to brand during my beginning makeup days and have recently come back to again with their innovative cruelty-free launches (Rainbow Highlighter, anyone?!)
Recently, Wet n Wild had a launch party celebrating the arrival of their new products in Canada. There were a lot of products that we got to test out so you'll be seeing a few of them over the next few weeks! I'm starting with the face collection first as these are some of my favourite products to purchase and try out!
The Wet n Wild 2017 makeup collection can be found at select mass, and grocery retailers nationally. You can also shop the collection (along with other products) at the official Wet n Wild Beauty Site and Well.ca
Wet n Wild Photo Focus Concealer
Of the entire Wet n Wild 2017 makeup collection launch, the first product I was most excited about was the Photo Focus Concealer (USD$3.99, available here) with its NARS-esque square tube packaging, full coverage and bold claim of being proven to be cast-free under seven lighting conditions. I've never had much issues with flashbacks or white cast when wearing any type of high-end / drugstore concealer so I won't be evaluating this product based on that particular claim. What I will talk about though, are the coverage and wear.
The Photo Focus Concealer has a lightweight, creamy and easily blendable texture that was very similar to the MaybellineFit Me Concealer. I find the coverage hovers more on the medium side compared to its full coverage claim as I do still have to go over certain spots with a third and fourth layer. The Light/Medium Beige shade is perfect on my skintone (MAC NC25 for reference) as it cancelled our minor redness though does not brighten.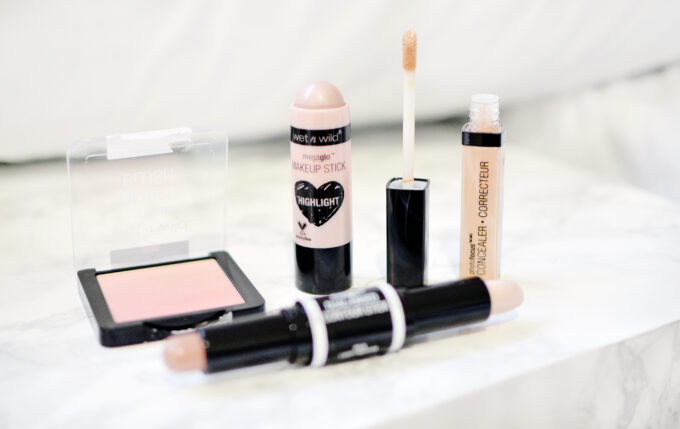 The concealer dries down to a matte finish so a setting powder isn't always necessary. I typically use a specific type of concealer for under the eye area so I was curious to put this to the test. It didn't cancel out much of the dark circle as it surprisingly sheered out a lot more around that area. To be quite honest, I prefer wearing this concealer as a highlighter rather than as a concealer as I find that it required a bit more work. For those with minor skin imperfections, this is a budget vegan concealer worth trying – personally I am just looking for something a bit more in my concealer!
The concealer wore well throughout the day – I didn't notice any patchiness or transferring with the formula so I would consider this a pretty good concealer to add to your collection! I could see myself replacing my favourite concealer if it was a bit more full coverage. If you are one of the lucky ones with minor redness or skin imperfections, this is a good formula to try out!
I have a few more reviews coming out for the rest of the Wet n Wild 2017 collection so stay tuned for that!
Are there any favourite products from the Wet n Wild 2017 makeup collection that you love? Share with me in the comment section below!
---
Disclaimer:
This post features product(s) provided for editorial consideration. All opinions are my own. For more information about my review policy, please
click here
.
---