Make Up For Ever is a brand that I rely on a lot. It's because their products work, and they work so well that many have reached holy grail status for me in the years I've been trying out their products. The brand puts a lot of focus on high-performance, pro-approved products, and never shies away from colours, and textures. The extensive (and I mean, seriously, 200+ eyeshadows in their Artist Shadow range!?) means that there's something for your every makeup need!
Make Up For Ever is always on the leading edge of innovation. Think that's just marketing speak? Try their products, and you'll be a convert!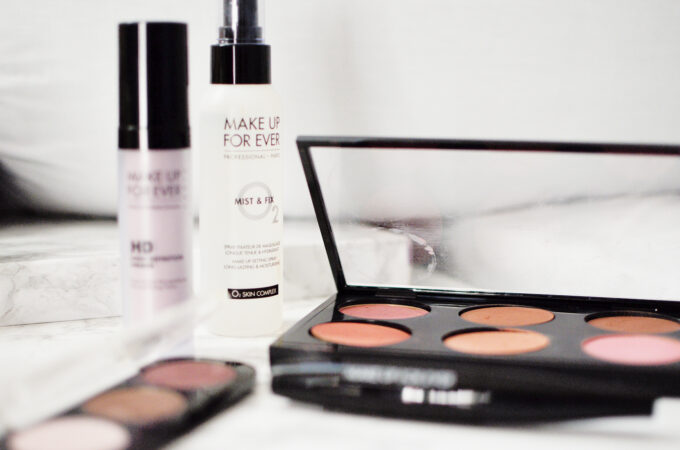 01. The Artist Shadow ($21, available here)
Relaunching on the products that made them world famous, Make Up For Ever didn't even bat an eye about launching, not only 50, or 100 colours in the range, but a whole 200+ of them. Available in five finishes (matte, satin, metal, iridescent, and diamond) and colours for the less-adventurous to the "I want every colour under the rainbow" this is a range worth checking out if you are building your collection. The "build your own" palette concept ensures that you only buy colours that you want (not because it looks good on someone else therefore it must look good on everyone), and the astounding 88% pigmentation means that your money goes towards getting the actual colour rather than the fillers!
02. The HD Blush ($31, available here)
When this range launched, I wasn't really into cream products. This blush changed my life, and I mean it quite literally. I'm a blush hoarder, and I used to have a collection that would make even Athena herself weep. I don't think I've become a changed person as quickly as this blush has changed me. The silica powders and synthetic mica creates a very beautiful cream-to-powder finish and it looks so, so natural and effortless!
03. The Smoky Extravagant Mascara ($28, available here)
If there was a scenario where all my beauty stash disappear *knocks on wood*, and I could only have one mascara, it would be the Smoky Extravagant Mascara. The cone shaped brush coats every hair, no matter how fine and short it is, and the formula lasts and lasts. The mascara wand features something called the "Tynex Fiber" on all 580 bristles on the brush, which is the reason that it elongates, separates, and combs the lashes so effectively. The formula is absolutely – dare I say it? – orgasmic. Formulated with "microdefining wax complex" that truly coats your lashes with enough of the product that looks so effortless from a mile away.
04. The Mat Velvet+ Foundation ($44, available here)
Although I quite love the HD Foundation for daily wear, the one staple I always take on my adventures abroad is the Mat Velvet+ Foundation! Aside from the super practical packaging (the squeeze bottle definitely guarantees leak-proof travels!) this foundation lasts all day, through rain, storm, hikes, and any weather in general that I've encountered abroad. I look as flawless in the evening as I did first thing in the morning. The medium to full coverage ensures that any lack of sleep due to your travel is hidden away and any breakouts/spots covered!
05. The HD Primer
Just like many, I dislike wearing primers because it is an added step in my routine. Who needs to spend an extra 15 seconds when they can get some extra sleep? I also hate the fact that most primers are loaded with silicone which results in that greasy, and heavy feel on the skin, like you've just painted your face with good old Crisco (ew). The HD primer is unique in the sense that it feels more like water, and absorbs into the skin more like a moisturizer than your traditional primer. The range offers 7 products to address different needs (i.e. dull skin, uneven texture, etc!)
6. The Mist & Fix ($30, available here)
I know that the Urban Decay Setting Spray was all the rage when it first came out (and even now too!) but I think the Mist & Fix is often overlooked! The refreshing mist sets your makeup so that when you have a 10+ hour day, your makeup is not going to budge! There's not a lot that one can say about a spray since it's something that needs to be experienced so give it a whirl when you can the next time you're in Sephora!
Now it's your turn! Have you tried any Make Up For Ever products? What are your favourites? As always, I'd love to hear your thoughts! Share with me comment section or through Twitter or Instagram!
---
Disclaimer:
This post features product(s) provided for editorial consideration. All opinions are my own. For more information about my review policy, please
click here
.
---