I'm sure you can already tell, but I have a little bit a HUGE make up crush on anything and everything that Make Up For Ever rolls out. It is the only brand where beauty products for my entire face – from foundations, mascaras, blushes, eye pencils, concealers, brow products and brushes – are on my repurchase list.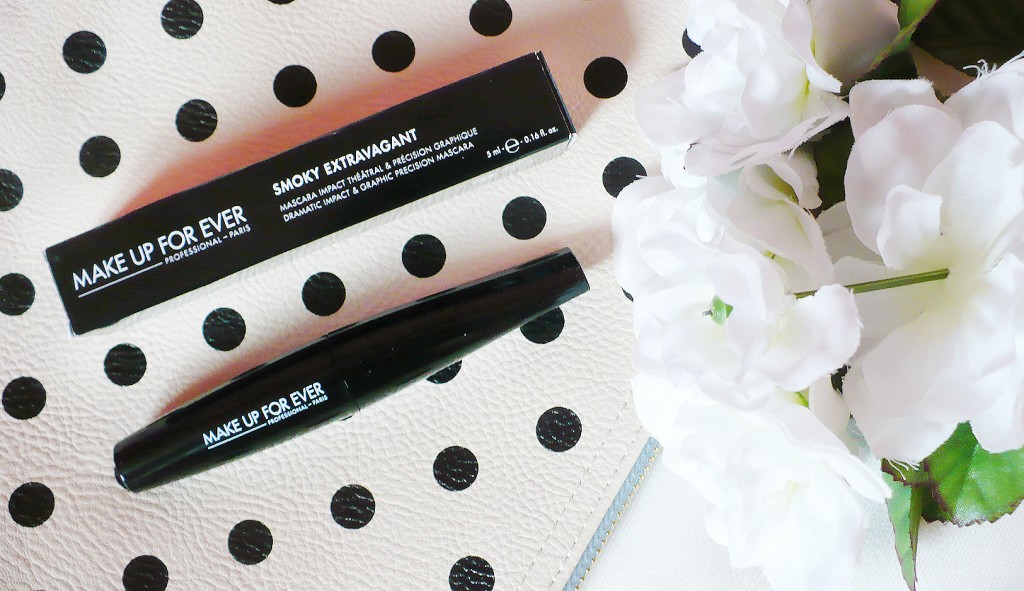 You also probably know that I'm a value-conscious shopper and I've never really liked purchasing high-end mascara's until recently. I've always thought that they were a huge waste of money, since you have to throw them out after 3 months. The other rationale was that since many luxury/high-end brands also own drugstore brands (think L'Oreal Group who also owns YSL and tons of other luxury beauty brands), I figured that maybe, the formula/technology/innovation might trickle down to the drugstore versions as well (one can hope right?)
The Make Up For EverSmoky Extravagant Mascara ($14-28, available here) was one of those products that I would have skipped completely if not for a Sephora sales associate who added this sample to my bag at check-out. I will tell you, this mascara completely changed my perspective of high-end mascaras, and I have already repurchased it.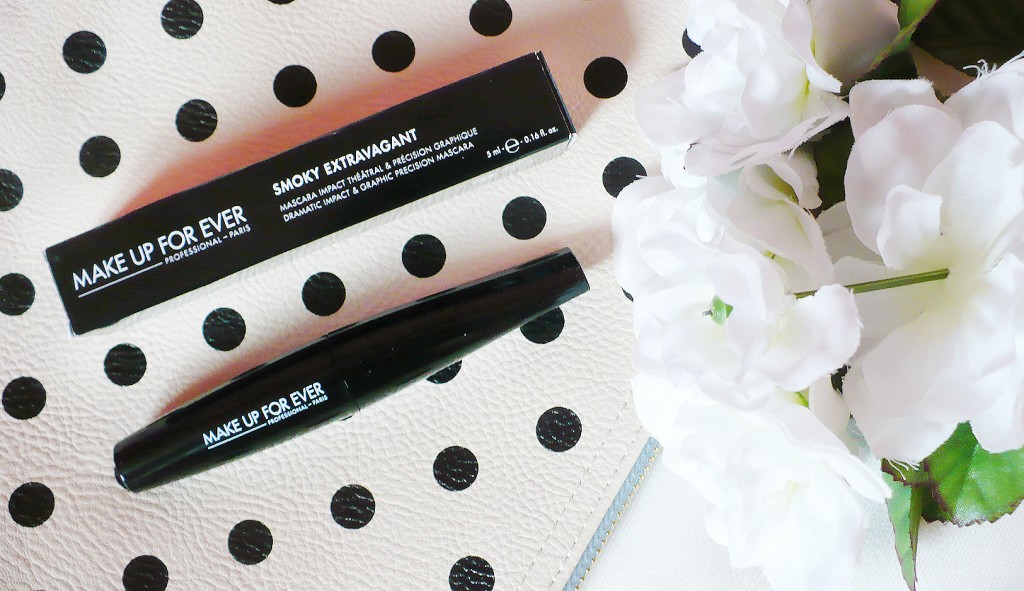 The cone-shaped brush (it almost looks like a Christmas tree!) was baffling to me at first. I took a leap of faith at this "4D technology" mascara wand, and it totally paid off! Despite how intimidating it looks initially (will it really fit? Get to the roots of my lashes?) the brush totally proved me wrong! The smaller tip easily deposits the product onto the finer lash hairs in the corner of your eyes, while the thicker side coats the rest of your lashes so effortlessly.
The mascara wand features something called the "Tynex Fiber" on all 580 bristles on the brush, which is the reason that it elongates, separates, and combs the lashes so effectively.
The formula is absolutely – dare I say it? – orgasmic. Formulated with "microdefining wax complex" that truly coats your lashes with enough of the product that looks so effortless from a mile away. The formula is true to the the Make Up For Ever-style: smudge-proof, waterproof, and incredibly long lasting. You know that I do kickboxing 3-4 times a week, and this has never smudged or run on me while I am sweating it up at the gym. The only other mascara I can think of that compares to this is the Givenchy Noir Couture Mascara which costs slightly more.
I can already tell you that I will surely be repurchasing this. If you are not sure if the product is for you, get a sample of it first – mine has lasted almost a month and it's still going strong!
I always reuse/recycle old mascara wands – since this one is so effective at depositing the products, I am so excited to use it with other mascara formulas as well!
If you are looking to try a high-end mascara for the first time, I'd recommend the Make Up For Ever Smoky Extravagant Mascara. Innovations/technologies that truly deliver? Formula that really stays on all day (and also easy to remove too)? You can bet that this is on my repurchase list! The mascara wand itself is so unique and is certainly something I will keep once the product runs out so that I can use it on my other mascaras
Have you tried the Make Up For Ever Smoky Extravagant Mascara? What do you think of the formula and brush? As always, I'd love to hear your thoughts! Share with me comment section or through Twitter or Instagram!
Where to Buy: Sephora, Make Up For Ever Boutiques at Sephora ($14-28)