It's been a couple of years since I last went to the Estée Lauder / MAC Warehouse Sale which runs four times a year in Markham, Ontario. Estée Lauder is one of the four big beauty behemoths who owns and distributes brands like MAC Cosmetics, Clinique, Glam Glow Bobbi Brown, Smashbox, Bumble & Bumble and fragrance lines from Tom Ford, Michael Kors, Coach, Clinique, DKNY and a few more as well as their own vast beauty and skincare range.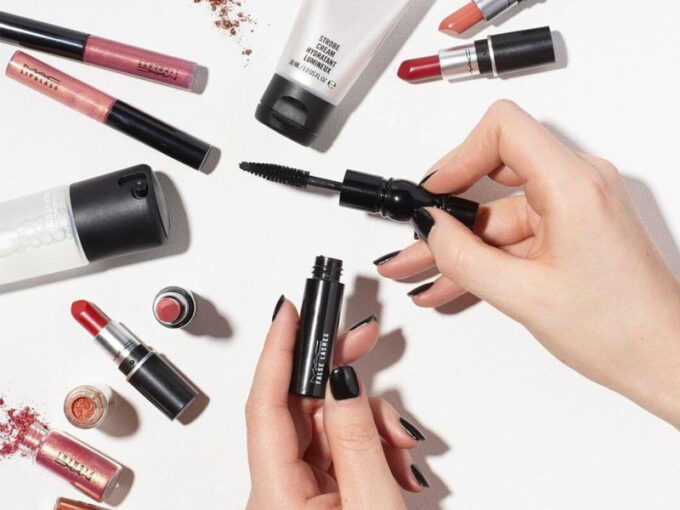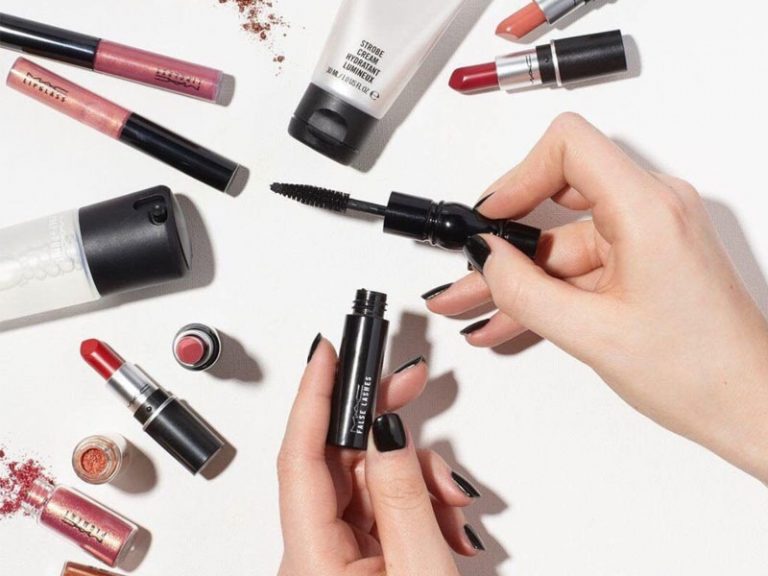 Being in the beauty world for a while now, I know for a fact this is one of the most popular and covetable tickets in town. With the vast high-end skincare, beauty, hair care, body care, and fragrance selections to choose from, I thought I would get a head start (and save some money) on products for gifting this holiday season!
The Estee Lauder / MAC Warehouse Sale Sept 2016 Experience
I'll share more about the sale at the end of the post so we can jump straight into the sale stuff and what I bought! I thought this sale selection was a little average – there wasn't as many MAC (beauty or gift sets) or worthwhile Clinique products (like the Cheek Pop blushes I spotted at previous sales!) and some of the prices made them even more expensive than buying at retail and a 20% discount from retailers which could be expected happen more often now that we're in the holiday season.
Despite that, I managed to score what I think is one of the best deals at the sale to date (beats out MAC's 2 for $12 lipsticks from a couple of years ago!) I also gave myself a budget of $150 which I arrived quite a bit under (including taxes), and only went over $100 (the excellent mark!) because my sister wanted to purchase a few items for my mom.
I went to this sale with my younger sister who wanted to start getting into makeup. I thought this was a good opportunity for her to dive straight into some of my favourite, trusted products at a fraction of the price. This haul post will showcase both her and my own purchases to give you a view of what the sale has to offer!
Estee Lauder / MAC Warehouse Sale Sept 2016 Haul
My haul was surprisingly very hair-focused, and probably not as exciting as what I would have been buying 2-3 years ago. I realize I have quite the makeup stash, and only wanted to purchase things I really needed. My hair care haul is very much thanks to the amazing deal that was available through the sale so I apologize in advance if this sparks any wishlist!
A lot of the Bumble & Bumble hair care were on offers/special where you buy one and get one free or buy one and get two free. It was quite the deal so I stocked up on two gift sets – the Bumble and bumbleThe Tousled Two-Step and Bumble and bumbleThe Polished Two-Step which comes with two full-sized products in each. I think these sets offer the best deal and I saw how quickly it went which indicates to me that I wasn't the only one who thought so. The deal was if you buy one set, you get two sets for free (for a total of 3 boxed sets)… these three sets set me back a total of… $25!
I know, I know – I couldn't believe it either – each "bundle" of 3x boxed sets costed me $25 in total. That means 6 products for $25… so much cheaper than what you buy at the drugstore anyways! The best part is that I can easily re-gift this for Christmas since it already comes in a pre-packaged, gift-ready packaging! Each set includes the Bumble and bumbleThickening Hairspray ($33, available here) and the Bumble and bumbleStraight Blow Dry Creme ($37, available here) or Bumble and bumbleBb. Texture Hair (Un) Dressing Creme ($34, available here)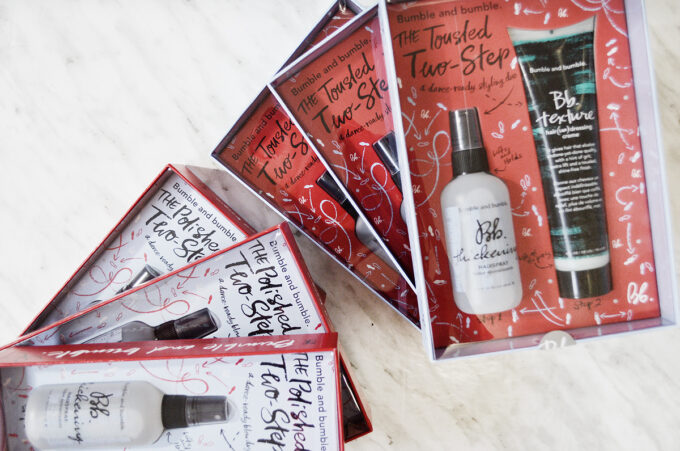 The next couple of items I picked up includes the Bumble and bumbleThickening Dryspun Finish ($37, available here) which was also on offer as a BOGO for $10. I've seen this product in a lot of beauty tutorials on YouTube, so I was very curious to give this a go. Since it worked out $5 a piece, I wouldn't be severely disappointed if it didn't work out!
The mascaras were another section that I saw an incredible deal on – offering mascara options from brands like Clinique, MAC Cosmetics, and Smashbox with a really good selection! to choose from The mascara section was 2 for $12. As I already have a lot of mini's and full-sized mascara's to finish, I was thrilled when I spotted the brow products on the side in my shade. I bought 4 of the MAC CosmeticsPro Longwear Waterproof Brow Set ($21, MAC Cosmetics) for $24 in total vs. $21 each which is the retail price in-store! Very excited about this purchase as I've been meaning to repurchase the Anastasia Dipbrow from Sephora!
The lipsticks here are $10 each. I bought one for my mom from Clinique, and I meant to give her another shade of a lipstick, but the lady who bagged my bag gave us the wrong product. I ended up with a Pro Longwear lipglass which I will re-gift for Christmas. For myself, I picked up the MAC Cosmetics Lipstick in Kiss the King ($21, MAC Cosmetics) from the keepsakes bag from the 2014 series.
When we exchange our tickets for the gifts as we left the sale, we were given two MAC CosmeticsNail Polish in Impassioned ($21, MAC Cosmetics), a lovely summer shade I'll be saving for next year!
The rest of the purchases in the image below are my sister's purchases. She got some amazing deals here including the two DKNYBe Delicious Gift Sets for $60, Darphin Micellar Water for $25, Clinique Cleanser $14, Fuse Brow Envy Brush (2 for $8), and the Smashbox eyeliner which were $15 each. She also received two MAC CosmeticsNail Polish in Impassioned ($21, MAC Cosmetics) when she exchanged her ticket.
Wait – What is the Estee Lauder / MAC Warehouse Sale?
For those who are unfamiliar, this sale has been around for a long time. The event is ticket-only, with those who work at MAC or are families/friends of those who at MAC have access to the ticket. You can always find a ticket on Kijiji and pay anywhere from $5-20/ticket. It's not legal, but people do it anyways! Always make sure that you are getting a valid/legitimate ticket (with the "EL" seal) when purchasing from a 3rd party.
It's been about 4-5 years since I last went to this sale – if you followed my blog in its earliest days, you would have seen that I've gone twice already. Not too many things have changed – the process, line-up and brands available at the sale remain quite similar, and prices have stayed the same for some, and gone up slightly on others. The tickets allow you access on one of the sale days (Friday, Saturday or Sunday), and there is a purchase limit of $600 (or 3 of each item/gift set) per ticket to prevent re-selling.
The sale typically has items from previous collections (particularly MAC), gift sets from the holiday season, some discontinued items, and permanent items. As you would expect, the selection at a sale like this is very much a hit or miss – you may find a foundation formula that is your colour in your formula or not. You can expect prices to be anywhere from 50-70% of the regular retail which is why this sale is so popular.
Example of prices you could expect at this sale:
MAC / Clinique / Smashbox Foundations – $12
MAC / Clinique / Smashbox lipsticks – $10 (I've seen 2 for $12 in previous sales)
MAC / Clinique / Smashbox mascaras – 2 for $12
MAC Holiday / Gift Sets – $30-40
Origins / Bumble & Bumble Skincare/Hair – $10-20
They also have Bobbi Brown products, and the MAC Warm Eyeshadow palette which comes with 15 full-sized eyeshadow. This set is currently available at The Bay for $85, but was available at the sale for $50. At the end of the sale, before you exit, you exchange the ticket for a charity bag. The charity bag is essentially a thank you gift for attending the sale. It used to be pretty fancy, but these days I've gotten anywhere from a Clinique makeup bag, to a MAC nail polish.
Have you been or heard of the Estee Lauder / MAC Warehouse Sale?