I love being the ultimate enabler and sharing my favourite products of the moment with you! I hope you find this "Buy This Month" series useful for your next trip to Sephora or Shoppers Drug Mart! If you are keen to see more of my favourite products that I would easily recommend to anyone, head over to the Favourites section which I think will give you an idea of some of my favourite brands, colours and must-haves!
You'll have read and seen that the recurring theme of 2017 seems to be my affinity towards using up my makeup collection. This month's no different – I dug out a few oldie but goodies and incorporated some new launches to share with all of you!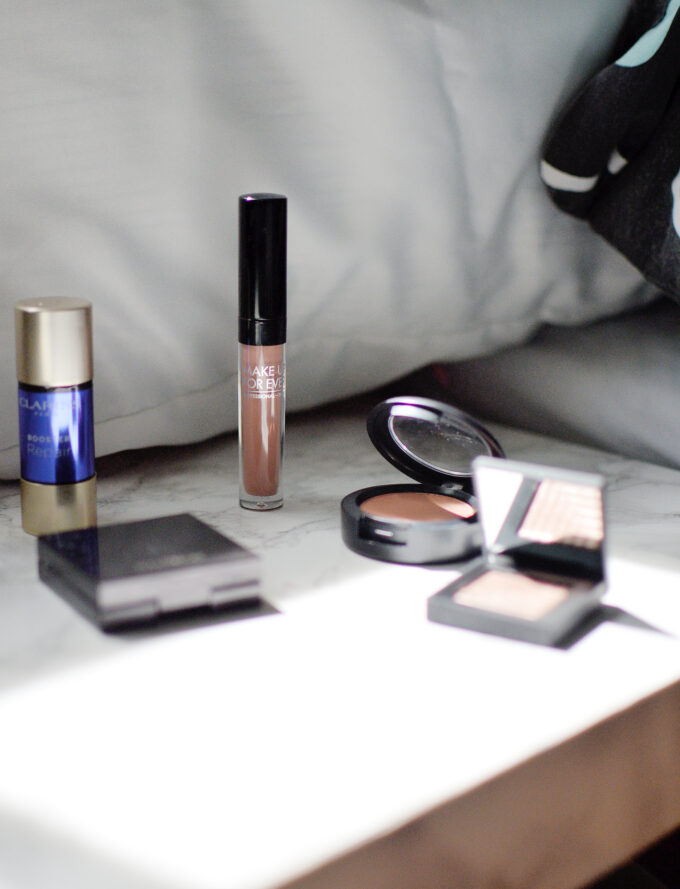 I brought out an item that I've been loving last winter season and the fact that the ClarinsRepair Booster ($40, available here) continues to be a staple during the warmer months just go to show how worthwhile this investment is! Don't let the size of this tiny booster fool you – it packs a punch! I love using the repair booster at night with my night cream to give my skin a little extra loving and I am finding that it is improving the texture and look of my skin. Used in combination with The Ordinary100% Organic Cold-Pressed Rose Hip Seed Oil ($9.90, available here), these two skincare pieces are keeping my skin in tip top shape despite my continued use of stronger acids (i.e. for hyperpigmentation) on a regular basis!
Another old favourite that I had to bring back to my routine is the Laura MercierMatte Radiance Baked Bronze in Highlight ($50, available here). I still haven't convinced myself to buy the full-sized version just yet but this tiny deluxe sample size is still going strong. A little bit goes a long way and I love that Ms. Mercier's offering provides a health glow that looks natural and doesn't seem like it can be seen from miles away, making it suitable for wearing on a daily basis!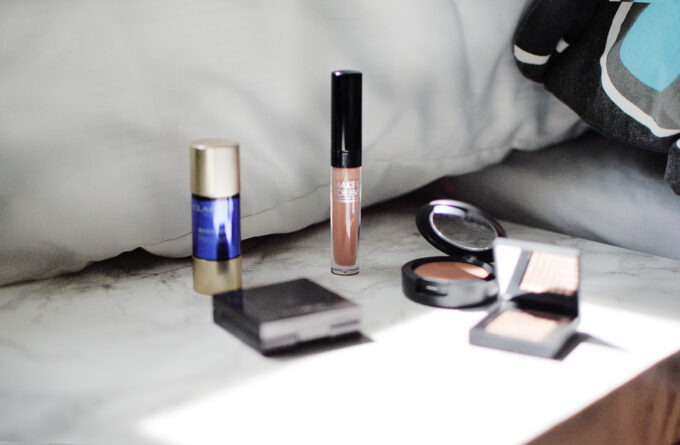 It has been positively ages since I last bought a new blush, but thanks to the MACLook in a Box Set in Natural Flare that I bought late last year, I have a repurchase of an old favourite colour, Coppertone which I cannot seem to get enough of. This peachy brown shade can look a little too loud on lighter skintone, and can be a little too heavy on my NC25 but a light brush of this colour just gives my skin a warmer sunkissed look that looks absolutely natural on skin with a golden undertone. When my skin is lighter, I can get away using this as a bronzer too, making it a versatile, multi-purpose colour for any time of the year!
Also an eyeshadow that I have been obsessing over is the NARSHimalia Dual Intensity Eyeshadow ($36, available here). I would have never bought this colour on its own as it doesn't look too unique and definitely something I might already have in my collection. What sets this apart to me is the fact that I can get away using this colour dry all over the lid for day-time wear, and use it wet on the crease if I want a little more noticeable makeup look!
I was never really into the liquid lipstick trend considering I basically never bought or posted any product on the blog that really make this trend a thing. The exception was the Make Up For EverArtist Liquid Matte ($25, available here) which comes in 6 neutral nude shades for every skintone. I love the colours in my collection but am looking forward to seeing more new colours considering how kickass this formula is. I kid you not, this formula made me a convert and totally realize how much I missed out on not trying out liquid lipsticks before!
Over to you now! What are some of your favourite picks of the moment?
---
Disclaimer:
This post features product(s) provided for editorial consideration. All opinions are my own. For more information about my review policy, please
click here
.
---