It's not often that I dedicate an entire post to Valentine's Day and I think the last time I did was a while ago. Whether you are celebrating Valentine's Day with your significant other or are hosting a Galentine's Day party with your squad on the 13th, you'll probably still want to have a long lasting makeup menu that you can fall back on so you can enjoy your day.
Whether you're going on a date or attending a party as an excuse to enjoy or empower each other during Valentine's Day, here are a few of my favourite beauty must-haves to help you go from day to night effortlessly!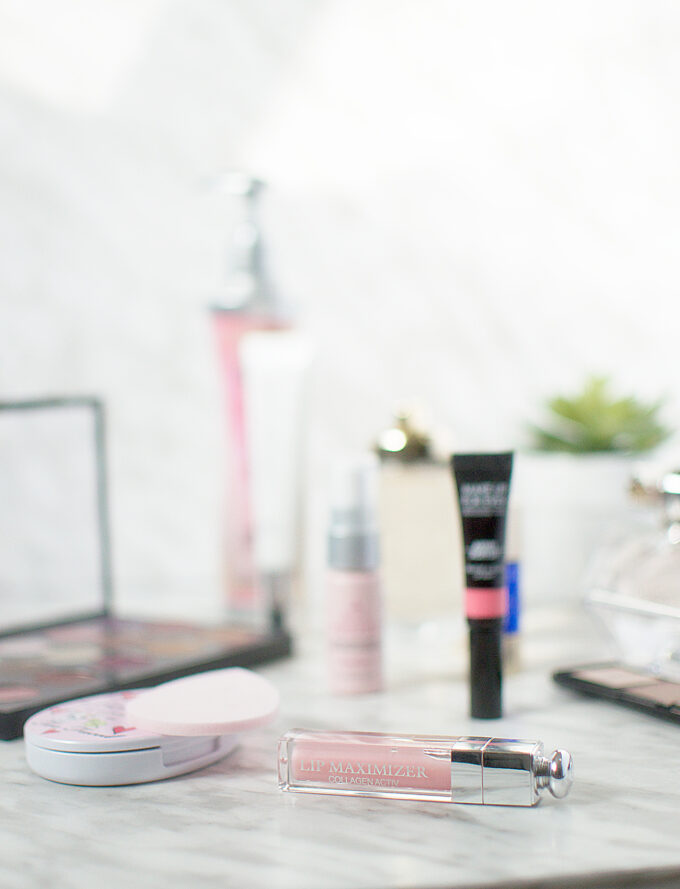 Valentine's Day Look | The Makeup
Skincare: To brighten my skin before I apply my skincare or makeup product, I start by mixing my favourite moisturizer with a few drops of the ClarinsRepair Booster ($40, available here). The ClarinsRepair Booster helps provide the appearance of an instantly smoother, and well-cared for skin, even if you're not having the best skin day at the moment – my little cheat trick!
Foundation: I would easily pick the DiorDiorskin Forever Foundation ($66, available here) to wear all day as it has a wonderful matte finish that is easier for me to work with than a glowy foundation. It's less high maintenance and one less thing for me to worry about because I'd rather not have to touch up during the day!
Primer/Highlighter: I am lumping this section into one as I am using the DiorGlow Maximizer ($45, available here) which I have raved about recently. I believe this product is now discontinued or replaced, which is quite unfortunate as I've grown to quite like it. It is a very glowy champagne primer that you are supposed to use under your makeup. Personally, I find the shimmer to be a little too much to be worn all over the face so I'll use it very sparingly and strategically in the areas I want to highlight most. Combined with the DiorDiorskin Forever Foundation, this primer adds a little extra oomph that you can't get with just a dewy foundation!
Contour/Blush: To achieve an effortless, "I-didn't-spend-more-than-10-minutes-on-this" look, I opted for the Make Up For EverPro Sculpting Palette ($54, available here). The creamy formula makes this an easy to apply and effortless product to apply in the morning and last throughout the day. If you really want to, you can add the shimmery highlighter in this palette to make your cheekbones pop out even more. I like to use the matte cream shade as an eyeshadow base for my eye makeup too!
Lips: I opted for a combination of two products to achieve a luscious kissable lip. I love the Dior Lip Maximizer ($41, available here) as it comfortably plumps up your pout! I quite like wearing something a little different than usual (because why not?) so I pulled out the Make Up For EverArtist Acrylips in #200 Coral Pink ($29, available here). I opted to apply this more sheerer on the lips as it can be a little too much for day time when worn to its full intensity.
Eyeshadows: I have recently rediscovered my Makeup GeekFoil Eyeshadows ($6, available here) which can be a little too much when worn on a daily basis. Since my lips are a little less pigmented, I decided that a more colourful eye makeup should be good to go. I like to pair a champagne pink like "Whimsical" with a little bit of matte and my favouriet hue is to match with my romantic makeup is purple! Shades like "Unexpected" or "Twilight" make an instant romantic makeup look. I like to add a bit of depth with the shade "Homecoming" as well.
Finishing Spray: It's a good idea to set your makeup before you make your way out for the day / night – no one wants to spend the day worrying about their makeup transferring – Valentine's Day or not! My favourite is the Make Up For EverMist & Fix Setting Spray ($36, available here).
Touch Ups: Although my skin is more on the dryer side, I still like to carry the beautyblenderblotterazzi™ ($28, available here) in case of emergencies. Why? Because when your makeup decides to act up under the bright (hot) lamp at the restaurant or the bar, the last thing you want to do is ruin your well-put together makeup for the night!
Valentine's Day | The Finishing Touches

Fragrance: Our olfactory sense is one our strongest. Most people tend to remember smells a lot more and wearing a perfume is the surest way to remind someone of you when they smell that particular scent. I have two favourites, the CoachEau de Parfum ($115, available here) is the scent of that chic, elegant girl on the go. Inspired by the fabulous city of New York, this scent combines the bright raspberry scent with roses, and a musky suede, the perfect finishing feminine touch.
I've also been slightly obsessed with GucciBamboo Eau de Parfum ($138, available here) since I got a sample of it from Sephora. This scent is a powerful statement, showcasing a woman's complexity and her many sides: femininity, confidence, savvy and strength. I love that this contrasting olfactory experience is a journey of some kind. With touches of sandalwood, grey amber combined with floral notes, this perfume is going to make one memorable lady!
Valentine's Day | The Hair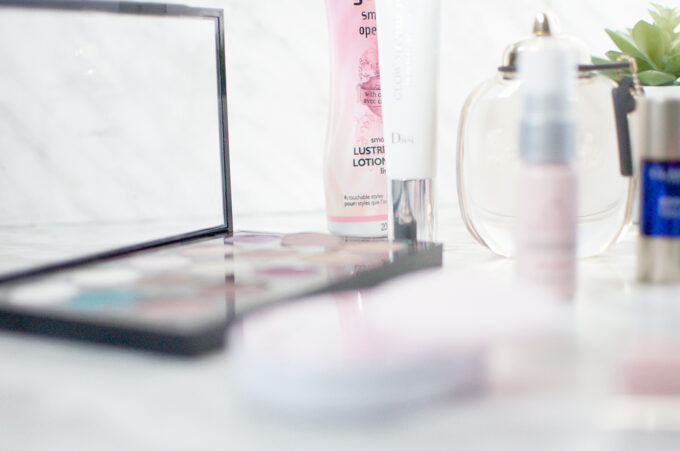 Hair: Although I usually wouldn't fuss very much, I would start prepping my hair with the DrybarBay Breeze Hydrating Shots ($48, available here) on Sunday night. You apply this product all over your hair to rejuvenate and revive dull, thirsty hair. Once applied, you rinse and style as usual. I love that this product leaves my skin shiny without being too filmy or waxy and makes it much easier to style throughout the week!
After I'm done styling my hair, I never skimp on applying a bit of the got2bSmooth Operator Smoothing Lustre Hair Lotion to add a bit of nourishment to my hair. Afterall, my hair is not going to repair itself unless I make sure that it's taken care of!
What are your go to Valentine's Day long lasting makeup products?
---
Disclaimer:
This post features product(s) provided for editorial consideration. All opinions are my own. For more information about my review policy, please
click here
.
---