These past few weeks, I've been focused on using up my existing makeup collection and mixing a few new launches in the process! I've been really loving this process and seriously wished I got around to doing it a lot earlier as I feel like I'm getting a good use out of everything I own! This "Buy This Month" series is going to be something that I'll be doing every or every other month to share my favourite products that I absolutely think you should get on your next trip!
Today I have a few items that I wanted to bring some attention to. It's been a while since I last talked about some of my favourite picks and products from my collection. I'm excited to share a bit of everything, old and new, for your next shopping trip.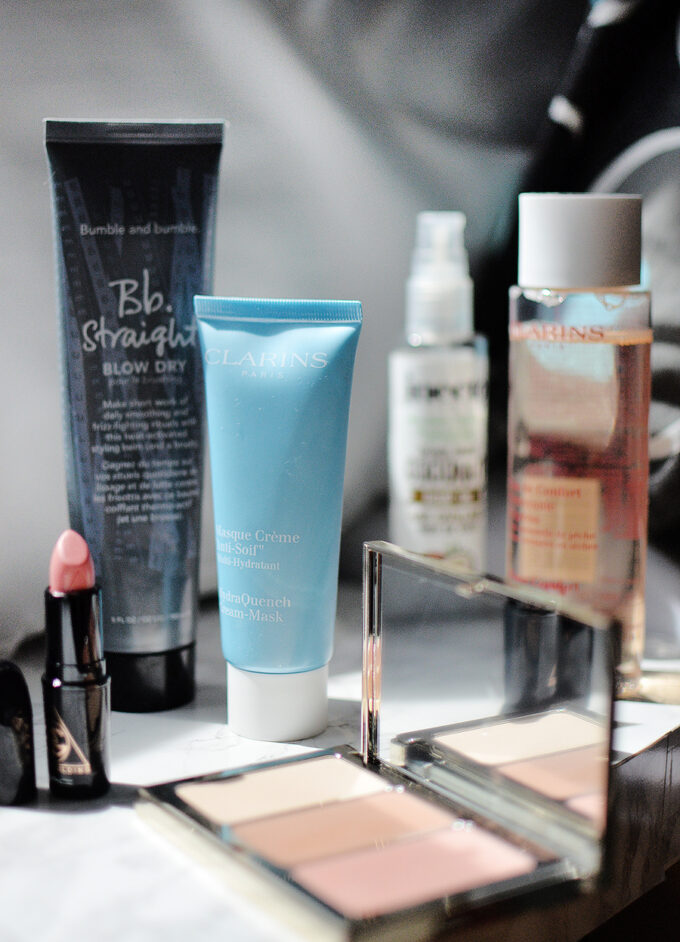 Skincare
For skincare, I have been addicted to the ClarinsHydraQuench Mask ($37, available here) which is being phased out in the new HydraEssentiel range. I have been loving wearing this mask every other day throughout February as my skin just drinks it all up for two reasons: 1) to repair my skin from the cold weather we've had every once in a while and 2) because I am treating my skin for hyperpigmentation which involves some acids that dries out my skin.
After finishing with my mask, I take it off with the ClarinsDaily Energizer Wake-Up Booster ($, available here). Although it is marketed as a toner for your AM routine, I love using this is as a regular toner, especially in the PM. The light citrusy scent has a cooling sensation on the skin that makes my skin feels so rested after a hard day's work!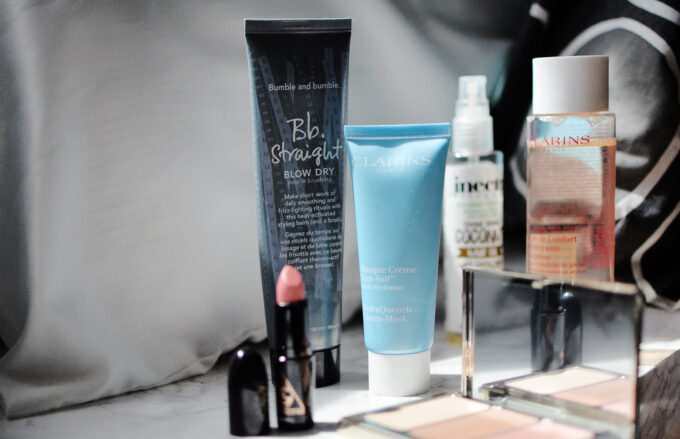 Haircare
I haven't tried out too many new haircare products lately, but I have to say that the two I am currently using is everything I really ever want for a beautiful lustrous hair!
I had the best luck last year when visiting the Estée Lauder Warehouse September Sale and was able to pick up the Bumble and bumbleStraight Blow Dry Creme ($37, available here) for $4. I had intended to give these away as Christmas gifts but I would not part with them after I tried this out. The formula instantly makes my hair incredibly smooth, shiny, and easy to flat iron or blow dry. The final product is a naturally polished, frizz-free, soft, sleek and non-greasy hair that looks picture-worthy for hours on end! I have tried a number of drugstore products that claim to do what this does, but I am so committed to this product to make my hair look picture perfect all day!
I've also been using the Inecto NaturalsDivine Shine Coconut Hair Oil which I received sometime ago. I've never heard of this brand but I thought I'd give it a try and I've never looked back. This hair oil keeps my hair healthy, sleek and shiny on a daily basis without any grease or added weight. I'm growing my hair out and I feel like the hair oil is doing wonders on my hair. I'm not the only one who thinks so based on the incredible reviews online!
Makeup
I have been really loving the new ClarinsFace Contouring Palette ($49, available here) out of convenience and the highlighting colour. Although the colour is not much to look at in the pan, I love using it as an all over powder due to its lack of shimmers! It's sort of what I wished my HourglassAmbient Powder in Dim Light would do!
I've also been addicted to the MAC x Ellie GouldingLipstick in With Love which is just a colour I've been loving for its perfect peachy shade on the lip. It's a lovely my lip kind of colour so it's not something that will be noticeable once worn!
What are some of your favourite products of the moment?
---
Disclaimer:
This post features product(s) provided for editorial consideration. All opinions are my own. For more information about my review policy, please
click here
.
---