There comes a point in a beauty blogger's life when she looks into her 6-drawer deep Ikea Alex makeup storage and said to herself "There isn't anything in here I want to wear!" and proceed to do a little Sephora haul, only to haver a buyer's remorse immediately after because the holiday season is coming up and there are plenty more value sets / products to be had.
No? Just me?
I was going through some beauty routine fatigue, a syndrome associated with wearing only the same thing for the last couple of months, and faced with a new season / launch, have decided that nothing in my 6-drawer deep Ikea Alex drawer is sufficient and good enough. I was really dying to order myself a couple of new items from Sephora, because damn – those value sets aren't going to last long! – but knowing for a fact that there is an upcoming VIB / VIB Rouge annual sale, and the common sense with the absolute need to save money for upcoming trips, I decided to pull out a few products to switch it up that weekend.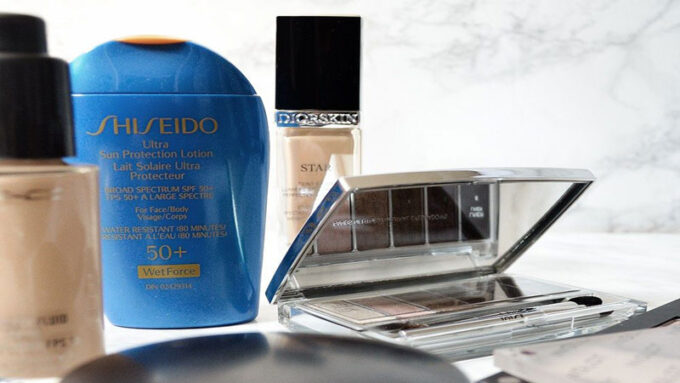 It hasn't been too long since I switched up my foundations for something a little more matte to wear during the warmer months, but my skin has just been wanting the DiorDiorskin Star Foundation ($64, sephora.ca) back like there's no tomorrow! When I started re-wearing this foundation, it makes me wonder why I even bothered putting it away for the summer in the first place – the dewiness! The glow! All you ever wanted in a foundation in a bottle despite the hefty price tag (and insanely ridiculous price hike this past year!) I have been alternative between this and the Diorskin Forever Foundation which I shared in a recent post, depending on what kind of finish I want to have at the end of the day!
When I need to be out and about for a long time, I go back to an old favourite combo – the MACStudio Fix Fluid Foundation ($32, available here) and MACMineralized Skinfinish Powder ($37, available here) – I mean, the coverage and wear! It's not the most skin-friendly foundation – it can be cakey and look very mask-like on some, but I've always loved the coverage the foundation provides (use a beauty blender to ensure it blends smoothly and look more skin-like!) and finishing off with the powder helps make the foundation last even much longer!
The DiorBackstage Pro Eye Reviver Palette ($72, available here) from this summer's collection slowly made its way back to my daily rotation. I'm not sure what it is about Dior's eyeshadow formula – but they are perfect for that subtle look! My mom who has really mature skin can wear these eyeshadows well without looking too made up, and on days where I feel like just having a barely there look, this is the one I reach for!
I've loved Inglot's eyeshadow formula for years, and having started a collection due to its affordability, I realized that I need to pull some of my old favourites back for the autumn/winter season. There are a few jewel tones that I have really loved in the past and would love to bring this back!
The ShiseidoUltra Protection Cream ($49, available here) is an oldie but a goodie. It remains to be one of my favourite sunscreens and product that I keep coming back to because on my skin it wears more like a primer, and helps my makeup hold longer every day.
What are some of your favourite products that you dug out recently?