It feels like it's been ages since I last bought anything, but really, it was only 2.5 months ago that I was shopping for the Sephora FavoritesGive Me Some Nude Lips set and accidentally spent over $100 in the first month of January (but returned some of them, so it wasn't so bad!) and this isn't even inclusive of what I picked up during the VIB sale…
But you know, that feeling… that satisfaction and giddiness you get when you come home to a few boxes of goodies to play with? Well, I needed some pick me up recently because I've been a good girl and… do I really need an excuse to go buy some makeup? It's part of the job!
So here's a bunch of things I picked out recently and hope they will inspire your next shopping trip!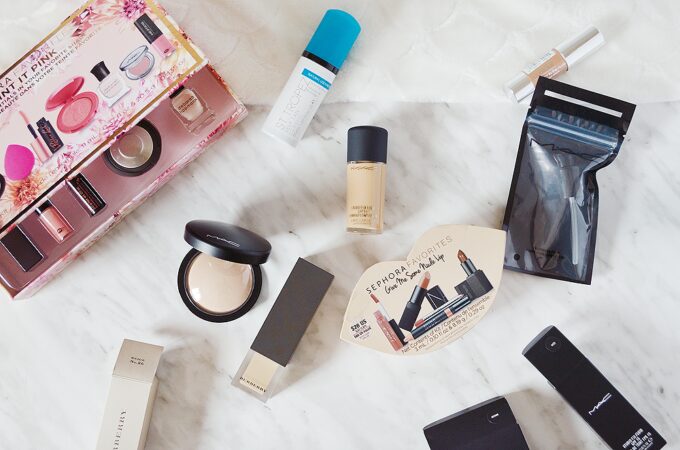 I picked up a couple of new, shiny things from Hudson's Bay MAC and Burberry beauty counters because I had a couple of Hudson's Bay gift cards to use. A total of $70 from said gift cards, and an online code to deduct $20 off my purchase was just too good to pass up. From my jaunt to the MAC counter, I picked up the MACMineralized Skinfinish Natural in Medium ($37, available here) because I've missed this bad boy. I go through phases with it – when I have it, I'm so obsessed with it that I practically will not touch anything else in my collection until I've finished the entire product. Then I go an crack open something else, and I forget about this. I'm really happy with this new packaging because my old one looked so pathetic after the clear plastic popped out.
I also got the MACStudio Fix Fluid Foundation in NC25 ($32, available here), a backup really. I have been using this because I got a crazy tan, and am seriously in love with this foundation all over again. Why and how I managed to stray from this is so mind-boggling to me… but that's not even the best part. When you pair this foundation and set it with the MACMineralized Skinfinish Natural in Medium, the result is just… the most beautiful, poreless, airbrushed, luminous skin that looks like it's straight from the magazines. I get so many compliments when I wear the two products together.
I had to hit $100 minimum purchase before I could use my online coupon and I was too cheap to overspend, so I invested in a MACFoundation Pump ($12, available here). Kind of silly to spend $12 on a pump but it makes a difference. And since I bought another bottle of the pump-less Studio Fix Fluid Foundation (You'd think they'd fix it by now), and am only 1/2 through my current bottle, it just made sense.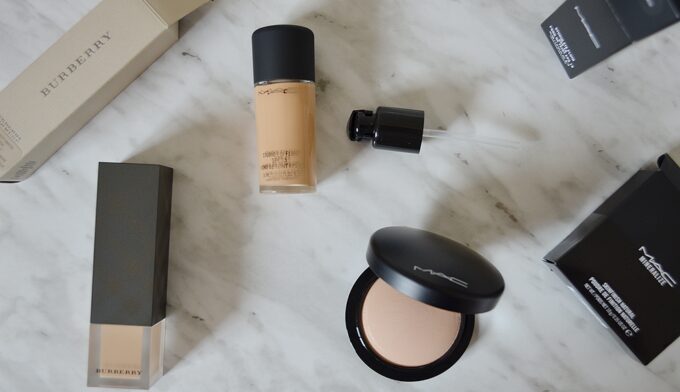 Lastly from The Bay, I got the BurberryCashmere Foundation in Beige N26 ($60, available here). I have been lusting after this foundation since I got a tiny sample of it recently, and since I am well-stocked with my Dior foundations at this time, I thought it was time to try something new. Fingers crossed that the new formulation will blow me away. I've heard that mixing this with the Fresh Glow Fluid makes the result just out of this world.
Then I made my way over to Sephora – I couldn't pass up the opportunity to order because I saw this great 100pt perk: a 1.69oz bottle of the St. TropezSelf Tan Bronzing Mousse ($19, available here) which actually retails for $19 for only 100 points. I know it sounds silly that you need to spend $100 before you could redeem $19 worth of product, but I call in their Rouge line to share my feedback (ahem, complain) quite a bit and am very active in following up on my points… so I did manage to rack up a lot of points outside of my purchases.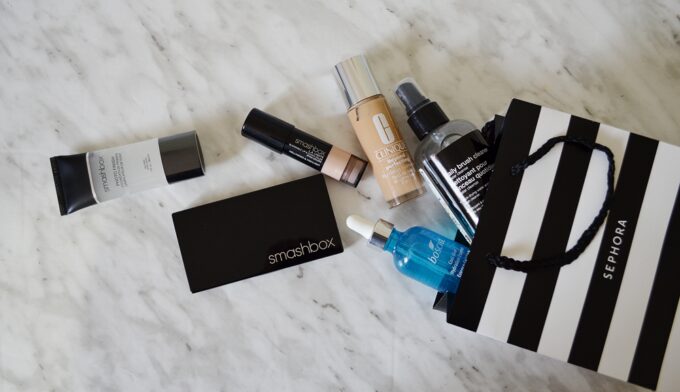 Okay, so I actually forgot to tell you what it was that I bought, but it's the new Sephora FavoritesPaint it Pink ($48, available here). Seriously guys, when I saw this, I was ready to check out with 2 of them, but I didn't really need more than two. It was just so drool-worthy good – let's just consider the fact that the set costs only $48 and includes 3 full-sized items, one of which is my beloved, and super-expensive Beauty Blender ($28, available here) which costs pretty much half of that. I wept a little… And the full-sized eyeshadow from Urban Decay was just the shade that I've been meaning to repurchase from MAC. Urgh, I am resisting so hard to buy another one of this. I keep refreshing the page. Fingers-crossed it will be OOS soon, so I don't spend more money than necessary!
Have you purchased anything from Sephora or MAC recently?