If there is one thing I dislike most, it is waiting. Sometimes a delay in someone's schedule can be a blessing in disguise, including accidental discoveries when you end up wandering into a Sephora. I can't remember how I managed to spot it, but I remembered that once I got my hands on the YSL x Chinese New Year Lucky Rose Lip Set ($75, sephora.ca), I was holding it like I would never let go!
I have not seen these YSL x Sephora exclusive sets before, but I did purchase a similar lip set a while ago (maybe for Valentine's Day last year), which came with three lipsticks, for the same price ($75). I'm curious to know how often Sephora or YSL does these exclusive sets because they are a great value, and is an inexpensive way to try out YSL's lip formula! They don't advertise these well either, so don't be upset if you missed out – I was lucky enough to get the last unopened box at the bottom of the shelf. Sometimes, it's worthwhile asking the sales associate if they keep it at the back too (especially since there are shoppers who tend to open packages instead of asking when there are no testers available!)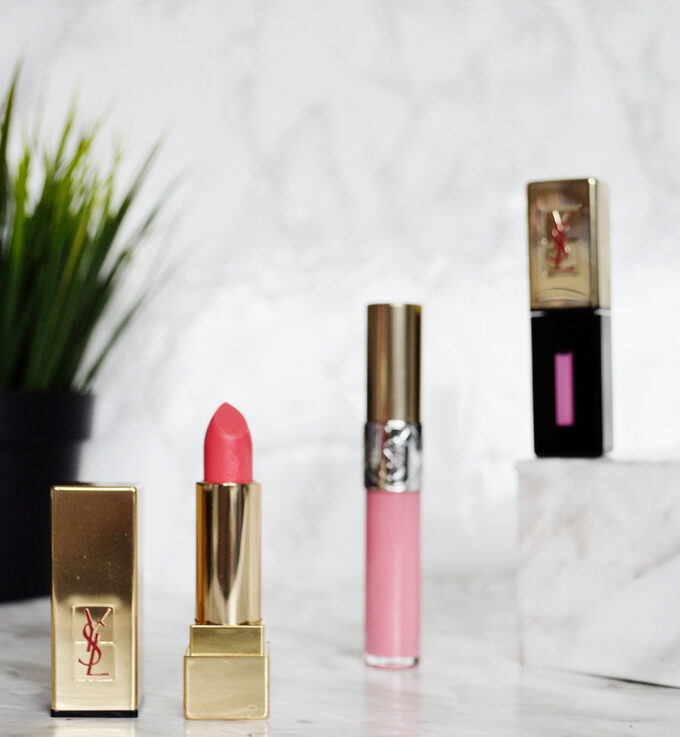 I find YSL lipsticks, particularly the Rouge Volupté and Rouge Volupté Shine to be the perfect Instagram props. Really, it's the only reason I buy them. Since the year of the sheep is my year, this set was an excellent treat to commemorate the year, and is the perfect way to add more YSL lip products to my collection!
The set features three full-sized lip products, Yves Saint Laurent's best sellers lip products in a variety rose-themed shades. Unlike the Valentine's Set I picked up some time ago, this time around the lip products are more varied and includes the newer Gloss Volupté. The set is valued at about $115 and retails for $75.
The three full-sized lip products featured are:
All three products would set you back $112 (unlike the $115 that is estimated at the back of the box) if purchased separately. The lipsticks don't come in its own box/packaging, which is unfortunate if you wanted to split it out as gifts.
Each lip product in the set works out to be $25, much less than what it would cost you to purchase them separately. The set as a whole represents a 33% savings than purchasing separately. The downside of any premade set is always if the colour selection is not something you would wear. In the past, I've regifted lip colours that don't work on my skintone. This set is a little unique in the sense that the colours are rather versatile given the formula.
The only formula in this set that I have yet to try is the Rouge Pur Couture. The colours are quite new to me across all three products, so I'm thrilled to add new shades to my collection. I think YSL did a great job to combine bold colours from formulas that can easily be sheered out, and subtler shades with less forgiving formulas.
Undoubtedly, this is one of the best value sets that I've seen in a while. I have not seen this set online, so it does seem like an in-store exclusive. It may also be a Canada-exclusive set as the box indicates that the set is assembled and imported by YSL Canada. I've had this set for over a month, so hopefully you'll come across it at your local Sephora!
Now it's your turn! Have you seen this set at your local Sephora yet? What do you think of the colours of the lip products included? As always, I'd love to hear your thoughts! Share with me comment section or through Twitter or Instagram!