I am a few weeks late in reviewing this and I don't think this set is available online at Sephora anymore, but just in case it does show up, I wanted to share my review of the awesome Sephora Favorites#FreshFace Set ($36, sephora.ca) as it is one of the better Sephora Favourites sets that have been released in recent months.
For those who've been following my blog for some time, you'll know that I'm a huge sucker for the Sephora Favorites sets and the holiday releases are often some of the ones I stock up on in ridiculous amounts.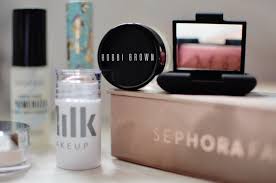 The Sephora Favorites#FreshFace Set, while not being the most value-packed bargain set that Sephora has released to date, is packed with a couple of products that are quite new to me. None of these products are recent releases, but I haven't been shopping as much in the last 2 years, and often when I do, it's to stock up on existing favourites which means I have been missing out on some releases.
I do find that Sephora's tendency to include the same mini in most of their sets to be the biggest drawback of this value set and almost made me not want to check out. The NARS Orgasm, while I get is one of the brand's most popular blush shade, is just a mini that's so overdone considering how frequently it shows up in sets from Sephora and also the brand.
This set includes a few minis that I wanted to try out before committing to the full-sized version; the SmashboxPhoto Finish Primerizer ($50, available here) is a hydrating face primer that feels almost like a moisturizer on the skin. To be frank, I haven't seen too crazy of a result but at least I know this isn't one of those products that I'd feel like missing out on if I didn't have it in full-size.
The Bobbi BrownVitamin Enriched Face Base Moisturizer ($70, available here) is probably not a product I'd buy on its own or at full price. I wanted to give this a go as Bobbi Brown feels like one of those brands that makes you feel and look extra sophisticated. Plus, I love how the Bobbi Brown look is one of those classic, barely-there makeup look that I love emulating on a daily basis.
The only full-sized item in this collection is the TarteQuench Lip Rescue Balm – Sea Collection ($26, available here) lip balm which I've not tried before but since I conveniently ran out of lip balms recently, made sense to give a go.
The rest of the products included in this set are the mini versions of the BeccaHydra-Mist Set & Refresh Powder ($32, available here) – a very intriguing product that promises hydration as part of your daily makeup routine. Then we've got the Milk MakeupHighlighter in Lit ($32, available here) – I've never tried anything from Milk Makeup so this seems like a good way to get around that.
Finally, we have the NARSBlush in Orgasm ($38, available here) which I'm not too crazy about as the colour is suitable for me only in the winter months so this will probably be joining the blog sale pile.
Overall, while this set isn't one of the best Sephora Favorites set the retailer has come out with, it remains one of the more affordable with an interesting mix of skincare and makeup in one. There isn't too many repeats except for the NARS Orgasm, and contains some staple brands/products that makes it worthwhile to try if you're itching to try something new in your makeup or skincare routine.