I am so excited to share my thoughts of this year's Sephora FavoritesSuper Stars Set ($89, available here), a collection of 12-piece must-have products of 2013 including 9 full-sized products and 3 deluxe-sized ones. I wanted to wait until I put up my VIB Sale Haul but I couldn't wait to share my thoughts with you and hopefully help you decide whether or not it's worth splurging.
This set was not on my radar at all until I saw GlamLifeGuru's review on it. Upon seeing the variety of the products included (you're getting everything from eyes, brows, lips, eyes, nails and face) and the fact that there are 9 full-sized products, I was immediately sold. When I got my hands on it (at the time of writing, the set has sold out online; I purchased mine at Yorkdale Mall), I knew that I wanted to write about it in case anyone is still on the fence about the set.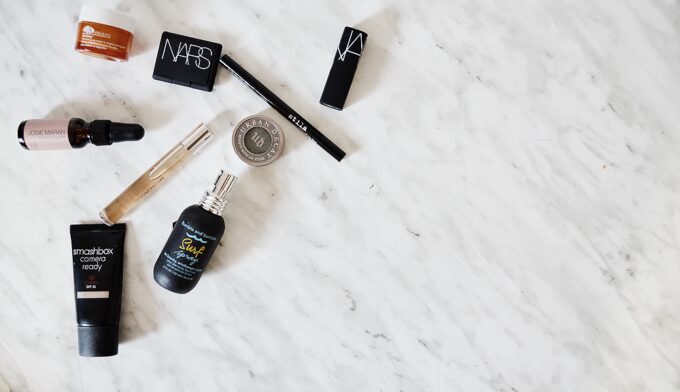 At $89 for the set, it does seem like a huge price to pay for all 12 products in the kit. This price however, is nothing compared to how much purchasing 3-4 of them would cost you (more than $89). According to Sephora, the retail value of the products included in this kit is over $336! If you are on the fence about the set, I highly recommend that you get it – this set will probably sell out very quickly (don't walk, run to your nearest store!)
The products come housed in a sturdy red, rose-gold box and sleeve. They are secured in place by a plastic holder that really keeps them stuck and makes it such a challenge to remove them from the box (well, no complaint there as long as my products are safe). As someone who loves to DIY and recycle/repurpose nice packaging, I give Sephora 2 thumbs up for the rose-gold box packaging. As soon as I saw the box, ideas start popping in my head as to how I can reuse this box which is perfect for storing just about anything. The dimensions makes it perfect for storing jewelry or your everyday makeup or your nighttime routine or memory box or simply as a "catch-all" type of storage box. I absolutely love the box, and as sad as that sounds, I would repurchase the set just to collect the rose gold boxes.
There were two products that caught my eye from the set: the Smashbox BB Cream, and the Nars Lipstick in Dolce Vita. However, the variety of products is really phenomenal and Sephora really thought of including every products from lips to face to eyes to brows. I appreciate that Sephora didn't "cheap" out of the set and actually included stuff that are worth trying! So many of the products included in this set are highly rated, and often featured by bloggers/YouTubers, so it's really great to get to try them without paying the full price! Most of the products included in this set are those which I would not have purchased at full-price, because let's face it, it can get prohibitively expensive. I am very careful when it comes to splurging on high-end products and I appreciate being able to try them in a smaller size before hand. Additionally, the smaller size is not at all a problem and I like the fact that I can finish the products instead of letting them go bad waiting to be used.
I am excited to try the Bumble and BumbleSurf Spray which is often featured in magazines. I remembered reading about this when I used to read the Seventeen magazine and wanting it for the longest time. The 1.7oz size is perfect because it's not too big that I won't get to finish it, and not too small so that I can try and test it over and over again.
This lipstick is one of the highlight of the entire set. I never understood the hype over NARS' lipsticks, and Dolce Vita is a pretty popular one. I know understand why – this shade is the perfect MLBB shade on me. It looks so flattering, makes my lips look fuller and plump and natural – sort of a "no lipstick" look for the lip. Perfect for the office and everyday use.
The formula of the Deborah LippmanCleopatra in New York Nail Polish is unbeatable! Unlike other glitter nail polish, one coat of this gets all the glitters on your nails, and doesn't get chunky which is so important to me!
The Josie Maran100% Pure Argan Oil was another one that I was happy to see in the set. I am not a fan of using oil on my skin or hair, so I tend to shy away from this brand. The Josie Maran brand is very well known for their argan oil, and I've been skeptical to try it on my hands or hair or skin since I find it to be messy. I'm excited about the size because it is definitely easy to finish, and will give me the chance to try it ????
The OriginsGinZing™ Refreshing Eye Cream to Brighten and Depuff is a product I've heard raved about so many times. I've always shied away from purchasing eye creams because they tend to be on the higher end of the price spectrum and works differently for everyone. I am genuinely happy to see the full-size jar in this kit.
This fragrance, Viktor & RolfFlowerbomb Rollerball has been on my wishlist for a while but I've shied away from purchasing it because there's still so many perfumes that I have to finish at home so that they don't go bag. This rollerball is the perfect way to try the product without going broke or feeling guilty about purchasing fragrances!
I've heard many things about the AnastasiaClear Brow Gel, mostly of the brand which specializes in all things brow-related. While I'm not a big fan of brow gels, I appreciate having it nonetheless because it certainly could come handy in emergencies.
I was super happy to see the Urban DecaySin/Mushroom duo included in this set – a big THANK YOU to whoever's idea it was to put these two colors together. Both shades are my everyday staple and favourites – Sin being the lid color, and Mushroom as a crease color (or as a lid color for smokey look).
The Too FacedFlexistretch™ Nylon Fibers and Too FacedBetter Than False Lashes Mascara Base & Top Coat are two products that you need to use together to create the false eyelashes look (using nylon fibres) without the falsies. I have a drugstore version of the product from Essence cosmetics, and I believe they are not suitable for contact lens wearer which is something to keep in mind if you wear contacts like me. I haven't given this a go yet, but really curious to try nonetheless.
The SmashboxCamera Ready BB Cream Broad Spectrum SPF 35 in Light was the one that I was afraid would not work for me. The only shade offered in this set is "Light" and there is no option to exchange it. I asked the sales associate at Sephora (Yorkdale Mall) and she explained that there is no exchange policy on it. For those of you who have NC25 skintone, you are quite lucky as I found this to be the perfect match to my NC25 skintone (how often does that happen?) The BB cream has yellow undertone, so even if you are slightly lighter or darker than NC25 but still have yellow undertone, you can most likely mix the BB cream with your existing BB cream or moisturizer/foundation and still be able use it.
Another example of how awesome this set is can be found with the NarsBlush & Bronzing Powder Duo in Orgasm & Laguna, which is the brand's most popular shades. The bronzer is workable on my NC25 skintone, but Orgasm appears too light on me. One thing to note though, this duo has 2.5g worth of blush and bronzer, for a total of 5g combined. A regular NARS blush (Super Orgasm is pictured here) has 4.8g worth of product. You're getting 0.2g more product with this set.
The StilaStay All Day® Waterproof Liquid Eye Liner is a lovely fine-tip eyeliner that doesn't smudge and glides beautifully on the lids. The fine tip helps make defined wing and cat eyes. The liner comes off with a little bit of waterproof makeup remover.
What about you? Do you think you will be purchasing this set? What do you think of the product selection included?
Where to buy: Sephora ($89)