CoverFX is a Canadian brand that's been on my radar since at least 2010 and one that I have a lot of love and have been trialing for years. It was great to finally see the brand catching up and giving milleanials more options with some innovative launches. I talked about their awesome launch, Custom Drop which can alter your foundation shade thereby "fixing" a colour that would not have worked on you otherwise. This time, we need to talk about the CoverFXCustom Enhancer Drops ($52, available here).
Truthfully, I hadn't planned on getting these at all – I had seen the launch and was intrigued by the success and its popularity. I could not justify spending $52 on a single highlighter colour and that kept me away from Sephora and Shoppers Drug Mart accordingly. Then the holidays came around and every brand was releasing their own "vault" version of some popular range and the CoverFXCustom Enhancer Drops was one of them. I stayed strong. That was until post-holiday sales came around.
The CoverFXCustom Enhancer Drops is available at: Sephora • The Bay • Amazon • Shoppers Drug Mart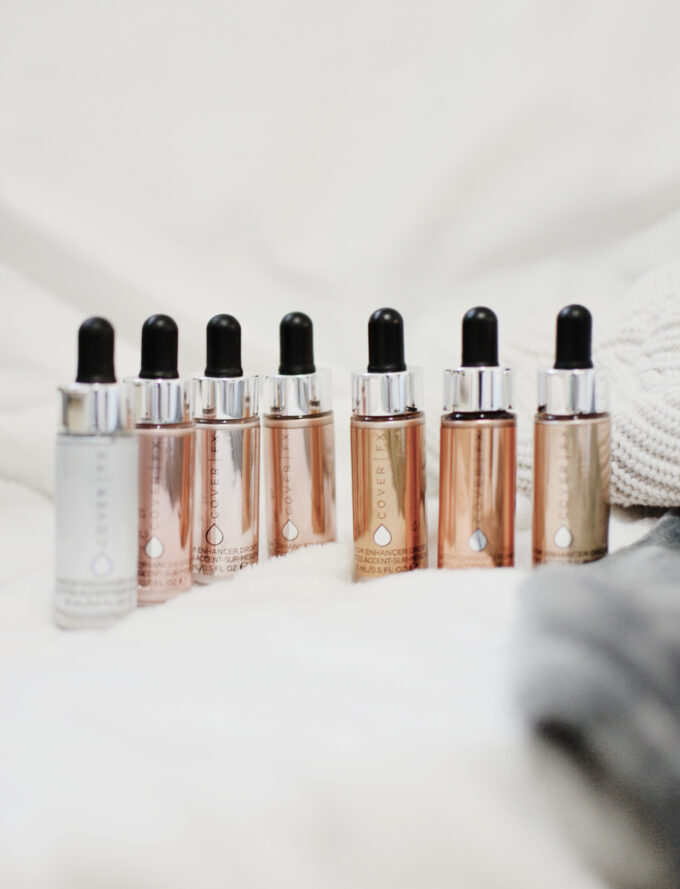 CoverFX Custom Enhancer Drops
The CoverFXCustom Enhancer Drops is a collection of 9 liquid pigments of varying colours and finishes ranging from highlighter to bronzer. Gone are the days that a highlighter is those champagne-coloured powder that you put all over! These days, you can have rose gold, holographic multi-dimensional purple-pink, and bronzey colours – whatever your heart desires! Each bottle comes with 0.5 oz/ 15 mL worth of product which doesn't sound like a lot, but it actually is. This is about half the size of a standard bottle of foundation and certainly a lot more than you get in a powder format.
This past holiday season, we saw the release of the CoverFXCustom Enhancer Drops which includes 7 of their illuminating / highlighter colours. Did I need 7 new highlighters? No. Did I need highlighters this size? Most definitely not. I couldn't pass up the chance to try these considering they were on sale and I could stack a 15% discount on top of that. Everyone seems to be in love with these so I definitely wanted to give them a go.
Included in the vault are the following shades:
Halo – holographic, multi-dimensional
Blossom – soft, pearlescent pink
Rose Gold – warm, pearlescent pink bronze
Celestial – glistening pearl
Moonlight – soft, silver glow
Sunlight – soft, golden glow
Candlelight – shimmering golden bronze
Like its Custom Drop sister, the Custom Enhancer liquid pigments come in a standard dropper bottle. I sort of wished the vault included the 2 matte bronzer shades as those are pretty fun to work with I'm sure. Otherwise, the brand considers this highlighter range as being quite universal and I think I agree with that.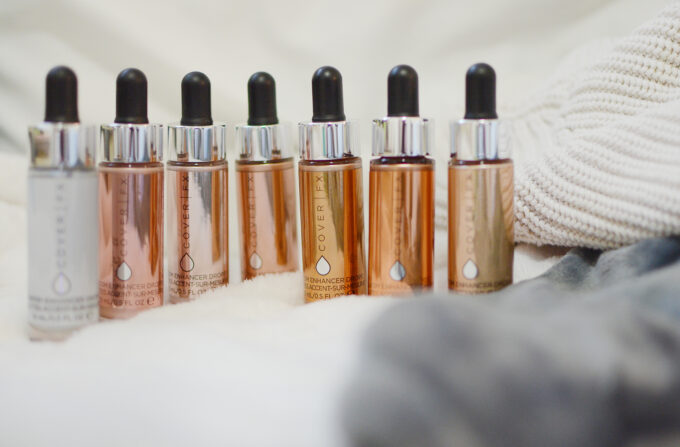 CoverFX Custom Enhancer Drops | Application, Colour & Wear
These liquid pigments have a fairly runny texture to it but not too watery. They are incredibly versatile and easy to use in a variety of ways: on its own, it can be used to achieve that light reflective strobing or bronzing effect or mixed into your foundation, it can add an all-over glow. For those easy no-makeup look, add this to your foundation for a healthy glow on the skin. You're not just limited to use this on the cheeks – these work well as an eyeshadow colour and to add a pop in the inner corner area. I've seen some YouTubers use this as a body highlighter by mixing it with body lotion (i.e. shoulders, décolletage) for the summer season – really the application is quite endless!
These intensely pigmented drops may make you think they will be difficult to work with. The answer is that these are probably some of the least fussy highlighter I've tried. No matter whether you like applying these with your fingers or a brush, they will impart the same natural-looking glow on the skin. Before purchasing the full-sized version, I've been playing around with the mini version of Celestial. I'd have to say that you really need to play around with these to get the hang of it – so if you feel like you can't get it to "look right", try a different technique.
The colours in this range is so stunning – they look like molten metal and there's no separation between the colour and the base. Needless to say, a little bit of this goes a really long way which is why 1 bottle can easily last you a very long time. If you're quite generous with it (i.e. using this on the body and face), you'll still get a lot of use out of each colour, no matter which one you picked up. These are also vegan, clinically tested, and free of fragrance, gluten, mineral oil, and talc.
CoverFX Custom Enhancer Drops Swatches

Now it's over to you! Have you tried the CoverFX Enhancer Drops?