One of the most coveted item on my wishlist is the limited edition Sephora FavoritesTrending Beauty's Most Coveted ($90, sephora.ca) holiday set. It was sold out immediately after launch and I was worried I wouldn't get my hands on it in-time for the VIB Rouge sale so I was a little bit antsy about waiting it out. I'm glad I did, and was able to purchase it with the 20% off because this set is absolutely worth the price and wait!
As expected from Sephora Favorites sets every year, this set doesn't fail to deliver. It includes 12 best-selling items from a variety of different brands that cover every makeup item you need for a flawless face. There isn't anything about this set that is skintone specific (except for the NARS Creamy Concealer which can be easily forgiven as it is a mini) which makes it perfect to shop and gift for everyone on your wishlist.
At the time of writing, although the set is sold out online, it still can be purchase in-store. I was told by a sales associate at one of the Toronto locations that the set was released "to the stage" (i.e. is stocked on-shelf) in mid-October and that they still have stock. Of course, given the VIB Rouge and VIB sales happening in early November, you should try to get your hand on it asap if you're still interested in trying it out.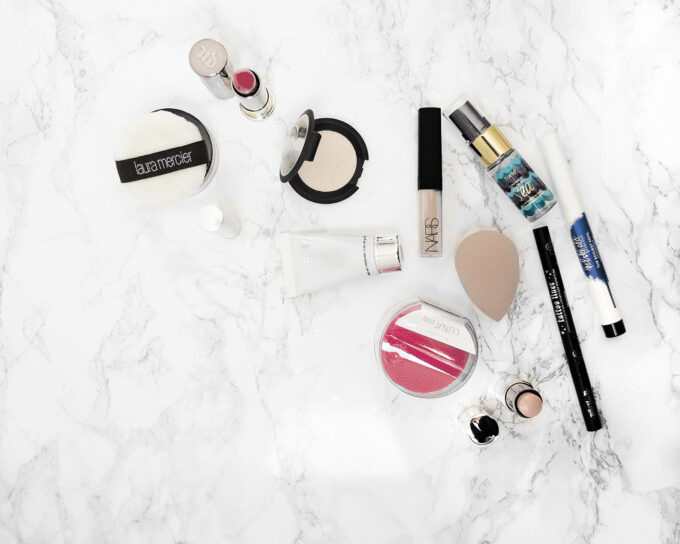 [show_shopthepost_widget id="2109175″]
Included in this set are 12 items, four of which are full-sized. I have been buying these sets for years as I find them to be a fantastic value for money. Although I'm not a fan of every single item included, I can always re-gift the ones I can't use / wear as stocking stuffers or for secret santa.
At $90, this set is quite expensive, but worthwhile if you can apply your discount and use every single item included. I was thrilled to see full-sized items like the Beautyblender, Kat Von D tattoo liner included as these are some of my staple products. I had planned on purchasing them separately if I don't end up buying them in this set.
There are a good selection, variety of products in here, including sizes that I think are reasonable and justify the price tag. I don't often finish highlighters, so I don't mind having two of them in mini-sizes here. I also really like that they've included the Laura Mercier translucent setting powder here as I've only heard amazing things about it and it's quite pricey to purchase separately.
The only item I am disappointed in is the FOREO LUNA™ Play. I may be in the minority and I don't doubt that most people are glad to see it included in the set, but I really dislike the fact that it is non-reusable after 100 or so uses. This particular mini doesn't come with a charger, and I just wonder the environmental impact of including it in the set because as far as I know, there isn't a recycling program in place. Other than this item, I'm pretty pleased with the offerings included and highly recommend it if you are still shopping for holiday gifts – either for yourself or friends / family!
Item List
beautyblender beautyblender Nude ($30, available here)
0.08 oz/ 2.51 mL Becca Cosmetics Shimmering Skin Perfector Pressed in Moonstone (sephora.ca>)
0.03 oz/ 0.88 mL Benefit Cosmetics Ka-Brow! in Shade 3 ($30, available here)
0.17 oz/ 5.02 mL Cover FX Enhance Click in Bubbly ($24, available here)
0.04 oz/ 1.44 mL The Estée Edit The Edgiest Kohl Shadowstick in 01 Black Viper ($26, available here)
FOREO LUNA™ Play in Fuchsia ($49, available here)
0.3 oz/ 8.87 mL Glamglow® Supermud® (available here)
0.02 oz/ 5.91 mL Kat Von D Tattoo Liner in Trooper ($25, available here)
0.33 oz/ 9.75 mL Laura Mercier Travel Size Translucent Loose Setting Powder + Puff ($47, available here)
0.04 oz/ 1.41 mL NARS Cosmetics Radiant Creamy Concealer in Custard ($36, available here)
0.24 oz/ 7 mL Tarte Marine Boosting 4-in-1 Mist ($24, sephora.ca)
0.11 oz/ 3.25 mL Urban Decay Vice Lipstick in 714 ($24, available here)
Did you purchase this year's Sephora Favorites sets? What was your favourite?
[show_shopthepost_widget id="2109175″]