This autumn is one of the busiest seasons as I am travelling not once, not twice, but three times in the span of just under a month! This also means that I'll be celebrating my quarter-century outside of Canada – my first ever! Planning for three back-to-back trips is outrageously daunting (not to mention expensive!) but the prospect of celebrating my quarter-century, and accomplishing my goal of hitting 25 countries before turning 25 is worth the effort!
You've seen a few of my What's in my Travel Bag posts in the past, so you'll be seeing a number of repeats – I'll be linking them throughout the post as well!
If you're interested in other posts where I talk about what I packed for my adventures abroad, and general packing tips check them out here: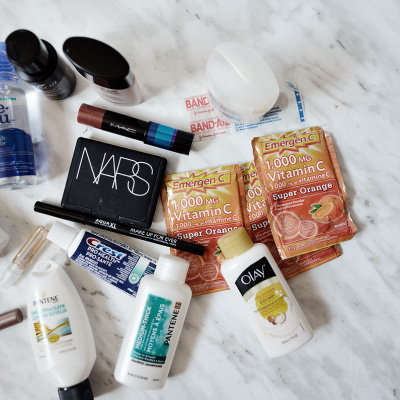 Makeup
Everything I'm packing makeup-wise is fairly standard, and similar to what you would have seen before. My foundation of choice remains to be the Make Up For EverMat Velvet+ in #40 ($47, available here) which can withstand any sort of activities, and is a product that require minimal effort to look good. Ever since I brought along the MACPatentpolish ($24, available here) with me to South Africa back in May, I can't live without it! It replaces my lipbalm + lipstick combination as it makes my lips hydrated (Important when going somewhere as cold as Iceland!) while providing that excellent colour pay off.
I'm packing the Make Up For EverAqua Shadow ($28, available here) just in case I need to look a little more awake and more put together. I forgot to include them in the photo but I will be bringing along my essenceMake Me Brow ($3.99, available here) for filling in my brows (Always important to frame your face!) and the Estée LauderHigh Impact Mascara ($22, sephora.ca)! I brought along the NarsOrgasm/Laguna duo ($27, sephora.ca) to round up all the makeup bits. I love that Laguna looks great as a crease colour on my NC25 skintone, so
Skincare
I'm packing along only things that I can throw away once I'm done with it as I will be flying with Ryan Air, which I've heard can be quite strict with their carry-on limit. I'm packing my BiodermaPhotoderm Sunscreen in a travel-sized bottle for my excursions in Greece, the BosciaCharcoal Black Cleanser which with charcoal as its active ingredient, will suck out any impurities leaving me feeling fresh to start each day!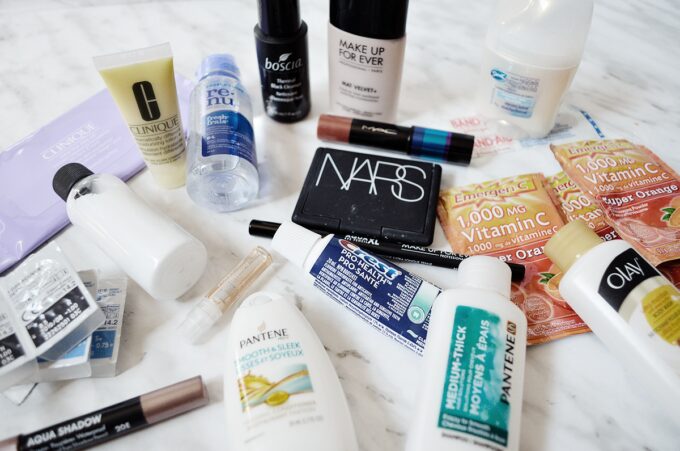 The other items that I brought are fairly self-explanatory – I packed along a deodorant (so you can always feel fresh post-flight and because, really!) a few of my daily contacts, and a couple packets of the Emergen-C, just in case! I started packing these because I've always felt like I stretch myself during my trips, and end up feeling too exhausted by the end of the trip. That always sets me up to coming home with a bit of a cough / stuffy nose and aside from a slower pace, I'm bringing these for emergencies!
What do you usually pack in your travel makeup bag?