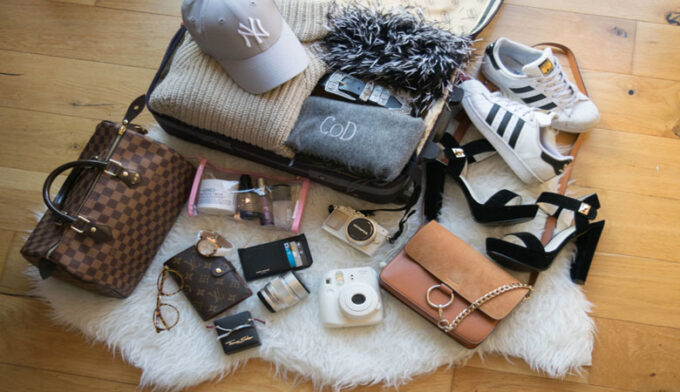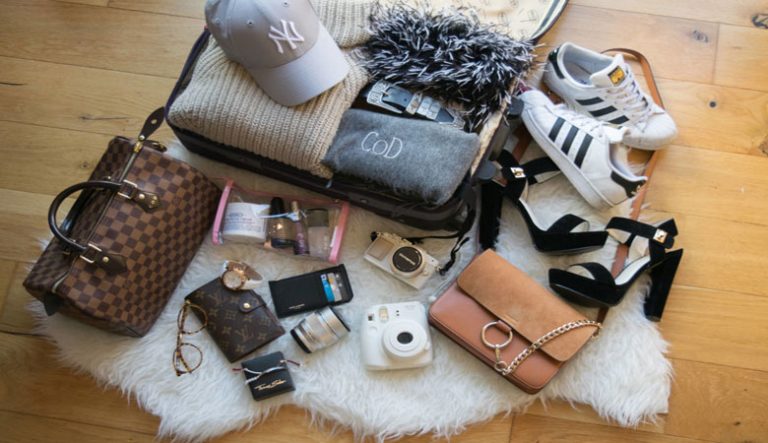 A wise woman once said, "Paris is always a good idea" and I couldn't agree more. Despite having gone there three times in the last 12 months, that sentiment holds true still for me. This time around, I didn't travel solo – I brought my parents along with me to celebrate their 25th wedding anniversary! It's a huge milestone for them and I was thrilled to surprise them with a trip to the "City of Love"!
I always love sharing what I pack for my travels, because you all know that I travel quite a bit throughout the year, having taken 7 trips in the last 12 months alone. Plus it serves as a good reminder for future trips of the products that worked and the ones that didn't for my trips.
The things I packed for this trip is quite minimal as you can probably tell from the things I put together below. I had some really weird connecting flights despite being able to fly direct (my parents wanted the longer route) so I had to pack a little extra in case my suitcase gets lost *knocks on wood* during the trip.
If you are curious about what I've packed in the past for my travels all the way to Africa, and the Middle East, feel free to check out the following blog posts: Always Packed – Updated Travel Makeup Bag (Europe trip), 100ml – What I pack in my Carry On (Africa Trip) and The Carry On Only Make up Bag (Africa trip).
The Carry-On
As mentioned, my parents wanted to take the longer route as it allowed us to connect in Madrid en route to Paris. Not a problem as we got a much better, and newer plane than flying direct. I packed a few extra bits in my carry-on just because this leg of the trip ended up with an overnight portion. The contents of my carry-on bag had to stay under 100ml and fit into one ziploc bag, so here they are!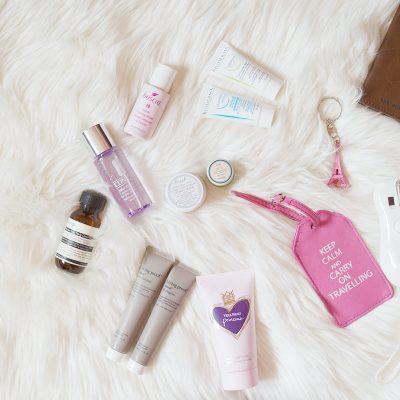 + Contact Lens solution Wearing contact lens may give you the freedom of forgoing the glasses, but that means I always have to have a contact lens solution handy! Fortunately, these little bottles are so accessible so I don't have to lug around the full-size for my travels. A 60ml bottle like the one pictured lasts a good week and a little more.
+ Bioderma Sensibio H20 Micellar Solution – I can wax lyrical about this product, but ultimately it's for removing makeup during the overnight portion, and to use as a toner once I wake up from my nap!
+ Bumble and Bumble Pret a Powder – third day hair means my hair gets a little bit oily and this will banish those oils and fix my hair to look relatively acceptable after the flight.
+ NUXE Reve de Miel Lip Balm – this is the most heavy-duty lip balm I own in my arsenal and it travels with me anytime I go somewhere because I need that hydration like nobody's business when I'm 35000 feet in the air.
+ Hand sanitizer and a lipstick – because I'm high maintenance AF when it comes to flying and also because it increases my chances of getting an upgrade ????
The Makeup
Channeling that "je ne sais quoi" attitude in Paris makes you look less like a tourist and more like someone who appreciates the Parisian culture the way it's meant to be lived. My makeup gets super minimalistic when I go to Paris – forget the colourful eyeshadows! It's all about that fleek and smooth canvas!
+ Shiseido Ultra Protection Cream – A sunscreen, no matter what season, travels with me anywhere I go.
+ Make Up For Ever Mat Velvet+ Foundation – this is my go-to travel foundation – a tried and tested product that lasts no matter the weather! Excellent coverage means you can forgo the concealer, and although it is meant for those with oily skin, gals with normal/dry skin like myself benefits from being able to forgo the powder as well!
+ Stila All Day Waterproof Eyeliner & Buxom Lash Domination Mascara – you all know of the love affair I have going with this Stila eyeliner – it lasts through rain, hail, snow and whatever nature throws at you (including the occasional bawls over cat photos). The Buxom Lash Domination Mascara is a new favourite because it separates and lengthes the lashes like no tomorrow. So much love for this combination!
+ Benefit Gimme Brow – I accidentally overplucked my brows and the Benefit Gimme Brow is a godsend because of its spoolie tip. The formula is not my favourite, but the spoolie tip definitely helps reduce the bulk in my suitcase!
+ Beauty Blender – I'm all about reducing the number of stuff I bring with me because all that space should be reserved for the stuff I'm bringing back from my trip. The beauty blender is a failsafe and small enough tool to fit into my bag!
+ NARS Laguna Bronzer & Clinique Cheek Pop in Berry Pop – I'm all about a very simple and minimalistic makeup, but as we enter the winter season, my skin in paler than I would normally like. Thus, in addition to the bronzer (which I usually will sport on its own), I'll add a bright pink pop of colour on the cheeks to make me look more alive.
The bath products are less exciting but I decided to pop them on here regardless. I always try to save up samples from beauty boxes or random samplers that I get so that I can use them for travelling.
+ Living Proof Shampoo and conditioner – This is Jennifer Aniston's brand/range of hair care products and to me, they are nothing wow, albeit easy to travel with.
+ CliniqueTake the Day of Cleansing Oil and Boscia Tsubaki Cleansing Oil Gel – I've been really enjoying using cleansing oils on my skin as they are far more gentle on dehydrated skin than regular cleanser feels like. Plus, having to massage the product into the skin means that the ritual feels a lot like a spa day rather than a chore I would do at the end of the day.
+ BiodermaHydrabio Moisturizing Serum, Hydrabio Light Cream and Sebium Global – I'm all about highly nourished skin when I'm travelling so these samples of my Bioderma favourites from a value set at Shoppers Drug Mart are just the right size for a quick one week trip in Paris!
What are your must-haves when it comes to travelling for a week-long trip?