I am constantly on the go – just take a peek at my Instagram account, and you'll note that I am often away on some sort of adventures abroad. Aside from my own travels / vacation, I am starting to travel for work as well, meaning that I need to pack quickly, efficiently and fit everything that I need in one suitcase, while adhering to all sorts of airline-specific regulations on size/weight of the bag. In addition to that, I don't always have the time to go to the drugstore and hate the idea of buying (oftentimes overpriced) basics because I forgot about it at home! And let's be honest, isn't it the worst when you're all ready to explore the new city only to discover you forgot to pack sunscreen / water bottle / bobbi pins / hat and so on?
After going through some of my previous What's in My Travel bag posts, I was inspired to write about things that you should pack but often forget! These are merely suggestions of course, and should be tailored to your own trip. Either ways, I hope that this list helps you avoid unnecessary purchases and make your trip so much more comfortable while abroad!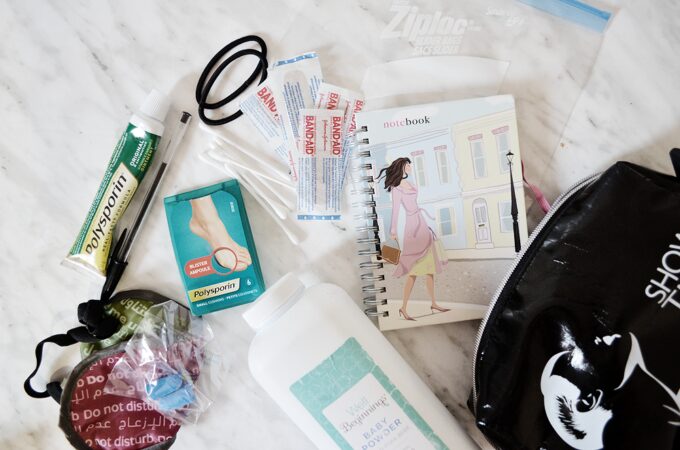 Things You Probably Forgot to Pack.
Hair ties / head bands / bobby pins – Long hair or not, these always come handy when you're abroad. Save yourself the pain of using a rubber hand and damaging your hair!
Polysporin, q-tips and band-aids – I never travel without this combination because you always want to look after yourself. A cut can be easily dismissed as a regular cut but turns out to be much worse, and you don't want that risk or fear hanging over your head. Here's a personal example – I was in Punta Cana last year when I noticed that my wedges were cutting the skin on my left foot. It wasn't anything major – just the scrapes that you get from wearing a pair of new shoes/sandals. I was at the beach and the pool a lot, and taking good care of the scrapes by washing the area off with hot water every night, and putting a band aid on it. It didn't work. I came home and noticed a swelling, and immediately went to my doctor who prescribed me an antibiotic to kill the bacteria and prevent the swelling. Long story short, another coworker of mine experienced a similar thing and had to be hospitalized and cut her trip 3 days early!
Eye mask and ear plugs – Make those long international trips as comfortable as possible
A pen – Returning to Canada means I always need to fill out a declaration card. When arriving in London or Accra, you do the same. This is among the many documentations you often have to fill out when travelling. Having a pen handy is just common sense!
Ziploc bags – These zippered ziploc bags have come to my aid more times than I can count! From storing my wet bathing suits and bikini, packing snacks on the go and many other emergencies, these should be packed in your travel bag at all times.
A notepad – From writing down the addresses of your AirBnb host, taking a new friend's information, writing a favourite memory, and your emergency contacts, having one of these handy will make you thank yourself for being smart enough to pack one before you left!
Baby powder – From keeping you feeling fresh (in lieu of packing deodorant), keeping your running shoes fresh, and reducing the oiliness in your hair after 3 days of not washing your hair in that icky hostel room, a baby powder is one of those staples that you'll be glad you packed before you left!
Polysporin Blister strips – I've recently discovered this gem and I am loving it for summer trips and travels! These are for protecting your feet when you're wearing sandals a lot!
Do you often find yourself in these situations? Leave us your comments below!