There's no shortage of accolades for the recently-released Fenty BeautyPro Filt'r Foundation ($42, available here). I'm not one to shop celeb or beauty guru's beauty lines often as I feel they can be quite gimmicky. A few (more like 10+) articles later, I felt convinced that I really had to give the new Fenty Beauty Pro Filt'r Foundation a try.
First of all, as I'm sure those of you who were similarly shopping for the Fenty Beauty Pro Filt'r Foundation, it was one epic hunt. After swatching a few shades in-store, I opted for shade #290 which has a lovely olive undertone that felt like the best match for me. Lo and behold, it was sold out in stores everywhere near me and online.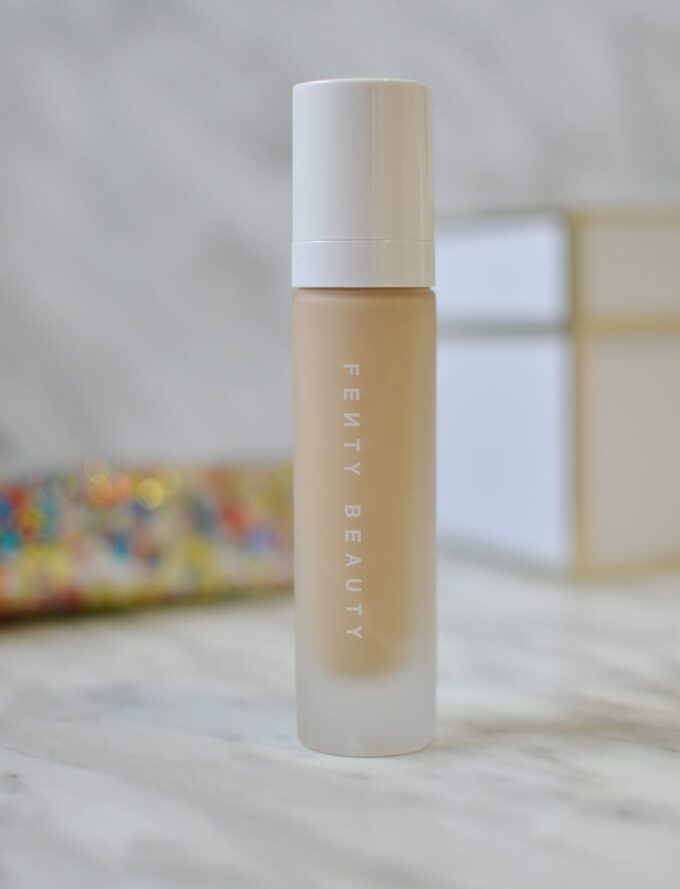 All the Good Things About Fenty Beauty Pro Filt'r Foundation
I really appreciate that this foundation falls on the slightly less expensive side of the price spectrum. Before you get all defensive and say that $42 is a lot to pay for a foundation, I'm comparing the Fenty Beauty Pro Filt'r Foundation price point to its Sephora counterparts. These days, drugstore foundations are already falling in the $20 range without being able to easily test and swatch in-store so I'm always more keen to purchase the lines carried by Sephora in-store.
The bottle comes in a frosted white glass bottle with a pump. So far, so good. This is not a foundation I'd be travelling with due to its bulk. The frosted glass doesn't make it easy to see the true colour inside but there are plenty of testers should help getting you shade-matched prior to shopping the foundation.
The foundation has a medium-full coverage and a super liquid-y texture that feels quite runny. To be that was a major surprise as I can feel the foundation running at the back of my hand if I don't get this on a brush quickly enough. The texture feels like a toner that is less viscous. With this kind of texture, I would skip the beauty sponge and go with a brush instead – I just know my beautyblender would drink this up before I'd even get the chance to get it on the face.
The coverage is phenomenal – I'm having really great skin days these days, so the only thing I'm covering up are old acne scars and some minor redness. One light application of the foundation covers up all the imperfections almost perfectly. What's really awesome is that a little goes a long way – in addition to buying a full-sized bottle, I also have my Sephora sample which lasted me a full 5 days of application despite only being filled 1/3 to 1/2 way through those little sample jars.
What else to know About the Fenty Beauty Pro Filt'r Foundation
The foundation has a semi-matte finish that I don't have to set with powder but still looks skin-like and there's absolutely no hint of cakeyness anywhere on the face. I'm pleased with the final result and it is a foundation that I wouldn't have to think too hard on days where I need something super reliable.

For some additional reference, I wear the following shades in other brands:
The foundation colour selection is one of this product's strongest suite and certainly one that appeals to a lot of consumers. I did find it somewhat hard to find an olive-undertone light-medium colour that suits my undertone but I have heard that Rihanna plans on releasing more colours so here's to finding my perfect match in the future! The shade #290 did oxidize slightly on me, looking about 1.5 shades darker than my actual skintone as the day wore on so you win some and you lose some.
Have you tried the new Fenty Beauty Pro Filt'r Foundation?