It takes a lot to convince me to part from my hard-earned money so it takes a lot for me to feel a brand is worthwhile to write a "Best of" post on. I've been really lucky to really try out products from a variety of brands. One high-end, department-store, "splurgy" brand that continues to blow me away and have really impressed me over and over again is Dior. Having tried a bit of their makeup range, here are the Dior beauty must-have products that I feel are worth recommending to you to inspire you for your next shopping trip!
The Dior Foundation
The one product that really convinced me that this brand was "it" is their revamped foundation range. I didn't like the pre-2014 foundation offerings from Dior as I found their formula to oxidize on me, and I could never find my perfect match. Both the DiorDiorskin Star Foundation ($64, available here) and the DiorDiorskin Forever Foundation ($64, available here) are my favourites and repurchased over the years. If you are interested in understanding the difference between the two versions, I've written a pretty extensive write-up on the two foundations: the DiorStar Forever Foundation.
Unfortunately, over the last few years, the brand has taken quite a steep price increase on these foundations. During its 2014 launch, the Star Foundation retailed for $50, a competitive offering to a number of other brands including Too Faced, and Make Up For Ever. These days, the foundation is around $64 each, making it more in line with other luxury brands like Guerlain and Givenchy.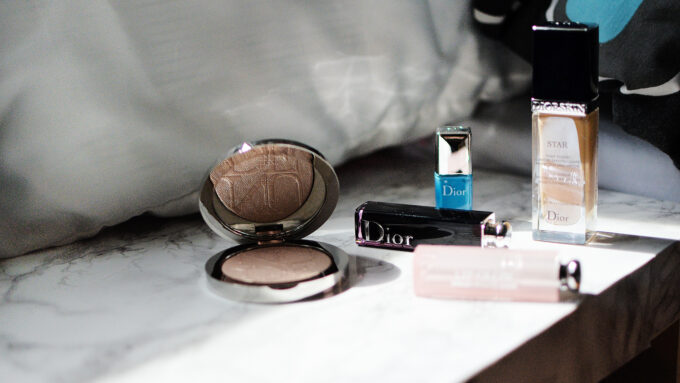 The Dior Lip Products
It's no surprise that two lip products are featured on this post – Dior is incredibly well-known as being one of the best brands to splurge on lip products and treatments. I am a huge fan of a their newest release, the DiorAddict Lacquer Stick ($43, available here) – a lipstick, lip balm and gloss hybrid that I can't stop raving about. They apply so effortlessly on the lips and give you such a rich, pigmented finish but is really moisturizing and comfortable to wear all day! My favourite colour of the bunch is a Sephora-exclusive peachy nude shade called "Rolling".
I really cannot get enough of the DiorAddict Lip Glow in #004 Coral ($41, available here). These have been one of the most iconic products from the brand and it's not hard to see why. These colour-adjusting lip balm is quite unique in the market and is the closest thing to your very own customized lipsticks. Since the formula adjusts to your natural lip colour, these will look different on everyone. If you are familiar with this range, you'll know that the colours in the tube aren't how it applies on the lips. They are a lot sheerer and more subtle once applied on the lips and tints your lips as it adjusts to your lip chemistry. #001 Pink is the OG shade but over the years, we've seen quite an expansion of this range – we had a limited edition lilac shade that launched last year.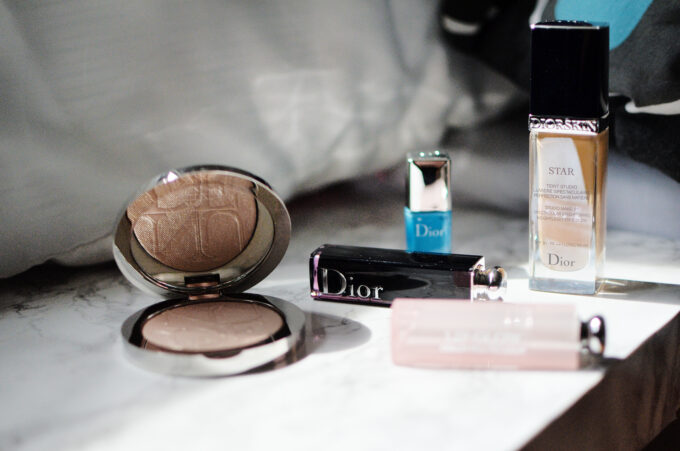 I cannot get enough of the limited edition DiorNude Air Illuminating Powder ($68, available here) and Nude Air Glow Powder ($68, available here). They are, undoubtedly, highly splurgy items but will impress your friends and definitely something you'll want to keep displayed at all times. The intricately embossed powder will make you not want to use it but don't be fooled! These are stunning on a variety of different skintones!
The last item I would highly recommend getting (even if you're not keen on spending that kind of money) is the DiorVernis Gel Shine and Long Wear Nail Lacquer ($33, available here). I know, I know. I'm not one who's into splurging on high-end nail polishes, but the combination of really spectacular formula, well-shaped brush, and long wear just make this brand and product an all-over winner for me!
What are some of your favourite Dior products?
---
Disclaimer:
This post features product(s) provided for editorial consideration. All opinions are my own. For more information about my review policy, please
click here
.
---