This Fall is shaping up to be a season for lipsticks. This month, Dior has launched the reformulation of Rouge Dior designed and curated by Peter Phillips. The Dior Rouge campaign stars both Natalie Portman and Bella Hadid (@DiorMakeup on Instagram) with the spirit of using the myriad of shades for women to express themselves. There are 50 shades in the entire collection, a massive launch that I've seen from Dior from the last couple of years, divided up into two finishes: 35 satin finish, and 15 matte including 4 of which are "extreme matte" colours.
When it comes to lipsticks, I love versatility, and it seems to be a trend that I noticed with a lot of my friends too. I personally prefer buildable colour, long-lasting wear, feels barely there, and a touch of a shine to finish it off. For those who like a little bit more – a glossier finish, and a bolder and more pigmented colour, the Dior Rouge delivers to these different preferences.
The permanent DiorRouge Dior Lipstick Collection ($43, available here) is available nationally at Dior counters as of September 1, 2016, and online retailers (Sephora, The Bay).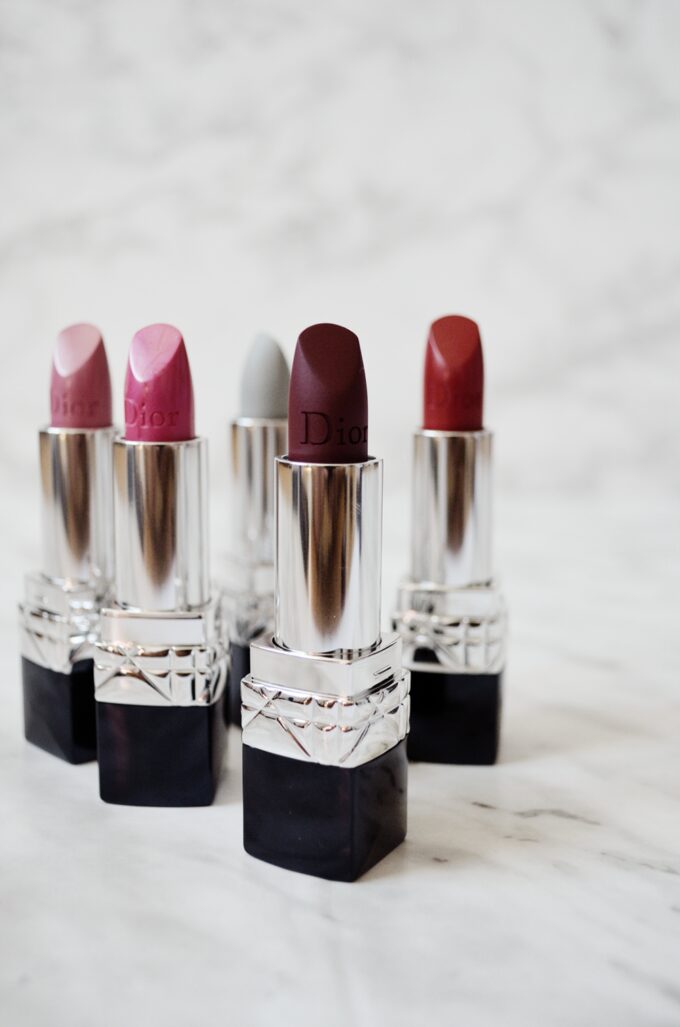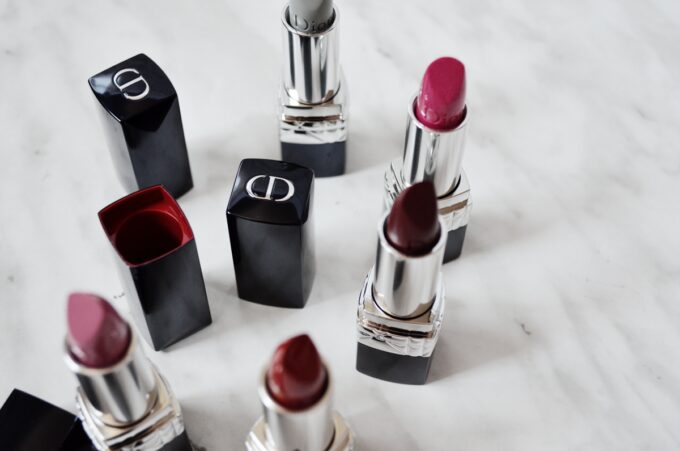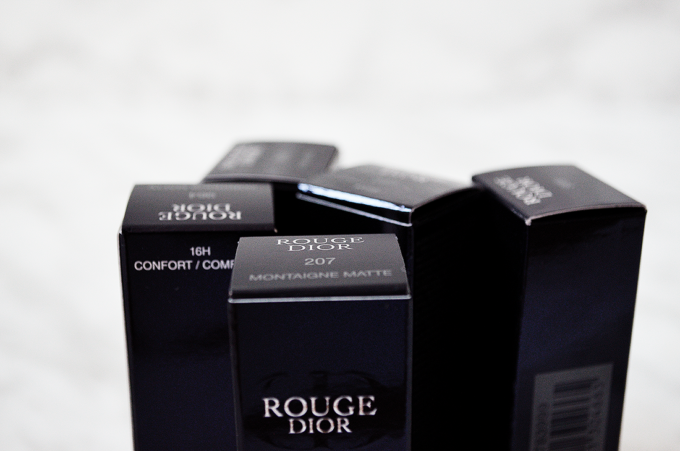 I was also struck by what seems to be a trend I'm seeing a lot lately from lipstick (or lip product) launches from the last couple of months. The size of the collection, variety of colour family and "layering" trend is making lipsticks fun again! Layering is such an exciting new way of using unconventional lip colours and adding excitement and unique-ness to the final look – but we'll talk about that more in a little bit! The DiorRouge Dior Lipstick Collection ($43, available here) is all about bringing haute couture on your lips with luscious, pigmented finish, and formulated to maximize comfort and hydration (16 hours!)
The product is quintessentially Dior – it comes encased in the signature Dior navy blue metallic square tube, with the Dior quilting around the lower third. Once you open the product, the lid reveal a wonderfully luxurious surprise – a bright red lining that was inspired by the iconic shade, Rouge 999 – the Dior sexy signature. The top of the signature navy blue lipstick box indicates whether the product is a matte or satin finish based on the overlay.
Similar to the Make Up For Ever Artist Rouge collection, the range has two finishes: Satin and Matte, and 5 colour families: iconic reds, vibrant corals, pretty pinks, romantic rosewoods, and unexpected mattes.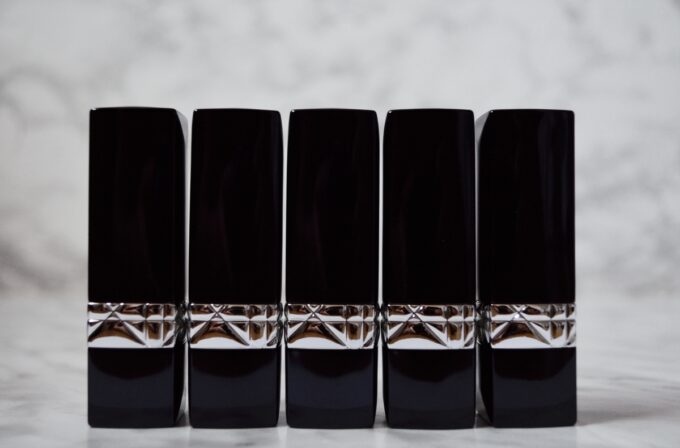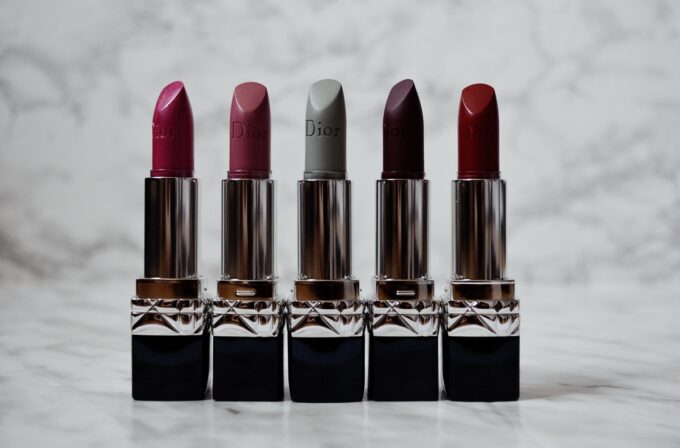 The fifty shades are broken out into 5 family colour shades and there's a good variety in each category. The iconic reds are the most varied so if you're a fan of bold red lip, this is your go-to range! The lipstic is formulated with mango butter and hyaluronic acid for maximum comfort and volumizing effect.
Dior is a brand that's well-known for using their products to pay homage to the brand's history, its founder, and its role in the rise of haute couture. Four of the shades in the rate are considered the "cult colours", dedicated to the history and couture of Dior:
#080 Red Smile: luscious, luminous, fresh coral red shade inspired by the #080 Red shade that was first introduced in 1959. This was also the colour worn by Natalie Portman in the promotional posters
#999 Matte: The Rouge #999 is the only shade available in both the satin and matte finish. It is the iconic red of the House Dior
#047 Miss: this fuchsia shade is an homage to its fragrance, Miss Dior
#060 Premiere: an alluring rosewood shade for everyday wear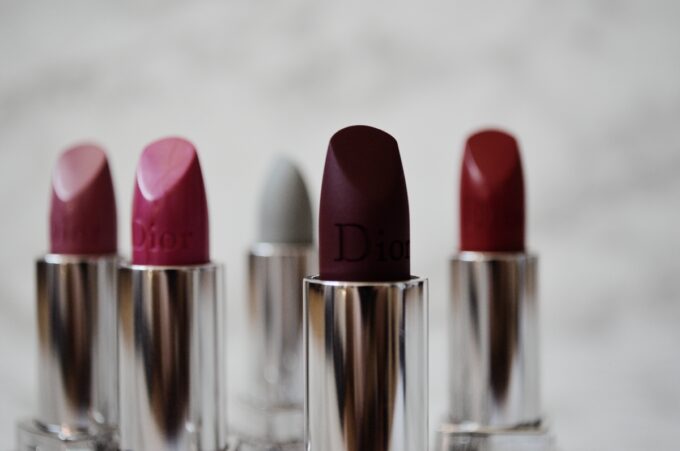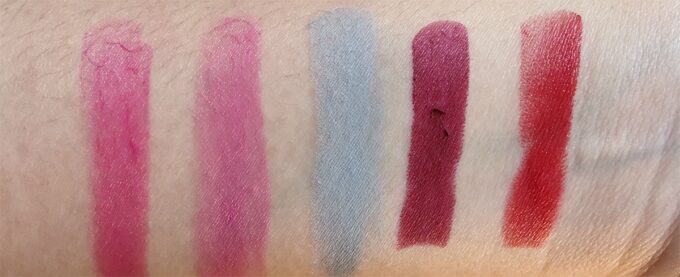 Lipstick Layering – What is it?
Since Guerlain launched La Petite Robe Noir Lipsticks earlier this year, I've been intrigued by the darkest plum shade which can be used to layer over another lipstick colour. I thought it was a one-time release, until the Make Up For Ever Artist Rouge release proved me wrong!
Just like both Guerlain and Make Up For Ever, the new Dior Rouge Dior lipstick can be work to achieve different arty looks with other conventional colours in this range, or other colours that you want to try – the combinations and possibilities are endless!
Use the shade #207 Montaigne Matte in outer half of your lip and the Dior Lip Glow over it to achieve a delicate, discreet glossy finish. Applying the #207 Montaigne Matte in the centre creates an elegant ombre-like effect. Using one of the darker / plummier matte shades adds a more rockstar vibe without going too "vampy" look!
Will you be trying the new Dior Rouge Dior Lipstick collection?
---
Disclaimer:
This post features product(s) provided for editorial consideration. All opinions are my own. For more information about my review policy, please
click here
.
---