In case fresh-off-the-ocean seafood, incredibly friendly people, cheap drinks and melt-in-your-mouth pastries and gelatos are not enough to persuade you to head to Portugal, I think I have the "it" – an ultimate list of things to do in Algarve to convince you to head to Portugal as soon as possible! As a bonus, I'll detail how you can get to the Algarve region from Lisbon, where to stay and other day trips you could consider while there.
I think most people will be shocked at what I'm about to say next, but I'm fairly confident that the Algarve region is much nicer and far more picturesque than the beaches in Santorini or Mykonos. I was far more impressed with my time in Algarve, exploring Lagos and the immediate area as well as snapping away at the various beaches there compared to the crowded beaches in Greece.
Why Algarve and Lagos Should be on your List!
I spent a day exploring Lagos (which is the small town closest to a lot of these beaches) which is hardly enough time to see the many beaches that line the region. It's an incredibly popular holiday / weekend destination for locals and tourists alike so if you plan to go, you need to go early.
This region is a favourite destination for locals and tourists alike so expect some crowds. Where possible, best to also pre-book transportation during high season to prevent being disappointed about missing your bus/train because it's full.
The Algarve is one of the most beautiful areas in Portugal that's only a short drive (roughly 3-4 hours from Lisbon) away making it the perfect getaway for the weekend. It's a favourite destinations for many Europeans for its idyllic beaches (there are 17 according to this website), Mediterranean weather all year round, coastlines that stretch for miles, lack of crowds, exhilarating water sports to indulge in, tons of opportunities to sail to deserted beaches, mouth-watering cuisine, and picturesque markets and walking strips that will keep you busy for days!
If being outdoors isn't your thing (We all like different things afterall!) the Algarve region is the perfect base for a day trip to Seville, Spain (where they filmed Dorne in Game of Thrones), exploring the old city of Faro among other things. Most people who come to Algarve though, tend to indulge in Algarve's famous beaches and impressive list of water spots you can enjoy, regardless your age and fitness level!
Where to Go in the Algarve Region
It can be really confusing and induce a sense of FOMO when you think about where exactly in the Algarve should you go. Want Instagram-perfect snaps? Resort vibes? How about that old town experience filled with local restaurants and goodies to buy? I've highlighted three towns that you might want to consider checking out if you're heading here!
1. Faro
Faro is the capital city of the Algarve region and the easiest way to get to the region if you're flying. It has an airport and a major bus terminal that services Portugal as well as the surrounding countries. If you plan on taking a day trip to Spain, you'll want to leave from here.
Personally, I opted not to stay here as the cost of food and accommodation was more expensive than in Lisbon. It seemed far away from the beaches and things I actually wanted to do but I would imagine it making the best base for your trip through Algarve.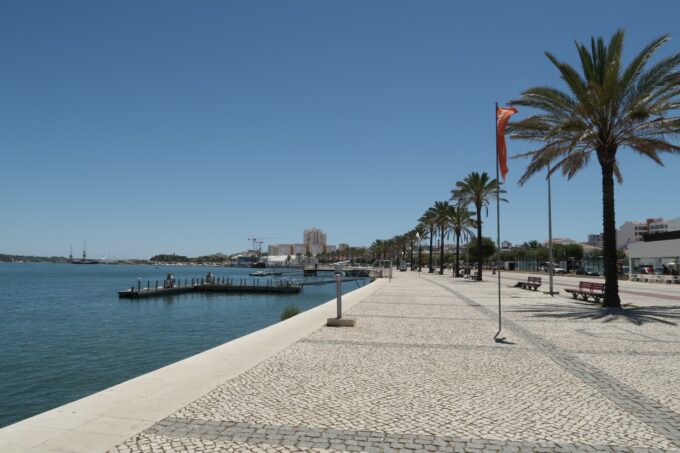 2. Portimau
This small town is very close to Lagos; you'll know you're in town due to its marina so you'll be seeing tons of sailboats, yachts, motorboats among many others you'll spot. It's got a holiday/resort vibe to it and there's a number of very expensive-looking hotel that dots the marina. Portimau is also one of the larger cities in Algarve also making it a convenient base for sightseeing.
3. Lagos
I opted to make Lagos my base for the day trip as it was logistically easiest to go here and walk around myself. There are a number of hotels, and budget accommodations as well as supermarkets and restaurants which make it seem like a holiday-town. It doesn't seem very crowded (then again I was there during low season)
Things to do in Algarve
1. Explore World Famous Beaches
There are some beaches that show up again and again when you look up Algarve on Google, Instagram or Pinterest and they probably made you stop and double-tap that photo. Everyone comes back for the crowd-less beaches, impressive rock formations that were formed naturally through erosion, clean sands, refreshingly cold water, and perfect weather all year round!
I've shared a map below which will give you a bit of context on distances between the beaches. There are 17 beaches with various levels of accessibility, sizes, and appropriateness for families or water sports so here are a few options that you might want to consider on your trip.
And yes, the beaches are fairly walkable – even from Ponta da Piedade all the way back to the central bus station.
1. Ponta da Piedade (Mercy's Point): This beach is probably one of the most famous due to its highly dramatic rock formations. It's located on the furthest point of Lagos and it's very easy to take the taxi from the bus station to here for €6 per vehicle! There's a bit of hiking involved and be very careful as there's some very major drops! You can also do a boat/ferry tour for a few euros as well!
2. Praia da Balança: This is probably not the most famous beach out there but worth dropping by to see the opposite side of Ponta da Piedade. It's very isolated and very dramatic cliffs that makes for the perfect instagram backdrop! There is no lifeguard on this beach which may be something to consider since the beach itself is very small and isolated.
3. Praia dos Pinheiros: This is another one of those very small isolated beach because of the cliffs and some difficult steps to get to the actual beach. It's not a very wide beach so it's one of those that you want to get to early!
4. Praia Dona Ana: This is my second-favourite beach as there's something so picturesque about it! It's a very family-friendly beach and I saw some snorkeling and surfing lessons happen around this beach as well. The beach is similarly protected by some massive rock formations but is a little bit more open and less isolated compared to the prior 2 beaches I mentioned. This is a lifeguarded beach and earned the title of the most beautiful beach in the world in 2013 by Condé Nast.
5. Praia do Camilo Beach: The beach earned its name due to the restaurant O Camilo located on top of the cliff. There is a very sturdy wooden staircase to take you all the way to the bottom of this isolated beach. There's even parking spaces just right outside of the restaurant! It is a blue-flag, lifeguarded beach making it perfect for families or those travelling with young children!
2. Take a Boat Tour (or Swim) to Benagil Cave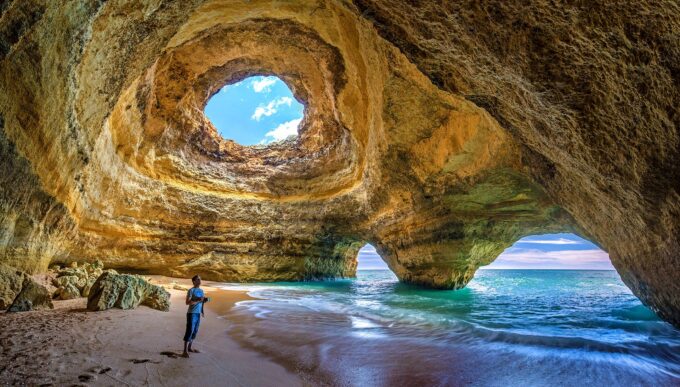 The Benagil Cave is one of the most interesting rock formations that is world-famous due to its uniqueness and difficulty of getting there. There are a number of boat tours that you can take from the beach which costs anywhere from €15-25. The boat tours are common around the area and goes to visit many caves.
Unfortunately, the boat tours barely goes into the cave and stops for only a few minutes which makes it tricky to get really good photos. I've also heard of some safety issues with the boat (i.e. the boats driving really fast with little regards to swimmers in the area).
You could also go to the cave by swimming however, the water is quite rough so it's best to go if you're a strong swimmer. Plus there are plenty of fishermen boats and tour boats that go which could also make it a fairly crowded/dangerous swimming area.
3. Shop in various Boutiques in Lagos Old Town Market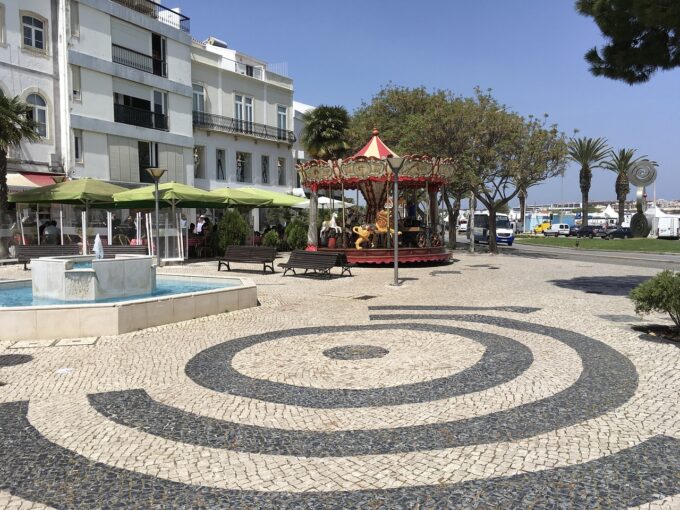 I came across this little market completely by accident but I was so in love with this cobblestone-lined street with boutique stores that sells everything from blue tiles, clothes, handmade jewelry in addition to lovely restaurants and gelato shops throughout. I opted to not eat or shop here as seeing the price list made me cringe a little! Things were more expensive than the same places in Lisbon!
4. Day Trip to Faro
Faro is often overlooked for its more scenic, and idyllic siblings, Lagos and Portimau. Rubbing salt in the wound is also the fact that Faro hosts the region's only airport and major terminal meaning that most travelers only "see" that side of the city. However, Faro has a few things to offer should you have time to explore it.
Faro is a little bit like many European old towns with its cathedrals, old town square churches and museums topping the list of things to do which is probably not as exciting as exploring Lagos' incredible beaches. However, it's worthwhile to explore what else Faro has to offer including:
Old Town Faro
Faro Cathedral
Forum Algarve for some shopping!
Faro is also particularly lovely as a departing point for a cruises as they have a lovely lagoon where you can do a bit of fishing and incredible birdlife.
5. Day trip to Seville, Spain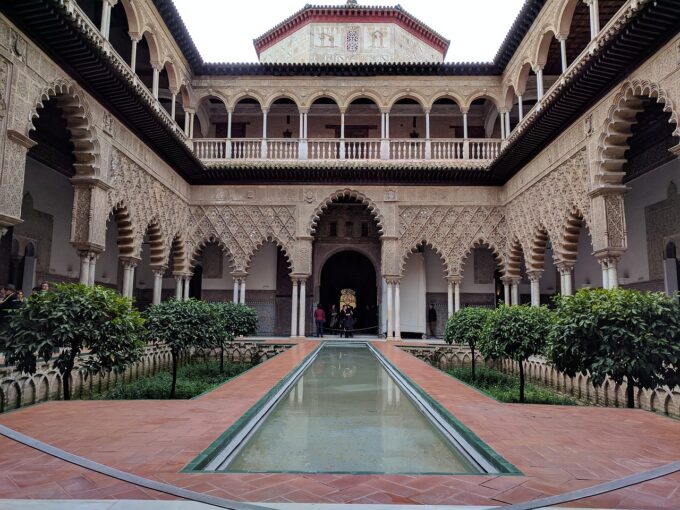 One of my goals when visiting the Algarve region was to cross the border to Seville, Spain. The UNESCO World Heritage Site, Alcázar of Seville is where Game of Thrones' Dorne scenes were filmed and also one of its most famous attractions. If you've ever watched the show and episodes featuring Dorne, you'll know that it absolutely picturesque and remarkable. In addition to the stunning palace, this city has a rich history from the infamous Spanish Inquisition to the Alhambra Decree. All the while, different groups of people have called this city home including Catholics, Muslims, and Jews.
Heading to Portugal soon?
I spent 2 weeks in Portugal and explored the country through a variety of activities! For more details, be sure to check out my Things to do in Portugal | 10 Days Adventure Itinerary.
Lisbon or Porto? 3 days or 3 weeks? Whatever decision you need to come to, here's my list of things to do in Lisbon!
One of my favourite spots in Lisbon is Belem, its historic centre. Guarded by two famous monuments, a remarkable monastery and the best pasteis de nata spot in all of Lisbon, you'll want to make Belem your #1 stop in Lisbon!