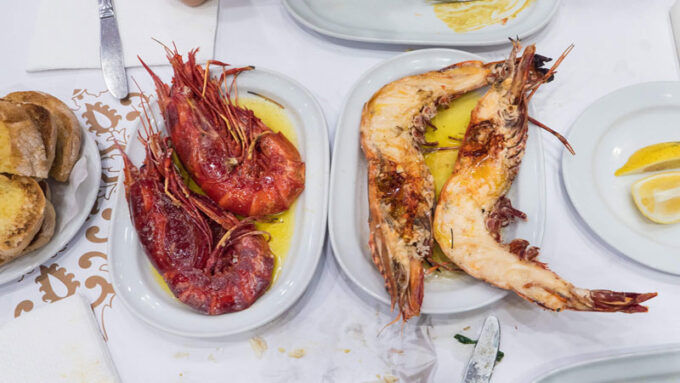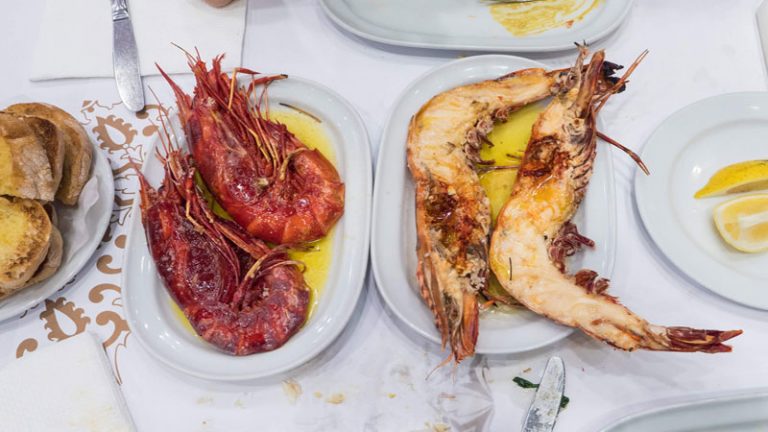 There are tons of places around the world where you can enjoy delicious plates of seafood and indulge yourself in a bit of "self-care" in the form of stuffing yourself with the freshest seafood (if you're a fan like me), and one of those places is Cervejaria Ramiro in Lisbon, a place where you absolutely must consider visiting when travelling in Portugal.
Cervejaria Ramiro is a legendary spot in the heart of Lisbon, familiar to locals and tourists alike. It's a favourite hangout for locals and now that tourists know about it, lineups can get fairly long. Don't be daunted by the line up though; the waiters are incredibly efficient, and since you're sitting elbow-to-elbow, "canteen style", every single seat will be occupied and used – you'll be seated before you know it!
I was incredibly lucky on the day I visited that there were only two people waiting to be seated but it's not uncommon to see lineup's that snake around the corner and wait times around 1 hour long.
Visiting Cervejaria Ramiro in Lisbon, A Seafood Lover's Paradise.
The Cervejaria Ramiro is a spot for anyone who is obsessed with seafood should consider frequenting. The spot serves only the freshest seafood (along with wine and beer) and cooked to perfection. Simplistic in its approach, explosive in its flavour profile.
From tiger prawns to clams, King Crabs and lobsters, you will not walk out hungry, and your wallet will be grateful because you probably will discover you spent less than expected, especially if you live in cities where fresh seafood is hard to come by and very expensive.
When I arrived at Cervejaria Ramiro, it was on a Monday just before the dinner rush. I sat down and was provided a basket of bread (which costs €2.90, so decline politely if you're not interested). I opted to keep the bread as I thought I would need something to dunk the sauces with. I was then presented the menu on a tablet – on it, are pictures with the name of the species and price per kilo.
How and What to Order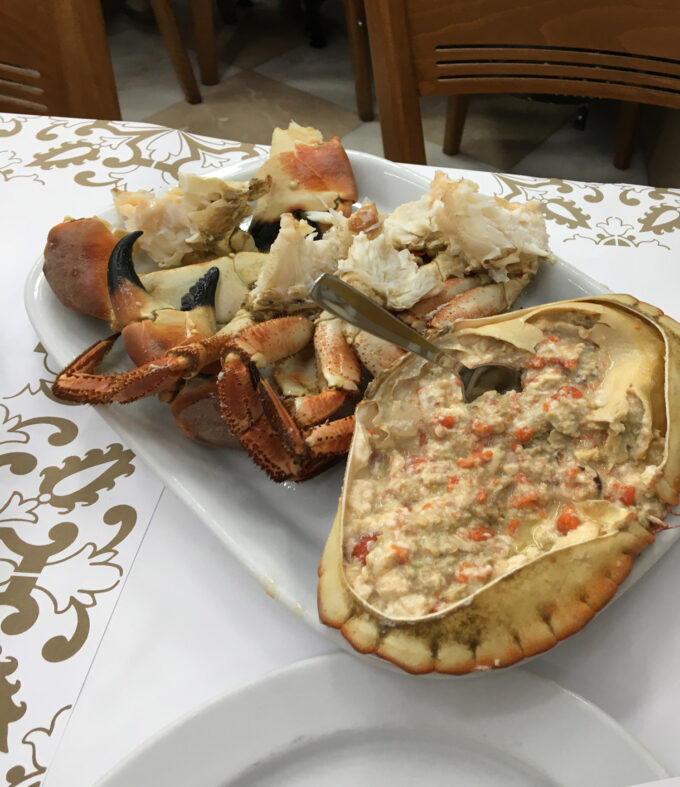 You order by quantity (i.e. 1 King Crab, 3 tiger prawns) and the waiter will select the size of the shellfish based on the table size. So for example, for a party of 1 person, they'll pick a smaller King Crab (unless indicated otherwise) than they would pick for a family of 4.
Unfortunately, you can't really budget ahead of time which is something I always like to do when going to a new restaurant. However, my experience, as well as reviewers on Tripadvisors indicate that we walked out feeling like we spent a lot less than we expected (and this is coming from someone who lives in Toronto where the cost of fresh seafood can be astronomical).
The cooking at Cervejaria Ramiro is very simplistic – steamed, cooked with garlic or olive oil, to allow the sweetness and juiciness of the freshest catch to shine.
Don't expect to be able to customize your order or have the shellfish cooked in other ways as they only serve what's on the menu. There is nothing else on the menu aside from shellfish and the steak sandwich. So don't expect you can order pasta or sweet desserts.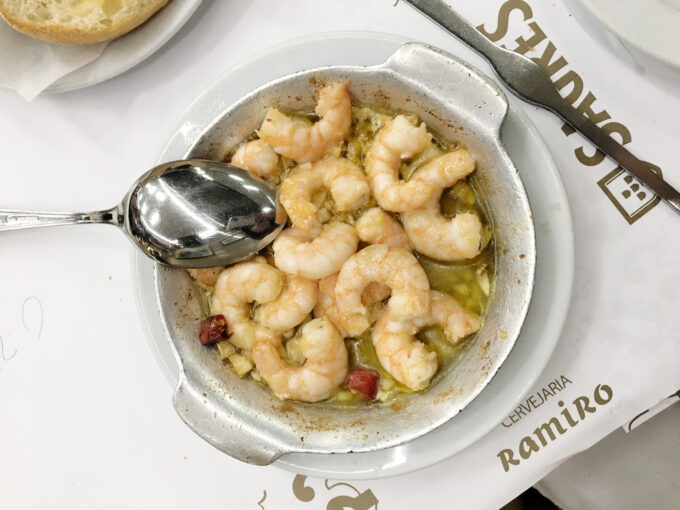 I opted to order a beer to enjoy with my order. You can also order a bottle of wine which I hear is fairly inexpensive as well. Don't be tempted to start with the bread – you'll get full quickly and won't have room for the seafood. I ordered a steamed king crab; the roe was cooked in a way that made it the perfect dipping sauce for the bread. Also, I have to ask – what do the Portuguese feed their shellfish? The king crab whick I asked specifically for a party of 1 is easily going to fill up 2-3 people. The king crab also comes with a shellfish hammer as the shells on this bad boy are tough!
Also absolutely necessary to get is the Shrimp with Garlic – a generous portion of juicy shrimpt dripping with olive oil with a hint of spiciness and tons of garlic flavour.
The barnacles, and razor clams are equally popular and not to be missed.
If you have room, dinner is a steak sandwich. Have it if you can – Anthony Bourdain recommends it.
The Atmosphere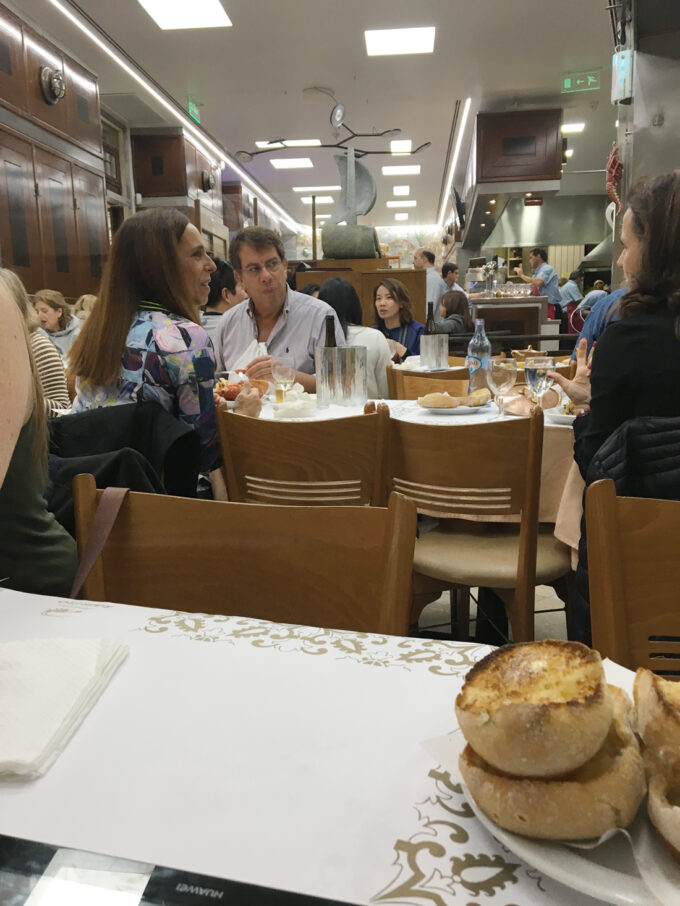 The canteen-style, and sitting elbow-to-elbow is very reminiscent of my expereince travelling in Asia and is probably not everyone's style or preferences especially when it gets really loud, crowded and hot in the area. Those factors weren't enough to deter me though as I would do more than that to get fresh seafood at reasonable prices.
There was another girl travelling alone who was ahead of me and we got seated together and shared a bit of our dishes so we can enjoy more variety.
If it's a fine-dining, quiet, you-can-listen-to-your-neighbour-talk kind of atmosphere you're looking for, better to skip Cervejaria Ramiro.
You can expect to spend at least an hour here – ultimately the shells have to be peeled and deveined to be enjoyed. Savour all the flavour and down those beer and wine as you work your way through the plate.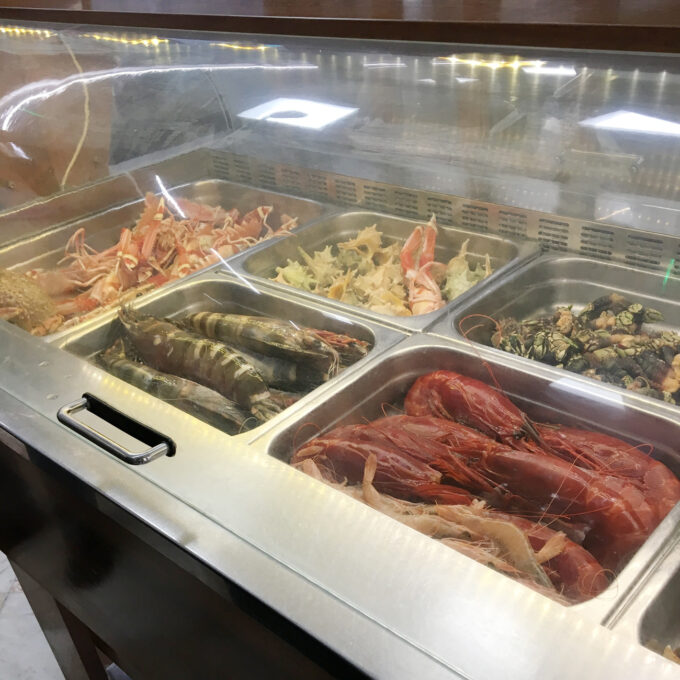 Due to the crowd size and small space, you might only see your waiter once or twice so don't expect 4-5* level service as they need to turn the tables fairly quickly. If you come in without any expectations with their service, the seafood is more than sufficient to blow your mind away!
The waiters are no-nonsense, and brisk – highly efficient and something I found to be a part of the charm. Don't be that person asking tons of questions you can find by going through the menu or watching your fellow diners and have some idea of what you want to order before you come in. Trust their recommendations if you're really overwhelmed by the variety – they're experienced enough to let you know what's best and most popular. Don't be concerned about getting ripped off – everything is sold by weight and you can review the price per kilo before agreeing to a plate.
The Price Tag & Reservations
I ended up ordering the king crab, shrimp with garlic, a bottle of beer and the bread. My total before tip came to around €40 which was around CAD$60, which I thought was reasonable and worth the splurge.
I am not sure if you can get a reservation or not – I didn't when I showed up, but it seems like the place does take reservation during dinner. If you can get a reservation, I would highly recommend it.
At the end of the day
Eating at Cervejaria Ramiro was an experience of its own and I enjoyed a taste of no-nonsense Portuguese hospitality along the way which was appreciated. I devoured my plates in a matter of minutes and if I had gone earlier in the week, I would have loved to return and enjoy another delicious lunch or dinner here!
Have you been to Cervejaria Ramiro?