I'm excited to take you back to my trip to Lisbon, Portugal! Lisbon is one of those cities that you don't have any expectations for that would end up stealing your heart and taking your breath away. Whether you're staying for 3 days or 3 weeks, here is an easy "discovery" itinerary packed with things to do in Lisbon, Europe's best kept secret!
While Portugal and Lisbon aren't like France and Paris to the world – there isn't a world-famous structure that tourists line up hours for but with its impressive coastal lines, incredibly friendly people, mild weather, and delicious seafood, Portugal is starting to become more and more popular as a tourist destination. So get there before it's too late!
All I knew about Portugal until I booked my trip was its impressive dominance during the Age of Discovery. Vasco da Gamma, Bartolomeu Dias are two of the most famous Portuguese to have claimed a spot in history books for their daring sea voyage. Upon learning about the incredible seafood and its beautiful waves for beginner surfers, I knew I had to book a trip. Spoiler alert! I love Lisbon (and Portugal) so much that I contemplated booking a return trip after only two days in the city.
Things to do in Lisbon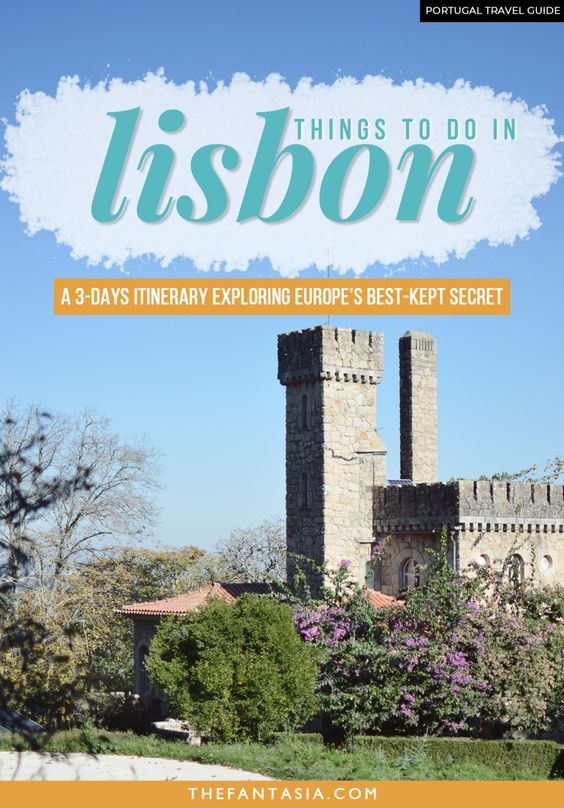 I spent a total of 3.5 days in Lisbon as the rest of my trip was spent at a surf camp in a city about an hour away. Here's what I got up to during my 3 days itinerary for Lisbon! If you are interested, here is a more detailed itinerary about my entire in Portugal!
Where to Stay Lisbon – Budget Option at Goodmorning Hostel
Before I get started, I have to give the biggest shoutout to the hostel I picked as my base for my entire Lisbon stay. I loved this hostel so much that I came back a second time after my surf camp! I picked the Goodmorning Hostel as my home base during my stay in Lisbon which was an excellent choice. They treat you like a family (so many hugs, chats, and funny conversations – I've never felt more welcomed in a hostel my entire life!) and they love what they do at the hostel which really shows in how they interact with you and each other! If you want to walk away with the best memories of Lisbon and have a base that's centrally located, Goodmorning Hostel should be your top pick.
Plus, there's free breakfast (sandwiches, waffles, fresh fruits, juices/coffee) and free cocktail night (with unlimited sangria and beer!) I stayed during the low-season and instead of just ONE cocktail night, we had 3 in a row (Friday to Sunday). The hostel also run regular tours to Sintra which I highly recommend (especially if you can get a guide named Marta – she is the BEST!).
If hostels aren't your thing, there is also the Goodmorning Apartment which allows you for a bit more privacy over the hostel!
Day 1 – Visiting Sintra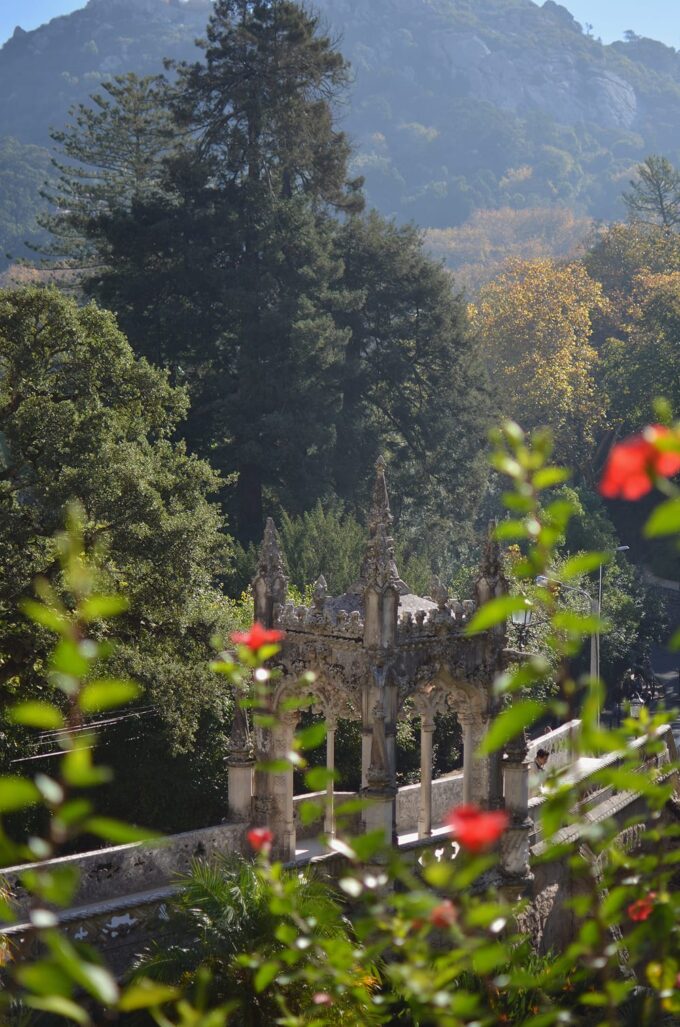 Sintra is a little quaint city about 30 minutes away from Lisbon. Famed for its beautifully-coloured castles and Quinta da Regaleira, it is an area best discovered with a tour guide since there it's all about the history and secrets that can is best picked up from your tour guide. There are plenty of Freemasons references throughout the site and it is considered a UNESCO World Heritage Site. Make sure to go through the "initiation" process down and up the well!
Day tours to Sintra occurs quite regularly so you can check with your hostel to see if they host one. My day trip to Sintra was arranged with Goodmorning Hostel (Ask for Marta as your guide) costed only €45 and conveniently done in a private vehicle.
Day 2 – Visiting the Algarve Region and Lagos Beaches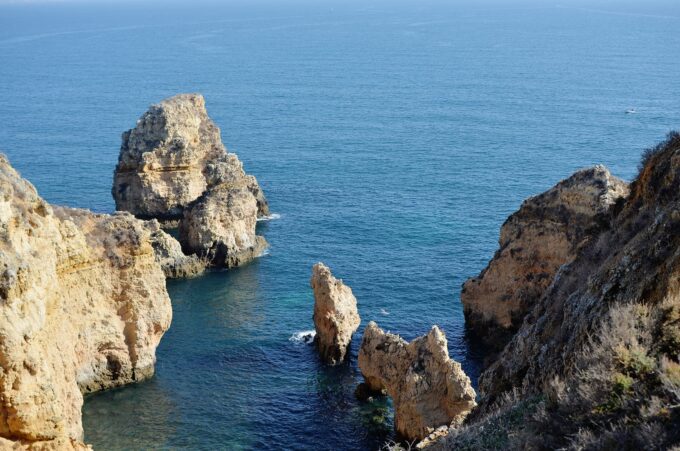 It's a sin to visit Portugal and not soak up the impressive coastline. Although there are beaches close to Lisbon, I knew I had to go big otherwise, I'd be disappointed. That's when Instagram told me to check out the Algarve region, particularly Lagos to get my fill of incredible beaches and soaking the sun. Since the Algarve region is about 3 hours away, it's worthwhile to spend at least two full days there if you plan on picnicking, or exploring the beaches beyond just an hour or two.
I opted to visit Algarve over a day since I found Lagos to be more expensive than Lisbon. I was planning to spend about a week at the beach surfing so I didn't feel it was necessary to stretch my Algarve trip unnecessarily long. It worked out well too since I ended up enjoying a short break from the city a lot more than I would have if I chose to stay for a while in Algarve.
Day 3 – Exploring Lisbon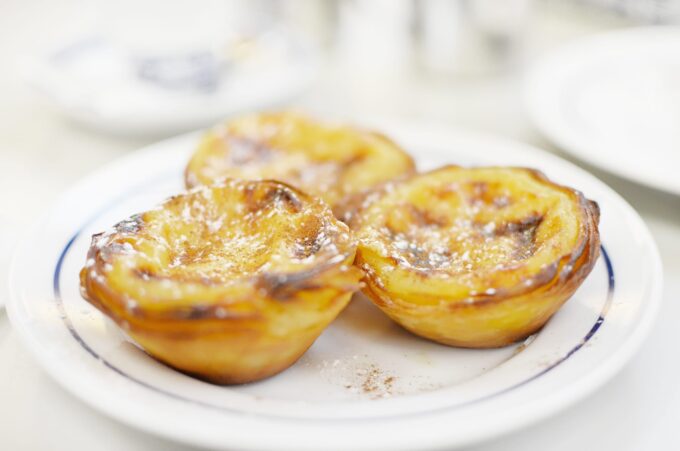 Lisbon is one of those cities that you can explore really quickly even at a leisurely pace. I dedicated 1.5 days in the city and felt it was more than enough time to see Belem, and walk around central Lisbon and captured a few beautiful photos. Thanks to a really impressive public transit system, getting around Lisbon is quite inexpensive and very efficient time-wise so you can do a lot in a short amount of time. I think 2-3 days is the most that I would spend in Lisbon because it could get very redundant and boring otherwise.
I know I always say this, but Lisbon is a truly walkable city! My hostel is located right next to a metro station and I didn't have to use it except on the days I was doing long day trips. I've attached a map below of some of Lisbon's most popular attractions (this list isn't even exhaustive!) that you can do immediately from the hostel I stayed at. There are other hotel and hostel options in the area so rest assured that you'll find something you like if Goodmorning Hostel doesn't appeal to you or gets sold out!
Here are a few things you can do within Lisbon that's fairly walkable:
Santa Justa Lift
Castelo de S. Jorge
Comércio Square
Lisbon Cathedral
Praça da Figueira
Cervejaria Ramiro – Featured Anthony Bourdain's show "No Reservations" – one of the best (if not the best) well-priced seafood restaurants in Lisbon
Heading to Portugal soon?
I spent 2 weeks in Portugal and explored the country through a variety of activities! For more details, be sure to check out my Things to do in Portugal | 10 Days Adventure Itinerary.
One of my favourite spots in Lisbon is Belem, its historic centre. Guarded by two famous monuments, a remarkable monastery and the best pasteis de nata spot in all of Lisbon, you'll want to make Belem your #1 stop in Lisbon!
Have you been to Portugal?