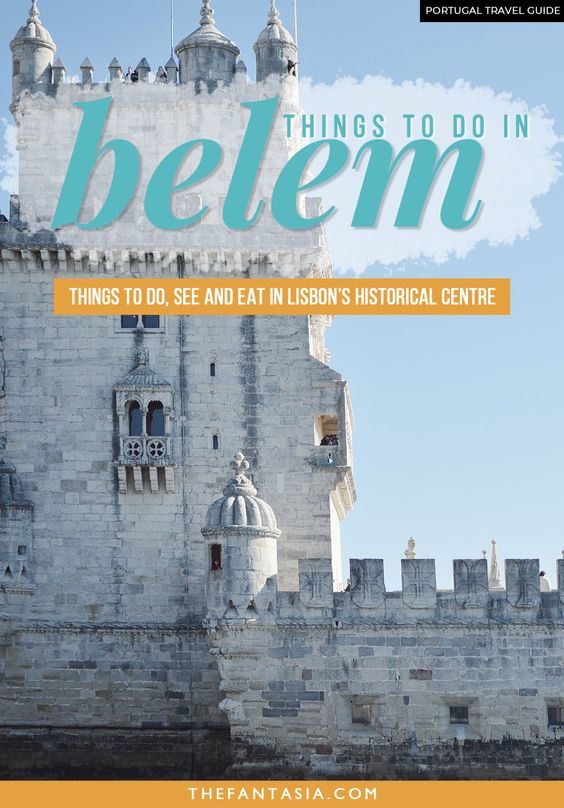 I still find it hard to believe that it's been at least two months since my trip to Portugal. With the insanely cold December (remember the bomb cyclone?) we had as well as the winter weather we're having these days, I am constantly flipping through my archives to find pictures and remind me of the fun things to do in Belem.
Portugal remains and will continue to be one of my favourite countries in the world – incredible seafood, generous people, efficient public transportation and lovely Mediterranean weather are just a few inviting things about the country and why you need to go there as soon as possible. Honestly, these days all I can think of is what are some other fun things to do in Portugal that I could get up to.
In the meantime, let's talk about Belem, its significance and why it's one of my favourite places in Lisbon!
Where and What is Belem
Belem, which is Portuguese for Betlehem, is a site of historic significance – during the Age of Discovery (or Age of Exploration) between the 15-18th century, this is the site where explorers like Vasco da Gamma, Ferdinand Magellan and Bartolomeu Dias would set sail. I find it rather symbolic that these explorers, sailing into the unknown would depart a place that has a significant historic meaning in the bible. Of course, the choice of sailing out of Belem isn't only due to its name, but also its location, being at the mouth of the River Tagus.
Belem Today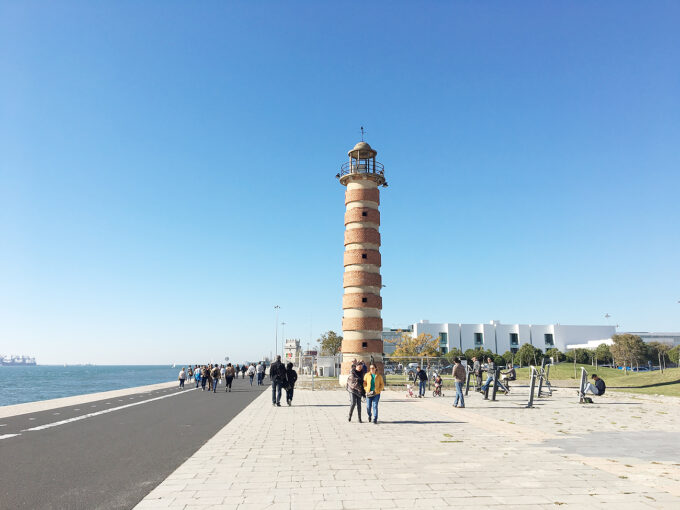 Belem is the home to all sorts of tourist attractions in Lisbon. Here you can see a lot of locals enjoying their day and making use of the amenities like the pedestrian and bicycle path along the river. A visit to Belem is considered an absolute must when visiting Lisbon and it is certainly something I highly recommend you doing in the city. You can only understand a city/country by stepping into its history and Belem is the best place to truly appreciate Portugal as a whole. This site is my favourite in all of Lisbon and I think will make you appreciate the contributions of Portuguese sailors and explorers during the Age of Exploration.
Belem is where you can spend anywhere from half a day to a full day. At a leisurely pace, you can certainly finish the whole trip in half a day, but if the day is really good, I suggest spending a whole day here. What better ways to enjoy tasty pasteis de nata while looking out into the water, enjoying sights of sailboats and people watching? There is also a tourist info booth on site so you can get information on getting around should you need to!
P.S. Here are some of the best pasteis de nata shops you should check out on your next trip to Belem!
How to get to Belem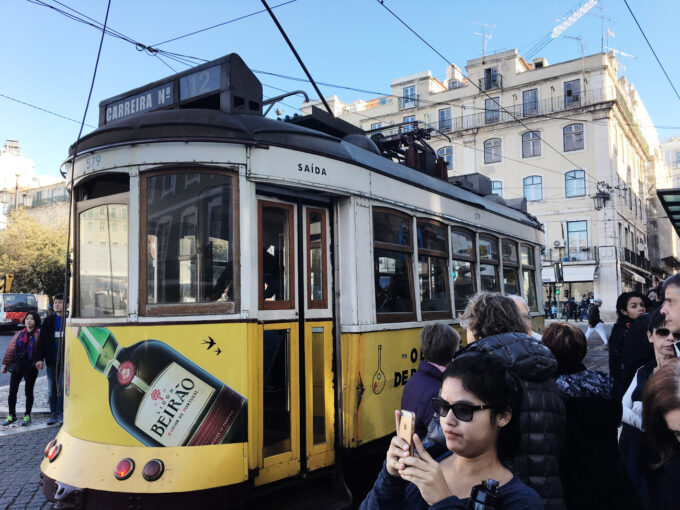 It's very easy to get to Belem as it is located on the main "tourist trail". You can take Tram 15 from Praça da Figueira or Praça do Comércio (this area is very central in Lisbon and most people know it). It's about 16-ish stops and takes around 30 minutes. If your tram stops half-way through due to maintenance work that had to be done like mine did, don't worry. You can absolutely walk some of the distance (in my case we were about 10 stops away from Belem so it was an additional 20 minute picturesque walk). This tram is typically packed with tourists no matter what time of the day you go so better to watch your belonging and go early when possible.
Things to do in Belem
1. Padrão dos Descubrimentos (Monument to the Discoveries)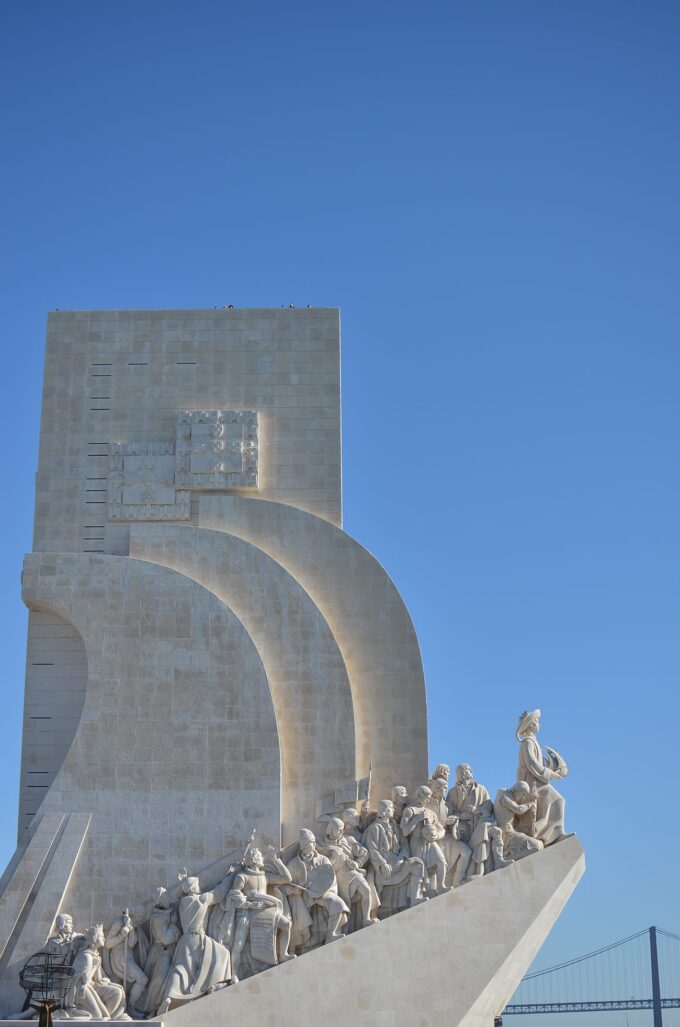 My favourite structure in all of Lisbon has to be this one. The Monument to the Discoveries is shaped like a ship sailing out into the seas with sculptures of 16 figures on each side of the structure. These figures from the Age of the Discoveries include explorers, monarchs, scientists, led by Prince Henry the Navigator at the front. In front of the this massive limestone structure is a massive square that has a large compass rose gifted by the government of South Africa.
It is possible to ride up the elevator of the structure and go all the way to the top. Tickets are very inexpensive – only €5 per person with various discount options (i.e. seniors pass, family discount) available. You can find more details on the official website including opening times and admission rate.
I personally didn't go up the elevator as it was far too crowded (I woke up late that morning) by the time I got there. Instead, I admired this stunning monument from the outside which was equally just as impressive.
2. Torre de Belém (Tower of Belém)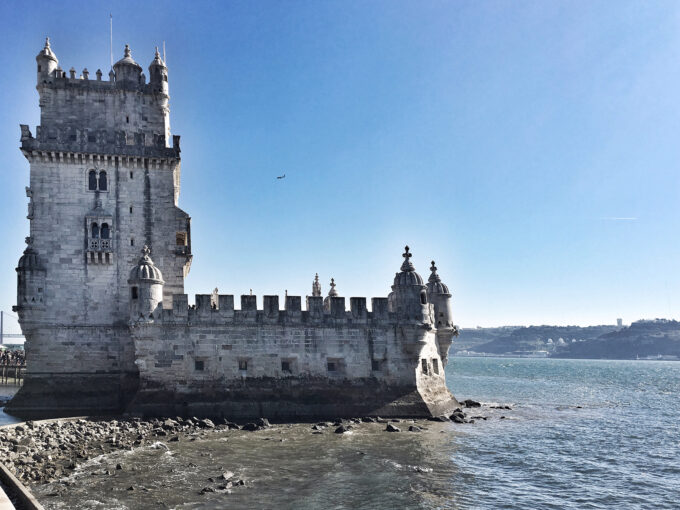 One of the most iconic images of Belem has to be the Torre de Belém (Tower of Belém). It was built as a viewpoint to protect the strategic entrance to Lisbon (River Tagus) from sea-based invasions and attacks. It is considered a UNESCO World Heritage Site and is considered a fantastic showcase of the Portuguese Manueline style. Most images of Belem will showcase lots of tourists lining up to get inside.
Although I would normally pay the fee to go inside, admiring the tower from the outside was good enough for me. Personally I don't think you could improve the view from inside the tower. There is a path along the river where you can admire the tower in peace and quiet while getting an impressive view of the water in front of you.
Just like the Monument to the Discoveries, entry fee for the Belem Tower is fairly inexpensive at €6 per person. You can also purchase a combined ticket for the monastery as well to save a few bucks if you plan on visiting additional sites.
3. Mosteiro dos Jerónimos (Jerónimos Monastery)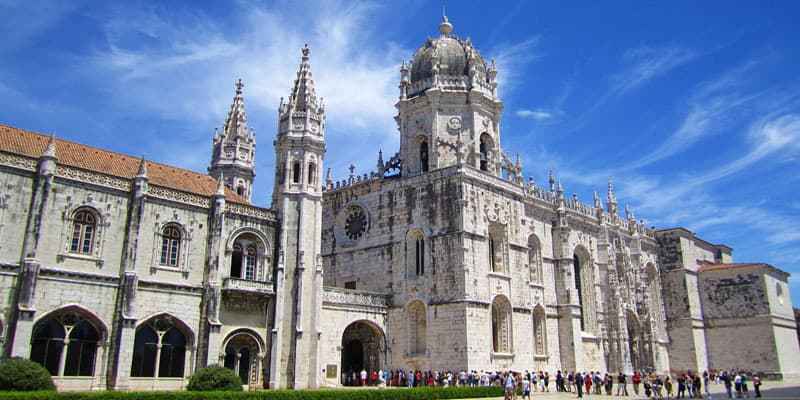 Source
This massive monastery is a masterpiece worth going into. It is surrounded by a stunning garden that reminds me a lot of the Tuilleries in Paris. Designed in a similar manner as the Tower of Belem, the monastery was built with the 5% tax levied on the goods brought back from various voyages. Vasco da Gamma was buried here as he established a trade route with India, thus bringing incredibly valuable spices which was a hot commodity back then and allowing the Portuguese monarch to generate valuable tax money to build the impressive monastery. Take some time to walk around the gardens as it is absolutely worth it after or before you go into the monastery.
4. Admiring the 25 da April Bridge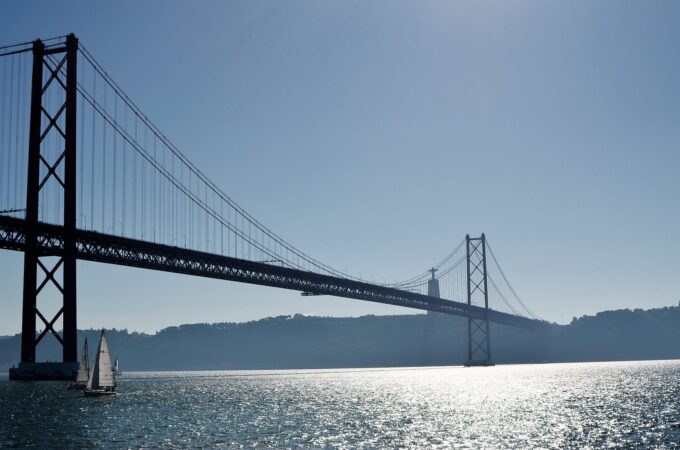 April 25 is a significant date for a lot of Portuguese – it was the date of the Carnation Revolution which was military coup to overthrow the authoritarian government of Estado Novo. It is now known as "Freedom Day". To celebrate the bloodless coup, the red bridge in Belem was named after this significant date. If this bridge made you do a double take (as it should), it's probably because of its striking resemblance to the Golden Gate Bridge with its fiery red colour. It's an iconic symbol of Belem as well. I particularly love watching the sailboats going about under the bridge!
5. Pasteis de Belem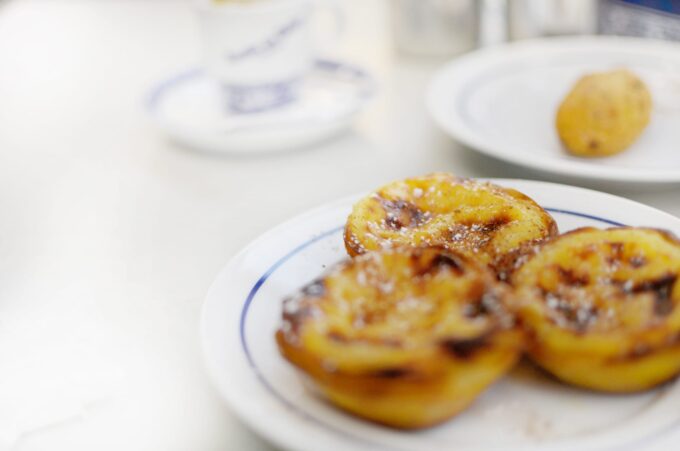 You cannot, and I say this with as much emphasis as I can muster, go to Belem and skip on this iconic place. The Pasteis de Belem is famous for its pasteis de nata (Portuguese egg tarts) that still uses the same recipes as the ones made in the 1850s. Tourists line up at this establishment and although the lines might initially scare you, don't skip it. I promise you that the line up moves really fast, and that you'll get your fresh-off-the-oven, hot pasteis in as little as 15-20 minutes! Pro Tip: Go inside and actually get seated. It's faster and you'll probably be enjoying your pasteis far more comfortably with all the wonderful menu options they have as well.
P.S. Yes it is worth every calorie and you should aim to take some to go as well.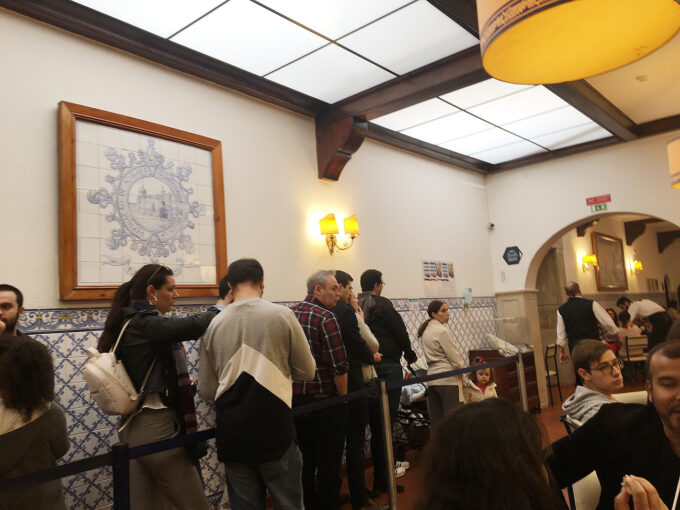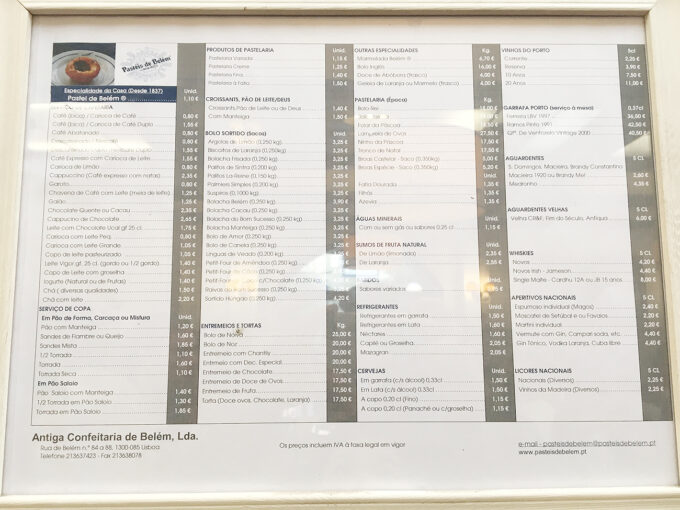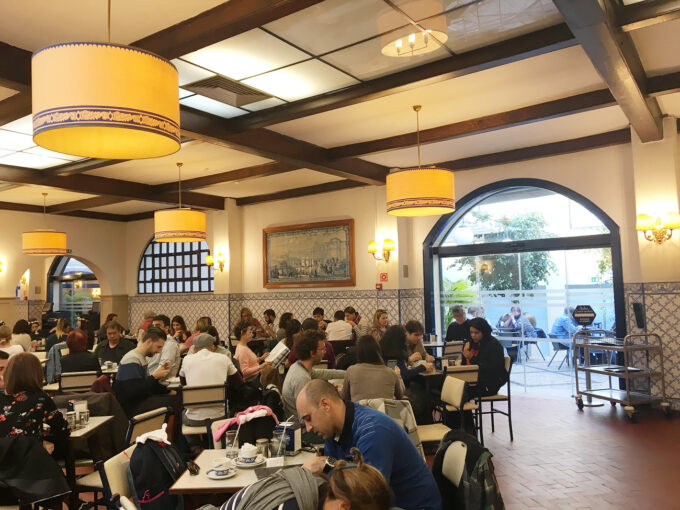 There are plenty of imitations throughout Lisbon so don't be fooled. This is the one and only location and is the original Pasteis de Belem (they don't sell it outside of their store). There are separate lines for the "takeout" and "eat in" so be sure to line up in the appropriate line to ensure you're not waiting longer than necessary!
I highly suggest wrapping up your trip with Pasteis de Belem as the main tram stop that takes you back to downtown is located right across the street!
Other Belem Attractions
There are a couple of museums and sites worth visiting but since I didn't get a chance to check them out, I haven't included them on this list. I feel these 5 items could easily take up a whole day so I suggest having an itinerary set out before you leave.
I've included a map below to show how you can walk to each destination and how far apart they are!
Are you heading to Belem or Lisbon soon?
For an easy, quick to follow itinerary, check out my Things to do in Lisbon | 3 Day Itinerary Post
Looking for a good place to stay? For a budget-friendly stay with the coolest crowd and FREE sangria/beer nights, look no further than Goodmorning Hostel!
Have you been to Belem, Lisbon? What are some of your favourite things to do here?