I still can't decide if Cambodia was an expensive or inexpensive destination for me. Nominally speaking, it was within reason but since USD$ is prevalent at most tourist sites, my Canadian dollars didn't stretch as far as I'd hoped.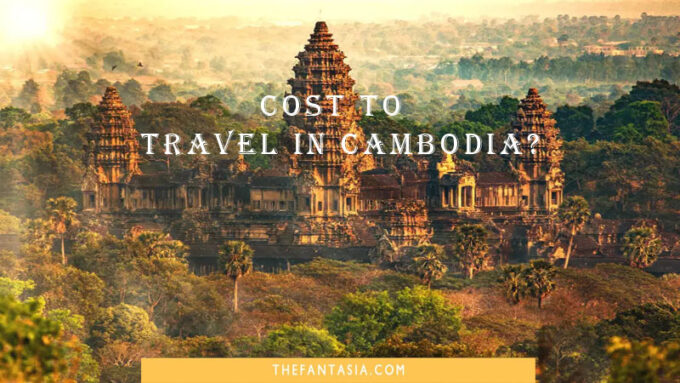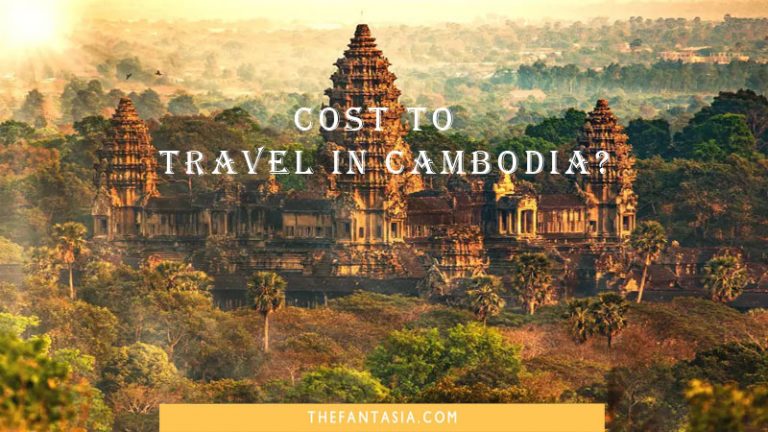 There are ways to cut the cost here and there and budget travellers (even backpackers) can still make their way through the country and enjoy all the country has to offer with some money leftover. Here is my full report of how much it costs to travel in Cambodia based on my 4-day visit to the country in May 2018.
Cambodia is an up-and-coming destination – it has suffered poor reputation due to high level of corruption, poverty, thefts, and the barest infrastructure. Reasons like these are why backpackers skip and cut their trips short in Cambodia. But they're really missing out – my positive experience told me otherwise! For a country that suffered an incredibly brutal genocide (where almost 25% of their population were murdered under the Khmer Rouge regime) as recent as 30 years ago, the population deserves the highest praise for recovering as well as they have today.
My previous travel cost breakdown reports have proven to be popular so if you're interested, you can view some of my travel cost reports from my other visits including:
Why go to Cambodia?
It's still a very up and coming destination
It can be quite cheap
Lots to do beyond the major cities and Angkor Wat
The food – delicious Khmer local food with a touch of Thai, Vietnamese and Malaysian influences
Everyone wants you to know their country – the real country!
Cambodia is becoming more and more of a developed tourist destination given its proximity to Thailand, Vietnam and the Philippines, which are some major popular backpackers destination in Southeast Asia. There's still a lot of poverty but I was greeted with warmth in a lot of places I went.
Generally speaking, there's still this mindset that Cambodians want to impress the tourists so they can enjoy the tourism dollars the way Thailand has so the level of hospitality towards tourists and authenticity were beyond what I expected and received when I was in Thailand (which is famous not only for its beaches but the warmth of the people).
Major cities in Cambodia include Siem Reap, Phnom Penh, Kampot, Sihanoukville and Kep are pretty seasoned when it comes to tourists so you can find your way around cheap, budget, and luxury accommodations, restaurants, and transportation options. The country's infrastructure is still developing but doesn't mean you will be stuck in a boring city during your stay.
As a budget solo traveller, I'm always trying to find ways to enjoy the countries I visit but still indulge myself every once in a little while. Cambodia is one of those destinations where you can do a bunch of things and still have money leftover. The following cost breakdown includes my excursions/activities that are fairly indulgent so you can assume it may be cheaper if you opt to exclude them. All the costs listed below are in USD$ which is the most common currency at most tourist destinations.
How Much Does it Cost to Travel in Cambodia?
| | |
| --- | --- |
| Flights & Transportation | $180 – it's fairly cheap to get around (and I encourage you to take the tuk-tuk which costs less than $5 between major tourists destinations). If you need to take the taxi, be sure to haggle! |
| Food and Drink | $70 – Expect to pay $5-10 per meal at restaurants around main tourist sites, and avoid the chain restaurants. Snacks, pizza, drinks (coffee, beer, wine) can be had for $1-5 depending |
| Activities | $115 – This fee includes the Angkor Wat entry visa and paying your respects to the sites of the Genocide Museum and going for spa treatments all four days |
| Miscellaneous | $30 – Entry visa for foreigners (visa on arrival) is $30 |
| Total Days | 4 – USD$99/day |
| Total Spent ($USD) | $395 |
Things to do in Cambodia: Activities
Choeung Ek Killing Fields ($8): One of the main excursions in Phnom Penh is to pay your respects to the victims of the Cambodian genocide. The Killing Fields is one of the two main things to do in Phnom Penh and proceeds from the tickets go towards the upkeep of the museum and also a fund for the survivors and families of the victims. The ticket cost includes the audio guide which I think you should get as well as it provides more context to the different sites in the field. Without the audio guide, the entry costs is $5.
S21 Tuol Sleng Genocide Museum ($5): Similar to the Killing Fields, Tuol Sleng is a site of immerse horror and should be visited to any visitors to Phnom Penh who wishes to understand more of Cambodian history. Tickets and audio guides can be purchased together, and you can also go without an audio-guide but with one of the guides they have at the ticket office.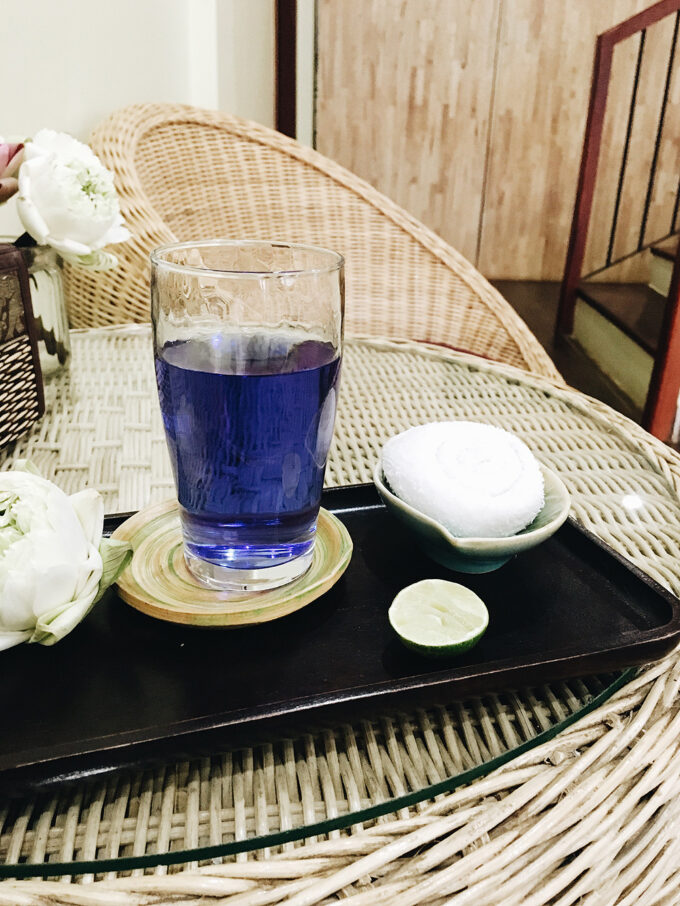 Spas & Massages ($20-65): Siem Reap is called the temple town for a reason and the massages are such a treat after such a long, hot day of temple hunting. Also available in abundance are spas and professional massages. The inexpensive treatments are well-worth the splurge with individual treatments that are up to 1 hour long (facials, scrubs, wraps) costing as little as $20-30. The packages are well-worth the money as a 2-3 hour treatment costs only $49-65. I treated myself to four days of massage and treatments, and it only costed me something like USD$150 for all four days.
Angkor Wat Ticket ($37): A one-day visit to Angkor Wat can get really expensive quickly. Between the entry ticket, tuk-tuk drivers, and guide, it could easily reach over USD$100 if you're not splitting the cost with anyone. I opted to visit the temples in 1 day as I didn't have enough time otherwise. I didn't go with a guid either and found a lot of people winging it on their own as well. I do think the guide could really enrich the experience so I will likely get one for next time.
Transportation
Getting around is always a costly affair when you can't split the cost. My most expensive costs are when I need to travel between cities and constraint with available time. Here are the expenses I incurred for transportation: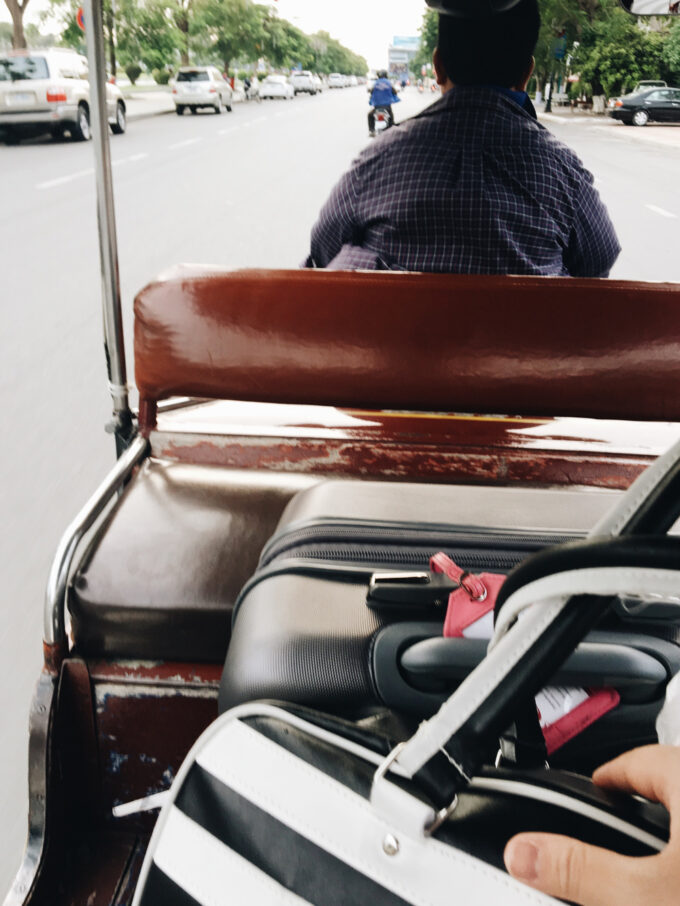 Flying between Bangkok to Phnom Penh ($100): Although there is a bus that connects the cities, it wasn't my preferred option due to timing and the prevalent scams at the border. I opted to fly from the BKK (Suvarnabhumi airport) rather than Dom Mueng (where all the budget airlines fly out of) so I did double my cost. However it made sense logistically as I wouldn't have to pay the additional cost (400 baht / Roughly $15USD) to take the taxi between the two airports at 3AM which would negate any savings.
Phnom Penh – Siem Reap with Cambodia Post Van Transfer ($9): This is where I made up for spending the extra money on the aforementioned flight. Instead of flying between the two cities ($71) or taking the bus ($15), I opted for the lesser known but cheaper option of a $9 transfer that had free wifi the whole trip.
Tuk-Tuks ($15): I didn't note exactly how much I spent on tuk-tuks since I walked most of the time and I excluded the cost specific to my day-trip to Angkor Wat (it is outlined in the Angkor Wat section below). Tuk-tuks are pretty cheap costing anywhere between $2-5 in the touristy area (You can always bargain). Between the tuk-tuk rides I've taken, I would say it added up to less than $20 at most.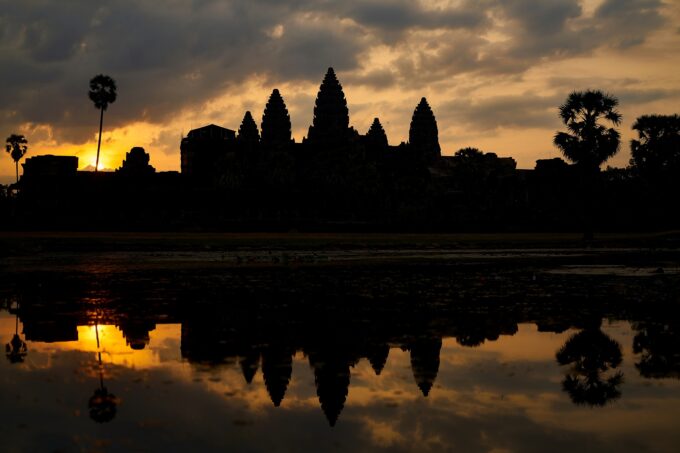 Angkor Wat Tuk-Tuk Day Trip + Sunrise + Sunset ($15 base rate for the Small Circuit + $5 Sunrise + $10 for the Sunset): Getting around Angkor Wat with a tuk-tuk is highly recommended (You can absolutely bike your way but I don't think I'd have the energy) and the cost is reasonable, and fairly inexpensive if you're splitting with someone. The base rate is USD$15 but need to add $5 if you want to do the sunrise (as they do have to wake up early too). They will wait for you at each temple and drive you around per agreed upon route.
If you need to buy your ticket the evening before (highly recommended), you also need to go to the ticket office and that will set you back $10. Not most people know about this cost but you should factor it in and go see the sunset to make the $10 worth it. If it makes you feel better, consider the $10 as the cost you need to plot / map your route in Angkor Wat and determine where you'd like to be when you come the next morning.
Phnom Penh Airport Transfer ($15): Upon arriving in Phnom Penh, I didn't realize tuk-tuk was an option and that it would be relatively safe. Fortunately, I opted for a taxi with a flat rate of $15 which was well worth the cost because I didn't have to deal with all the fumes from the exhaust, or the heat / humidity for the 40-minute journey to the city centre (it was supposed to be 20 minutes, but traffic!), making it a very relaxing journey.
There is now an airport train shuttle that departs every 30 minutes and takes 25 minutes for the 10km journey. At the time of writing (June 2018) the shuttle is free. No information on the cost after the trial period is over. You can read more on the Railway Gazette here.
Private Transfer to Siem Reap Airport ($10): I had initially requested a tuk-tuk from my B&B to get to the airport but I suppose there weren't any available that morning and the price difference ($2) was too small to make a fuss over. The car could have fitted 3 more guests so it's well-worth the price if you're travelling with friends/larger group.
Accommodation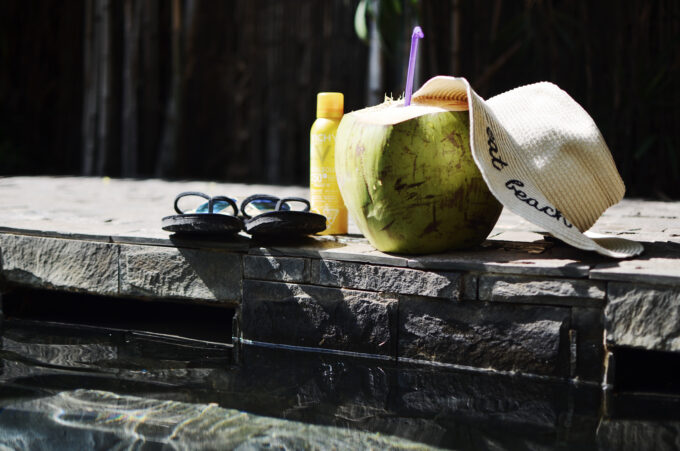 I was very fortunate that in both Siem Reap and Phnom Penh, I was provided complimentary accommodation for my 4-day stay. Generally speaking, the cost of a dorm room is as little as $8/night and a private room is only around $25 at most hostels like Mad Monkey Phnom Penh or Mad Monkey Siem Reap. For a more luxurious experience, you can enjoy a room at a local B&B or budget hotel for $30-50/night. Read my review for Mad Monkey Hostel and my review for the luxurious B&B, Maison557.
Food
As with anywhere, food is incredibly cheap in Cambodia, even in the touristy area. Phnom Penh (especially the BKK1 tourist area) is home to tons of bakeries, pastry / coffee shops including popular chains like Krispy Kreme, Dunkin Donuts, Starbucks and the local Cafe Amazon. The menu is so vast and it's often hard to choose so you'll likely be coming back frequently. Even the restaurants in the tourist area is reasonably priced.
Non-Alcoholic Drinks in Touristy Area ($1-5): I noticed that in most tourist areas non-alcoholic specialty drinks (iced lattes / coffees / smoothies / frappe / frappucinos) are around $2-5 – fairly expensive stuff. The hot drinks aren't that much cheaper ($1-3) but if you do feel the need to indulge, it's worth it – incredibly delicious drinks (but had too much ice so you're not getting that much in drinks)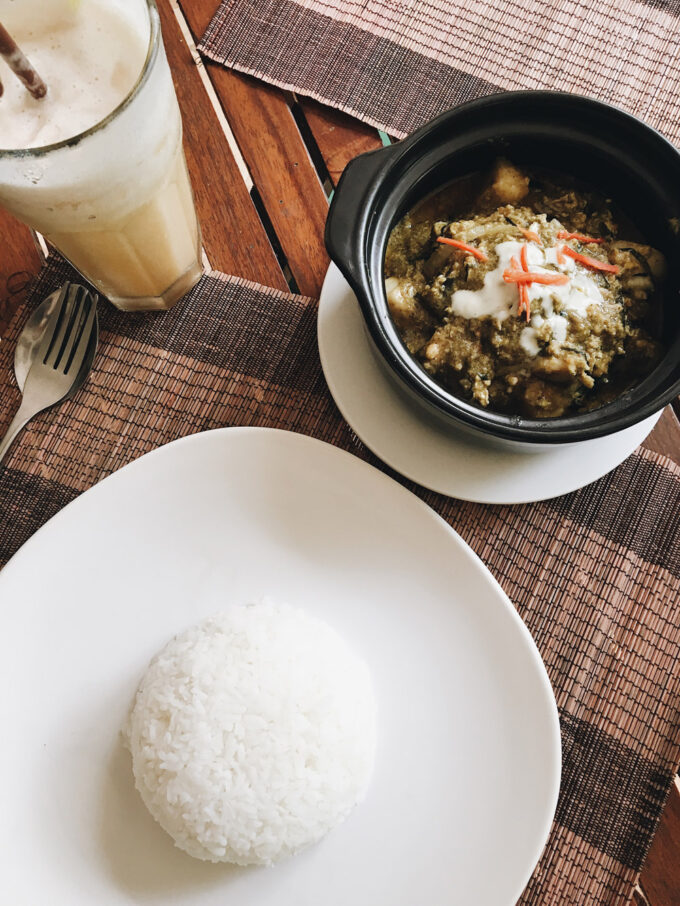 Eating out (Local Restaurants) in a Touristy Area ($5-10): Local food options is abundant in both Siem Reap and Phnom Penh. I couldn't believe how many local restaurants I near my hostels and B&B in both cities. The average cost of my lunch is around $5 but the more expensive food options like steak or seafood can cost upwards to $10. A bargain still compared to North American/European prices.
Desserts / Snacks at the market ($1-2): I normally love going to the grocery store to pick up snacks and little bites I can have throughout my stay. There aren't too many supermarkets or 7-11 in Siem Reap or Phnom Penh so I ended up going to the market often. The cost of a massive coconut (if you like to drink fresh coconut market) is $1; the fruits are priced by weight but generally fairly cheap. If you like snacks like gelato or the popular rolled ice cream, that will cost you around $2-5 at Pub Street or the area around it.
Other Costs
Entry Visa ($30): Visitors to Cambodia are required to pay an entry visa of $30 payable only in cash at the point of entry. You can purchase an e-visa online but will incur the credit card and processing fee (which is around $5) so it's really up to you.