In collaboration with Kelly from Perfect Shade of Mauve, I am really excited to write about my summer – and as my own little twist – travel makeup routine essentials. I wasn't planning to but I realized I was pulling out all Make Up For Ever products, which goes to show how much I rely on this brand for all things that require more than just sitting and looking pretty at the table! Kelly and I have different skin types so we thought we'd show you different options for different skin types. For reference, I have a normal-dry skin and here are my favourite products for different occasions!
Whether it be for a summer bbq, or surfing in South Africa, here are my favourite summer and travel routine essentials from Make Up For Ever!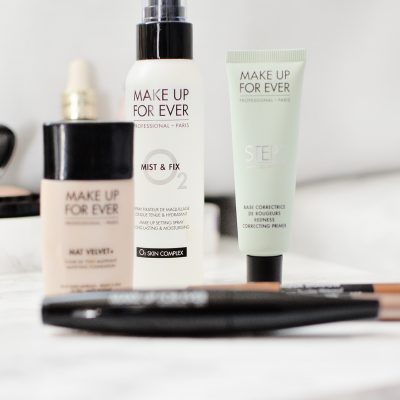 Foundation | I harp about this a lot so it should come as no surprise to many that my foundation of choice for the summer season and travel, is the Make Up For Ever Mat Velvet+ Foundation ($47, available here). With its compact, and travel-friendly format, as well as impressive formula suitable for both oily and normal skin (which I have), this has become the one foundation I will continue to repurchase throughout the years. Great wear-time, incredible coverage, and a super-product in one because you don't need a concealer or powder to finish your routine off, this is one that I encourage as many people to try out as possible.
Primer | Using a primer when travelling is not always the most practical thing especially when you consider the restrictions around liquids and space it takes up. I normally skip primer when I travel so I reserve this for my morning routines instead as I get more into wearing less makeup by prepping the skin the right way. My current primer of choice is the Make Up For Ever Step 1 Equalizer ($45, available here) which comes in 10 options to address specific skincare needs (i.e. texture or tone)
Setting Spray | Using setting sprays in the last step of my routine is quite new to me as I don't really reach out for setting sprays as often as I used to. Similar to primers, I don't pop always include the Make Up For Ever Mist & Fix Setting Spray ($36, available here) into my travel bag either because it's too bulky. When I am home though, I've been trying to use this more often as my late afternoon and evenings are getting busier with social events. I have tried the Urban Decay All Nighter Setting Spray, and couldn't understand the hype, so my current setting spray of choice has been the Make Up For Ever
Mascara | My mascara of choice is the Make Up For Ever Smoky Extravagant ($30, available here) which with its distinctive cone-shaped brush makes it absolutely a staple as it coats all my lashes (including the fine baby hairs!) without much effort at all. I normally go for the non-waterproof version as I find that it lasts sufficiently long enough and withstands nature long enough that I haven't had to switch to the waterproof version.
Eyeshadow | I have been good at skipping the eye makeup (for the most part) when I'm travelling. However, there's always that odd request for dinner here and there, and I feel a lot more put together if I put in the extra effort of popping a bit of colour. My go-to makeup of choice is the Make Up For Ever Aqua Shadow ($22, sephora.ca) that has been discontinued and replaced with the Aqua Matic range. Not only is so portable and easy to carry around, but the colour lasts a long time and takes very little effort to put together!
What are your go-to makeup products?
---
Disclaimer:
This post features product(s) provided for editorial consideration. All opinions are my own. For more information about my review policy, please
click here
.
---