When I think of Spain, two things come to mind: Flamenco and tapas. Oh, and there's the Sagrada Familia and beaches of San Sebastian that everyone's been talking about too…
Since booking a ticket to Spain isn't really on the books right now (there's still so many other countries I'd like to explore first!) I'm really excited to bring a taste of Spain to my home thanks to Espuña Tapas Essentials! The brand, whilst new to Canada, has been around since 1947, making them quite the experts at putting together ready-to-serve tapas pieces that you can prep for your guests (or yourself) in a pinch.
Experience genuine flavours of Spain (without leaving the comfort of your home) and pick up anything from the Espuña Tapas Essentials range at your local Metro, Longo's and Loblaw stores.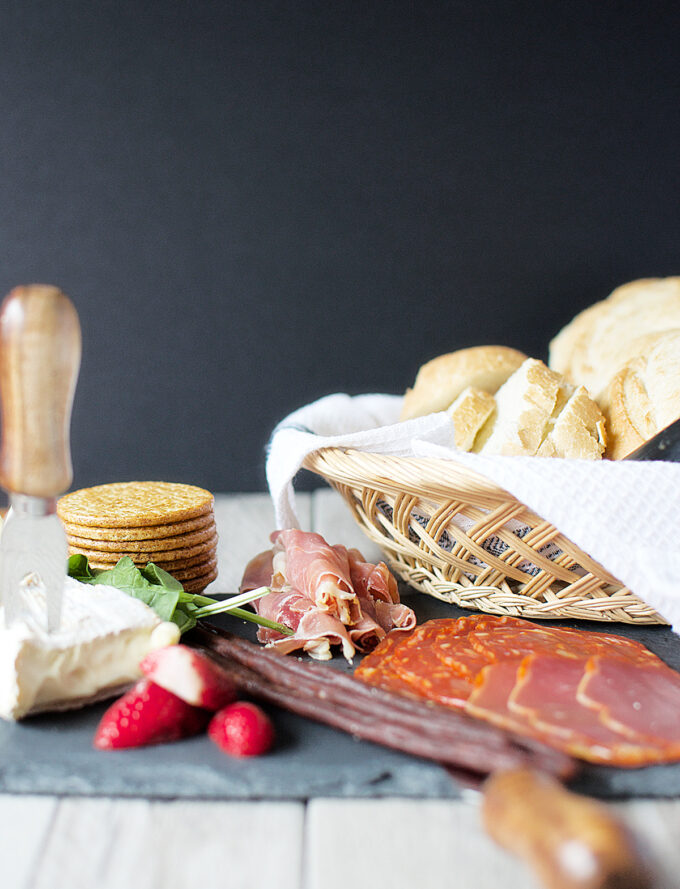 Before we jump ahead, let's talk a little bit about Catalonia, home of Espuna. While travelers most often flock to Barcelona, a colourful seaside city with a vibrant urban culture, the lesser known province of Girona, Catalonia holds its own historic wonders. Bordered by the mountains and the Mediterranean Sea, Catalonia is a region of Spain that is fiercely proud of its unique culture, especially when it comes to food! Tourists can discover quaint medieval towns, picturesque seaports, and quiet country villages!
Espuña Tapas Essentials | Serve it for your guests, or yourself!
Whether you're entertaining or picking up these cured meats to add to your recipes, the Espuña Tapas Essentials range is bound to be a hit. The delicious flavours – smoky but not salty, flavourful and well-seasoned but not too overpowering, chewy not tough – are guaranteed to please the crowds and your own taste buds, whichever ways you choose to serve them. Aside from the flavours, you'll be thrilled to know that the entire range is prepared in a ready-to-serve manner, meaning all you will have to do is open the package, and arrange them on the serving board… and voila – you are done!
For the purpose of this feature, I decided to try out the Espuña Tapas Essentials range in four delicious ways. I had a couple of friends over during the holidays, most of whom I hadn't seen in over two years (!) and decided to bring out the South African wines I brought home (Thank you duty free). It was the perfect time to serve Espuña Tapas Essentials and get my friends' feedback on the flavours.
For reference, I served the:
Bilbao Style Salami
Original Salami
Salami carnitas
Original olot salami
Spanish serrano ham
Hot chorizo extra dry-cured loin
1. Espuña Tapas Essentials… for easy entertaining

If you plan on entertaining, a charcuterie board is an elegant way of presenting finger foods for your guests so you can focus on talking and mingling with your guests. The variety of cured meats infused with flavours of Spain from Espuña Tapas Essentials makes preparing a charcuterie board like this, a 5 minute endeavour. Aside from that, my friends gave the variety of meats I served, two thumbs up.
For accompaniment, I included brie and gouda cheeses, slices of French baguettes and Breton crackers (since I personally like the crisp texture of crackers over bread), fresh strawberries, almonds and walnuts on the side. I also had garlic butter on the side because… I personally put garlic on everything and I think my guests might appreciate it too.
For presentation, I scored a 7-piece cheese board from Kitchen Stuff Plus for a mere $8, and it came with all the serving utensils I needed as well as the serving marble slab. I lined the bread basket with a kitchen linen for easy clean up and placed the finished platter in a couple of different stations so that guests will have to move to different stations, and talk to people.
In hindsight, I probably should have included placecards to indicate the different types of meat because that was the most frequently asked questions of the night. Despite my own dislike towards olives, I think they would have made for great accompaniment too the plate as well!
2. Espuña Tapas Essentials… for easy-to-prep lunch
Most people don't know this about me, but I cannot finish an entire sitting of food. I am a total snacker, and can always be found with a handful of grapes or crackers at my desk. Lately, I've been taking inspiration from those lunchable boxes that your mom would pack for you when you were in middle school. I realized this was the perfect way of prepping my lunch and snacks for work – a small serving of something savoury and sweet, like grapes or fresh berries that takes minutes to prep and easy to clean up.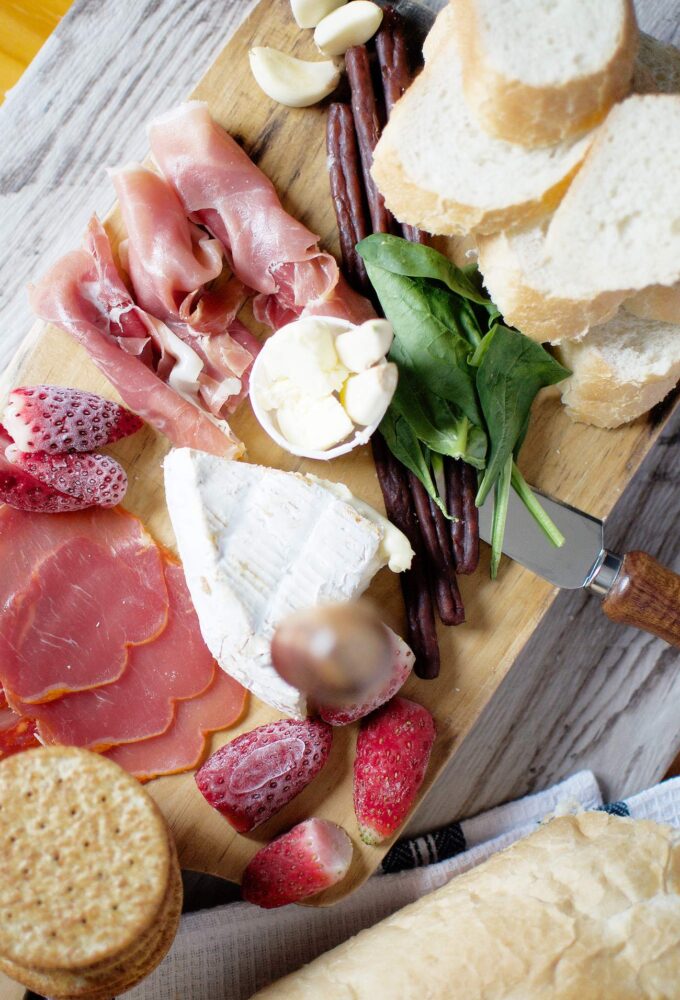 I like to pack some whole wheat Bretton crackers, and included a few packs of pre-packed spreadable cheeses for easy cleanup. Not only is this something that takes the littlest amount of time the night before, but these are something I look forward to enjoying! The salami and serrano ham are my personal favourites – the salami tastes great with the crackers and there's a hint of spiciness that I didn't expect. The spreadable cheese helps reduce the spiciness so it wasn't too overpowering.
For the serrano ham, I've been enjoying this with slices of French loaf rather than crackers – prosciutto and ham are something I prefer to enjoy with a "meatier" and thicker breads.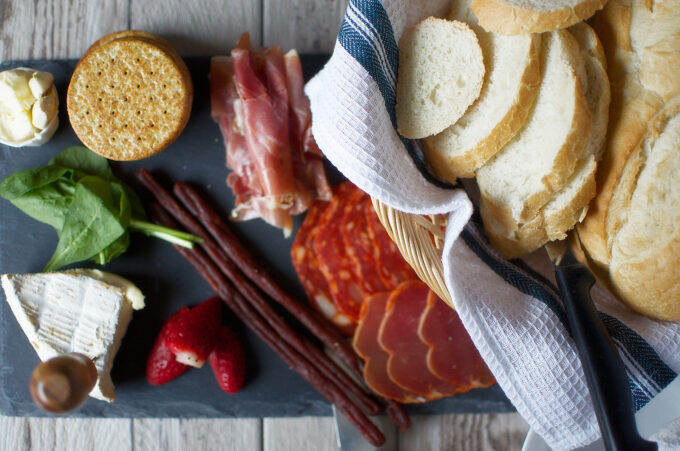 3. Espuña Tapas Essentials… to add a kick of flavour to your dishes
Despite having served about 8 people during my little get together, I still had quite a bit of cured meats left. It wasn't very hard to figure out a way to use them up… I've been including them in my omelette breakfast, and when I am putting together a savoury dinner (like a homemade pizza), I like to add bits of chorizo for an extra spiciness and carnitas for a kick of meatiness. The variety is endless and I haven't really run out of ideas to enjoy them.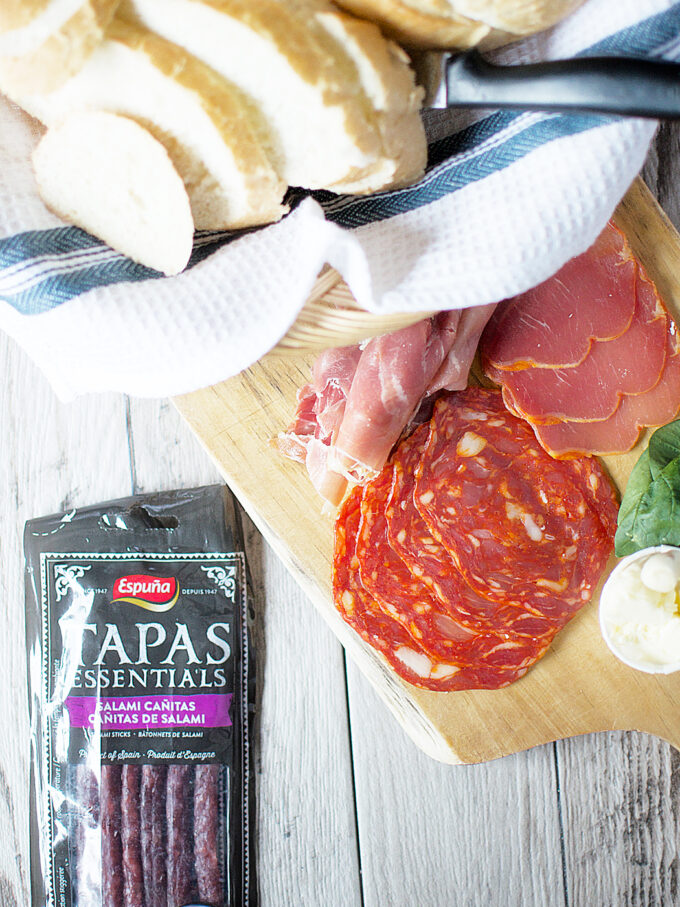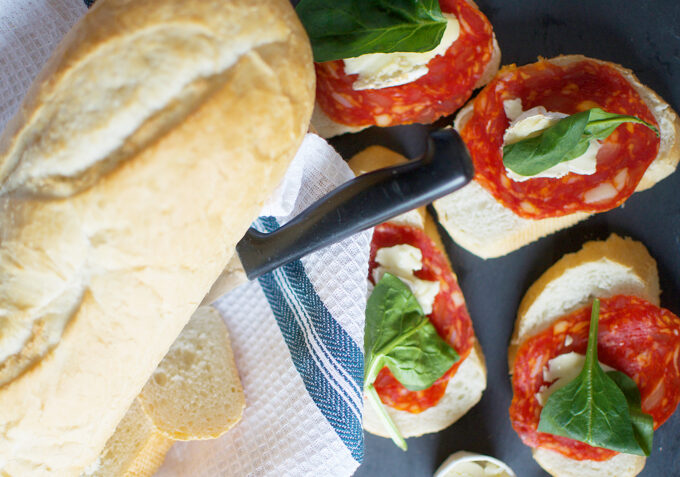 4. Espuña Tapas Essentials… for evening snacks
Sometimes when I come home from work, the last thing I want to do is prepare dinner. I'll cut up a few slices of bread and add some spinach, cheese (brie is a favourite of mine) and a few pieces of salami or ham for a quick evening snack. Guilt-free, easy to prep and easy to clean. Plus, it's just enough food without making me feel too bloated a few hours before I go to sleep.
Since it's so easy to snack on, I can be working on my blog whilst enjoying my snacks. With a glass of wine on the side too.
How ever you decide to serve these delicious cured meats, I can't praise Espuña Tapas Essentials enough. Easy to read labels, instructions and storage makes them a perfect addition to your grocery basket. Whether you're entertaining or serving these up for yourself, there's no cutting corners on the flavour!
The price of the ready-to-serve cured meats are C$2.99-$7.99! Let these delicious dishes be an inspiration for your next trip to Spain!
Have enjoyed tapas before? What do you think of the Espuña Tapas Essentials?
---
Disclaimer:
This post features product(s) provided for editorial consideration. All opinions are my own. For more information about my review policy, please
click here
.
---