Currently trending at Sephora, is how to perfect the skin by colour correcting specific concerns. You've probably been seeing a lot of displays with light green, purple, yellow and pink shades everywhere – colours that you probably thought would be the furthest away from needing to be put on the face. I've been really excited every since this became the next "it" trend that the beauty world will be obsessing over because it features one of my favourite products. Like usual, Make Up For Ever is about 10 steps ahead of the game.
There are several staples in the Make Up For Ever range that will help you nail that perfect complexion by colour correcting problematic spots. The Make Up For Ever5 Camouflage Cream Palette Colour Correct & Concealer ($46, available here) is a staple for many since it features colour correcting shades for most skintones. Next, we have the exciting line up for the colourful Step 1 Skin Equalizer Primers ($19-43, available here)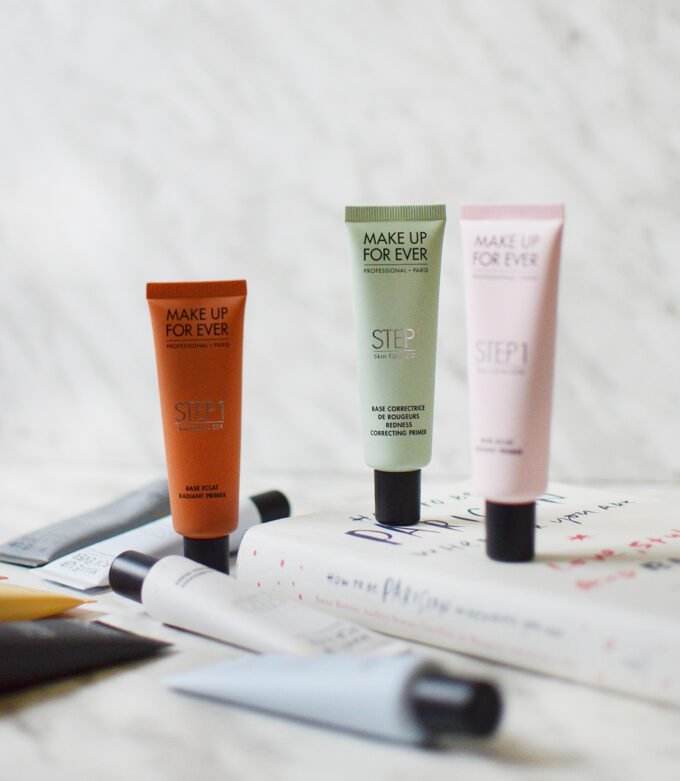 Aside from being a fabulous makeup primer that helps the rest of your face makeup stay put during the day, the Step 1 Skin Equalizer Primers does a second job as well: it corrects the skin's problematic texture and tone issues. I'm a huge fan of Make Up For EverHD Primer ($39, available here), which doesn't have a slippery, silicone-like texture or greasy feel on the skin. The primers feel more like a moisturizer and sinks into the skin the way a moisturizer would, but still works to even the skintone and help create an even canvas for the makeup to come.
The Step 1 Skin Equalizer Primers is one of the most reached for product I am currently rotating. The collection of 10 formula's are segmented to depending whether you have a texture or tone issue on your skin. I've written a pretty comprehensive review of the Step 1 Skin Equalizer Primers before, so check it out if you want to know more. If you're not sure where to start, try the Smoothing and Hydrating Primers, which are relatively universal.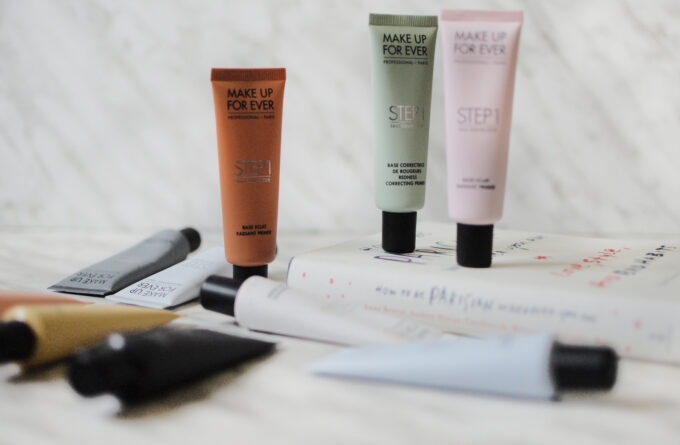 I find the primer format to be a lot more convenient to use than using a cream-based product which typically takes more time to apply and blend with the rest of your makeup. I like that I can play mixologist with the Step 1 Skin Equalizer Primers to create the perfect base for my skin!
I have been rotating the primers depending on what skin concerns I'm having. Most days, I like to mix the hydrating, and smoothing primer to create the perfect base, and then use Radiant Primer Pink to create that brightening effect on the skin. My cheeks is naturally very pigmented and reddish (so much so that I have to use a fuller-coverage concealer in that area), so I like to spot-prime (I just invented a new technique!) the cheeks with the Redness Correcting Primer.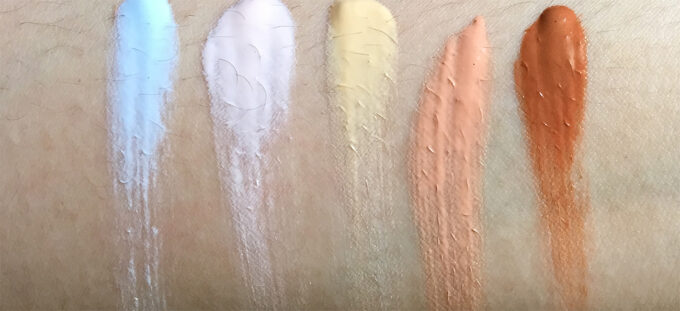 Priming is not the only thing these primers excel at. Did you know that you can use the smoothing Skin Equalizer under your concealer for the fine lines around the eye area? Or that you can use the Caramel Equalizer to darken your foundation as you get a tan? The Make Up For Ever Canada Facebook page is a great resource to check out as well!
Each of us have different skin concerns that shouldn't be treated with a one-product-fits-all mindset! I hope this has given you some shopping inspiration / idea for your next Sephora shopping trip!
---
Disclaimer:
This post features product(s) provided for editorial consideration. All opinions are my own. For more information about my review policy, please
click here
.
---