It's been forever since I've posted my makeup favourites the last time being in early 2015, and another one at the end of the year where I talked about the 5 Most Reached Products of the Year. The thing is, my routine typically doesn't change on a monthly basis – it changes based on the season and circumstances (i.e. I got tanned or my skin is feeling extra sensitive) and I rarely switch it up every month.
Given that makeup products typically have expiry dates, I'm also against opening every single tube of lipstick, eyeshadow, foundation, you name it, because I don't want to spoil the products before I get a chance to use it. I have such a strict policy on this and rarely have more than 2 bottles of foundations open at a time (except right now because my tan is still around, post my January Mexico trip!)
Here are a couple of my makeup favourites of the moment!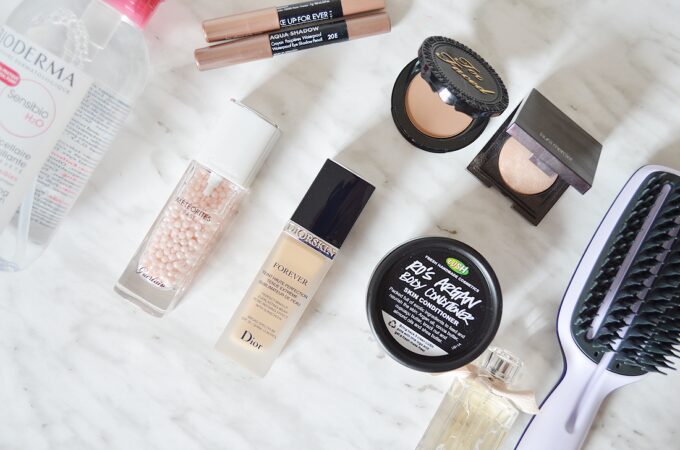 Longtime readers know that I am a huge BiodermaMicellar Solution fan – no doubt that they've been featured over and over again. This time though, I've just been loving this limited edition pump version! I feel like it makes the process more luxurious – I don't know, maybe it's just me? The fact that this bottle is so rare and totally a limited edition item might have something to do with it too.
For the makeup routine, I've been loving the GuerlainMétéorites Base Perfecting Pearls ($81, available here) and maybe it's because I'm a princess at heart. I love the way it smells, and the way it smoothes over the skin without that silicone-like, greasy texture on the skin. It feels like moisturizer, and sinks into the skin, but creates a protective primer barrier which helps my makeup stay on top rather than sinking into every crevice and uneven surface of the skin.
My current foundation of choice is the DiorDiorskin Forever Foundation ($62, available here). This new addition to the Dior foundation family has really slowly inched the long-time favourite, Diorskin Star Foundation, to the side. I did a round up post, comparing the two Dior Star & Forever foundations earlier in the year to give you an idea which of the two would be more suitable. I've been loving the coverage of this foundation as the longer days in the office and running errands have returned! The combination of this foundation and the GuerlainMétéorites Base Perfecting Pearls have been unbelievably beautifully flawless skin all day long!
The LushRo's Argan Body Conditioner ($33.95, available here) is such a precious commodity on my night stand right now! I refuse to use this product as a body lotion because it will be gone after 2 uses and it is SO pricey! Instead, this super moisturizing lotion with good-dreams inducing scent has become a staple hand cream which I lather on just before I snooze for the night!
For those with thick and luscious mane (OWN IT GIRL!) you'll know that hair drying is a bit of a process. I've been loving this new innovation from Tangle Teezer, the Blow Styling Hairbrush ($35, available here)! It looks like your regular paddle brush for doing blow-outs at home. This brush promises to deliver a fuss-free fast blow-dry at home with no stretch drying and limiting the tension on the hair. Designed with proper maintenance in mind, the brush has cleaning grooves that makes it easy to loosen and remove hair without damaging the teeth of the brush!
I'm a little bummed out that the Make up For EverAqua Shadow ($22, sephora.ca) are my go-to for travelling and everyday! These smudge, and water-proof formula stay on all day, and they are perfect for taking on the go! From a day on the beach, walking around the resort, and getting glammed up for the gala that evening or just for my work makeup, this has become the only thing I reach for! Love the formula, and I love the colours! The new packaging has that twist-up style which is something I quite like better than having to carry an extra sharpener.
Who doesn't like chocolate? That's pretty much the only reason I picked up the Too FacedSoleil Matte Bronzer ($38, available here)! Why not make your makeup routine more exciting by adding a tad bit of chocolate on my face! LOVE!
My current moisturizer of choice has been the Laura MercierMatte Radiance Baked Bronze in Highlight ($48, available here) which is no where close to being matte, but hey! This is one of those highlighters that gets the job done flawlessly. It doesn't look visible after application, but it really makes your skin glow in the right ways when you tilt your head a little. Love it!
To wrap things up, I've been loving the Chloe Eau de Parfum ($130, available here) because dang! This scent makes me feel like a super sophisticated, elegant, and stunning woman that this fragrance just embodies. I stock up on this scent any time Sephora has it as a free sample option, and I've graduated to getting the full-size. Win.
That was a long list of my favourite products of the moment! What's your current go-to products?
---
Disclaimer:
This post features product(s) provided for editorial consideration. All opinions are my own. For more information about my review policy, please
click here
.
---