Buberry is likely not the first brand to come to mind when you think of "essentials" pieces. But as soon as you tell me that these collection is curated to achieve a glowing complexion, sculpted and natural-looking features, I'll be first in line to give these a go! It was such a pleasant surprise to discover the BurberryThe Essentials collection, comprised of five of their signature products for the perfect natural-looking, clean and elegant look!
Burberry is known for its signature nude makeup – that means no overly sculpted cheeks, highlighters you can see for miles or neon colours. Sticking to the brand DNA, the Essentials collection is a collection of 5 signature products, most of which are part of their permanent collection already. The simplistic nude offering makes this collection perfect for any age and any type of occasion.
The products that make up the BurberryThe Essentials collection are:
The BurberryThe Essentials is available at: Sephora • The Bay • Nordstrom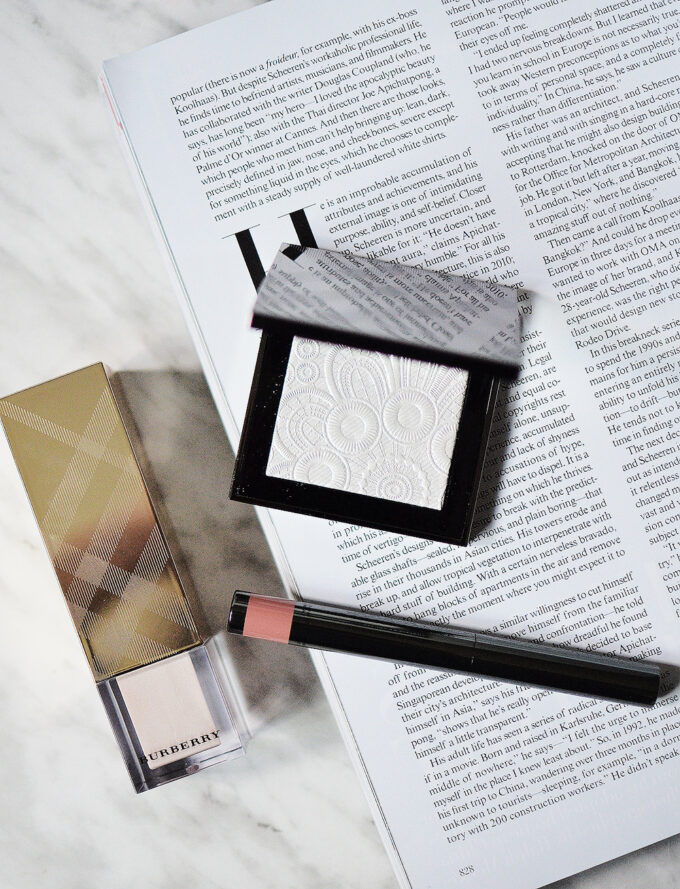 Burberry The Essentials Collection
This collection combines several products that are already part of the permanent range, as well as 2 new launches. I have been using the Fresh Glow Luminous Fluid Base ($54, available here) for some time so it's quite lovely to know that I won't have to go out of my way to buy a new primer. The fluid base is infused with micropearls and has a champagne pink undertone which makes it perfect to even out the skin and add a bit of glow under your makeup. There is minimal shimmer and no unnatural-looking dewiness that screams "I'm wearing makeup" which makes it perfect to wear on a daily basis – for work or whilst running errands! This product is available in two shades to suit light and dark skintones.
Burberry Fresh Glow Highlighter
The new launches include the Fresh Glow Highlighter ($72, available here) which I believe was launched a year ago as a limited edition collection. It has made its way back and as far as I can tell, all four shades (two are new this year) are permanent and available at the retailers mentioned above.
The Fresh Glow Highlighter, with its intricately designed powder, reminds me a lot of the Dior Nude Air Illuminating Powder. They both have a very similar finely-milled texture, minimal fallout, and depth in the colours. The shade #01 White may appear intimidating (it did for me!) but the white highlighter applies naturally on my light-medium skintone. I've read that to get an even more natural finish, particularly on darker skintones or to make this highlighter blend better, spray your brush with a bit of MAC Fix+ or finishing spray before applying the powder to take away the powderiness.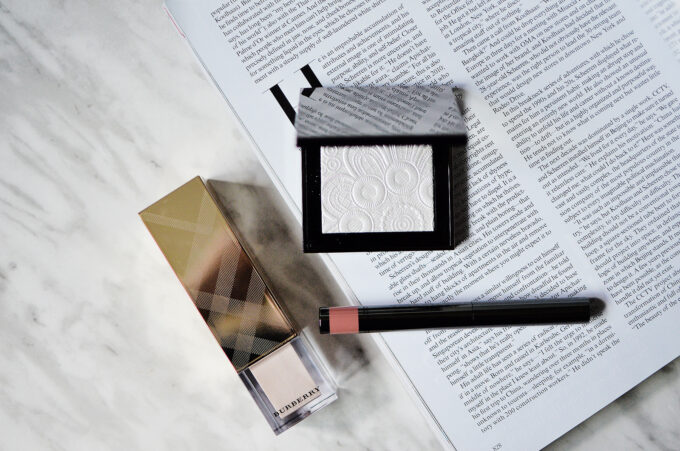 Burberry Lip Colour Contour
Also new from this launch is the Lip Colour Contour ($33, available here) which comes in four shades, for fair, light, medium and dark skintone. All four shades are nude colours and have been formulated to deliver priming, and contouring / shaping of the lips. It glides really easily on the lips, even covering up those pesky lines and not bringing any attention to any chapped skin.
It isn't very obvious from the name or description as to what these products are supposed to do. However, after a bit of reading, these are a hybrid lip base and lipstick in one. You can use this ias a base under of your favourite lip products to increase longetivity or worn on its own – whatever your preference! I can't really see this erasing the lip lines but I do appreciate these adding a bit more "stickiness" to help my lip products adhere longer and becomes a little bit more transfer-resistant.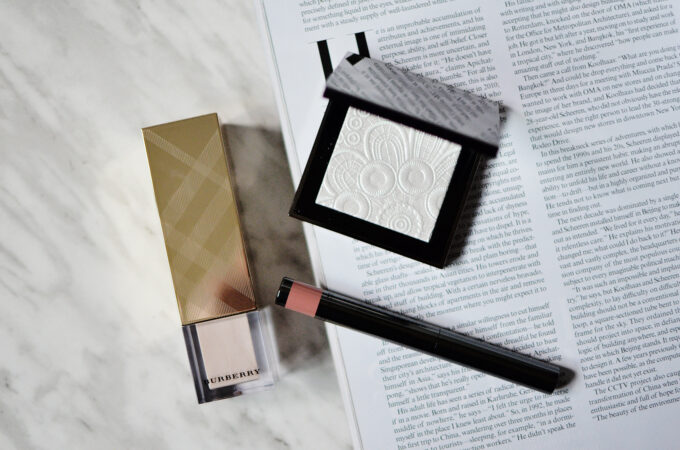 Ultimately the Burberry The Essentials collection is meant to complement your makeup collection rather than as a standalone sub-brand. Of the new launches, I would highly recommend trying out the Lip Colour Contour or the Luminous Fluid Base as these products are perfect to wear all year round, and for any occasions! If you feel like splurging a little the Fresh Glow Highlighter or their foundations would be a great one to try out.
Over to you now! What do you think of the Burberry The Essentials collection? Have you tried their beauty products before?
---
Disclaimer:
This post features product(s) provided for editorial consideration. All opinions are my own. For more information about my review policy, please
click here
.
---