A girl gotta treat herself once in a while, and this is totally one of those moments. Despite the spur-of-the-moment decision, this wasn't a purchase that I regretted because I would repurchase in a heartbeat! The DiorRouge Baume ($37, available here) is a new nourishing balm and lipstick in one that I bought on a whim during the VIB sale. I got my Dior collection started with the foundation and a blush, so the next step (naturally) was going to be a lipstick.
What is it? The claim is that the Dior Rouge Baume is lipcare and makeup in one; it is infused with naturally derived ingredients that plumps, hydrate, and looks stunning on the lips. Now I would normally dismiss those claims as a bunch of marketing talk, but lo and behold, I instantly fell in love with this range and now am sorely regretting not purchasing more shades during the VIB sale.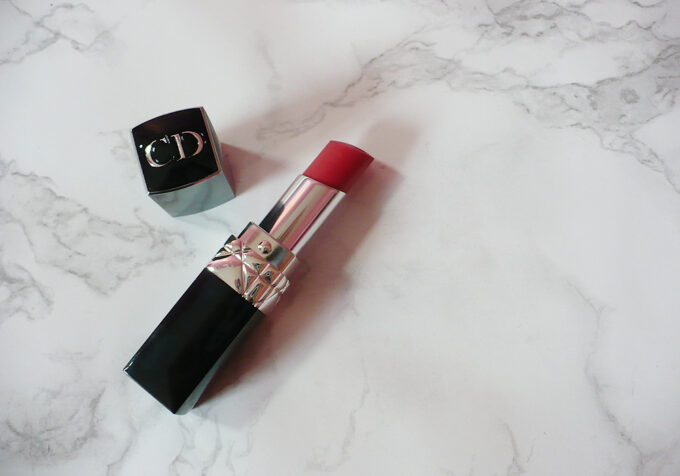 There are 15 shades available, ranging from the lightest nude to bold plum and red hues. From the outside, nothing truly stands out about this product; the packaging is classically Dior, luxe yet minimalistic. However, when it comes to the battle of quality, it's the formula that totally matters, and Dior really won my heart over.
The lipstick is lightweight, scentless, and so incredibly hydrating. One swipe and you get an intense colour payoff that you would not expect from the name (baume/lip balm) You can control the level of intensity of the colour payoff and sheer it out as well for a more office/work appropriate look. Once applied, the lipstick sits comfortably on the lips, never clinging onto the dry patches, or look fake – it just settles between the natural creases on the lips and it looks damn beautiful.
The formula is non-sticky or tacky, and not drying. It's one of those that won't stain your coffee cup or feather out throughout the day. As the colour starts to fade, the Dior Rouge Baume leaves a light stain behind, so as to give you some time to reapply the product later on during the day.
I admit, there was a moment of buyer's remorse when I got home and realized that this pretty little thing costed a pretty little penny. Once I tried it though, all doubts disappeared and my thoughts turned to regret for not purchasing more with the 20% off. The swatches above was done with just one stroke. Isn't the colour payoff simply amazing? You can rock any colours, even the brightest red or vampy plum even if you're not used to it simply because the formula is so forgiving! My favourite red of the moment is #999 Rouge Dior.
Did You Know?
Some interesting trivia bits I thought you might be interested in knowing. Four shades amongst the entire collection is a tribute to the House of Dior and could be the starting point for starting your collection. Be warned, once you try one, you might want them all!
128 Star: a transparent shade with an iridescent golden shimmer, inspired by Dior's timeless muses and icons
468 Spring: a feminine and floral coral pink reminiscent of the freshness and spontaneity of an eternal 'Miss Dior'
558 Lili: a raspberry shade, the lucky charm named after Christian Dior's favourite flower
688 Diorette: a vibrant fuchsia like a declaration of style, legacy of a Dior iconic dress
Pretty cool huh?
Now it's your turn! Have you tried the new Dior Rouge Baume? Did you like it? As always, I'd love to hear your thoughts! Share with me comment section or through Twitter or Instagram!