The first time I discovered the ClarinsEnergizing Wake Up Booster Lotion ($18, available here), I genuinely thought I saw a pricing mistake on the Sephora website, and proceeded to purchase two bottles in fear of missing out (FOMO!) I needn't have worried as it was not a pricing mistake, but this enthusiasm led me to the discovery of an immediate favourite that I've used and repurchased since.
The ClarinsEnergizing Wake Up Booster Lotion is loaded with a number of ingredients formulated to wake you right up including green coffee extract which revitalizes the skin and reduces puffiness, redcurrant extract to moisturize and soften, and white tea extract which protects against free radicals and environmental damage. Despite the plethora of ingredient, this morning booster has a very pleasant citrusy smell.
The ClarinsEnergizing Wake Up Booster Lotion is available at: Sephora • The Bay • Shoppers Drug Mart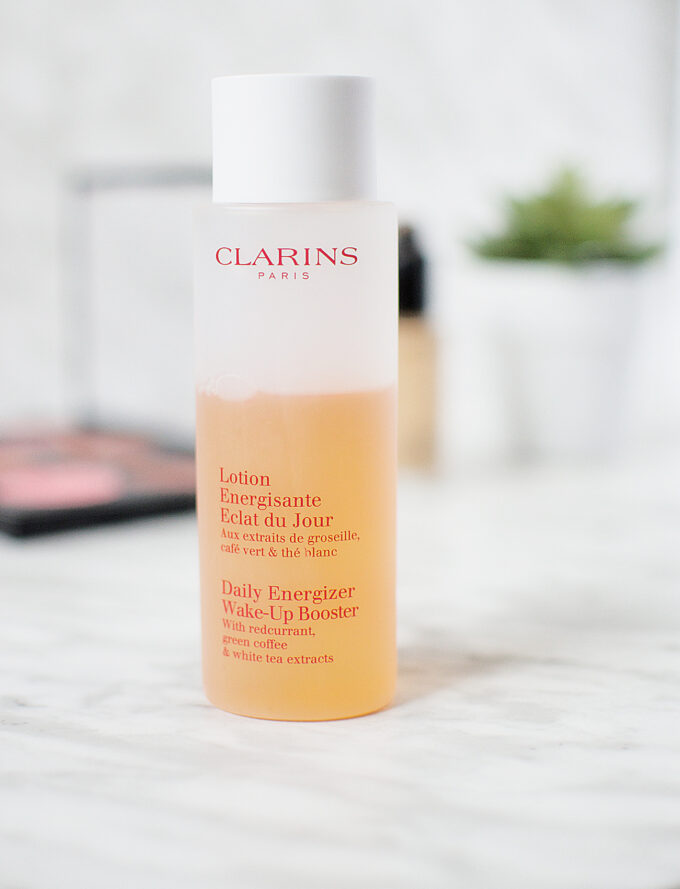 The ClarinsEnergizing Wake Up Booster Lotion comes in a convenient 125ml bottle which lasts for up to a month with daily use, twice a day (AM/PM routine). It is unfortunate that Clarins doesn't have a recycling program as I go through so many of the bottles!
This product is meant to be a morning "wake-up" toner – it's something that you apply as you wake up to wipe the sleep off your face before you start with your morning skincare and makeup routine. You can use this in place of splashing water on your face in the morning which I think is an expensive idea – water is free afterall!
The idea behind the product is great and it makes the ClarinsEnergizing Wake Up Booster Lotion a unique product in the market, but I find it almost redundant and unnecessary unless you have really puffy undereye circles and extremely tired skin which needs all the help it can get. You can use plain old cold water, or a micellar water or a cleanser to remove the sleep and mix your skincare with a serum or use makeup to address the dullness of your skin. If you're already going to be applying skincare and makeup anyways, why add more steps?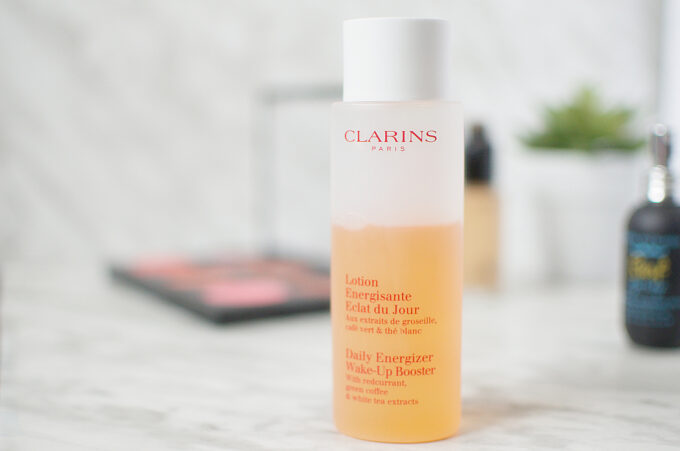 The reason I like and repurchase the ClarinsEnergizing Wake Up Booster Lotion is because it works incredibly well as a toner, and skintone booster in my evening routine. I don't have extremely puffy under-eye area so I don't use this as it's meant to. Even on the really bad skin days (i.e. after a massive salt and oil binging on chips or pizza that leads to bloating EVERYWHERE), I don't see much of a reduction any puffiness/bloating on the face. I do love using it after I've cleansed my face and ready to start my evening routine – I find that the serums / face oils / moisturizers I use above it to adhere to and sink a lot better into the skin.
As a toner, this product also works wonders – it removes everything not picked up during my 2-step cleansing process which includes a makeup remover and a cleanser.
I keep my ClarinsEnergizing Wake Up Booster Lotion in the fridge when I'm not using it – the cooling sensation when you apply the product is insanely refreshing, whether you use this at night or in the morning especially after a hot summer day!
Have you tried the ClarinsEnergizing Wake Up Booster Lotion?