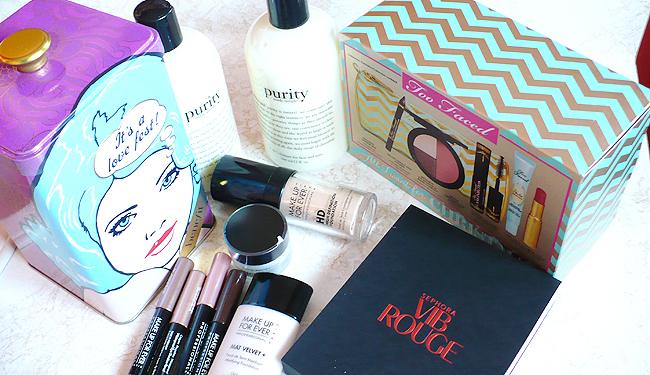 There was a surprise Sephora sale a few weeks months back and I wasn't sure if I should still post this haul as it's months overdue now. But, I did buy a bunch of stuff and it would be silly to not post a haul since that's the kind of post I love reading about.
Sephora VIB Rouge Spring Haul – The Skincare
I was actually much better than I thought with the shopping this time around.I picked up a few skincare staples to last me through the summer and autumn season as I'm all about that hydration baby! I picked up The Ordinary 100% Rosehip Oil ($9.90, available here), Clarins Hydra-Essentiel Bi-Phase Serum ($46, available here) and Philosophy Purity Made Simple Moisturizer ($56, available here) which was my favourite moisturizer for warmer and humid season. I also wanted to give the new The Ordinary Natural Moisturizing Factors + HA and try out the cult favourite Bobbi Brown Hydrating Eye Cream ($57, sephora.ca) which I would never have bought at regular price on its own.
To wrap up the skincare side, I went and repurchased the Dermalogica Daily Microexfoliant ($81, available here) which I can't live without these days. This exfoliator is so much better than the Tatcha rice powder one (which disintegrates completely before I even get a chance to actually exfoliate anything) and this exfoliator really keeps my skin feel fresher after wearing makeup, sweating at the gym and the day-to-day mess that is pollution and grime! Finally, I repurchased the Shiseido Urban Environment UV Protector ($40, available here). It's small but it's liquidy enough that it doesn't leave behind a white cast.
Sephora VIB Rouge Spring Haul – The Makeup
Surprisingly, I only picked up two beauty items this time around – this came as much of a surprise to me as well. I decided to pick up the Morphe M441 Pro Firm Blending Crease Brush ($8, sephora.ca) as I love this type of makeup brushes for the eye. I also decided to purchase the Sephora Favorites#FreshFace Set ($36, sephora.ca)
The Make Up For Ever Matte Velvet Skin Foundation ($50, available here) is a repurchase that I was glad to do as this is my favourite travel foundation of the moment. I brought this with me on a few recent work trips and they have really lived up to its claims. I really like the matte finish and that one quick application gets the job done. I don't even always have to have a mirror in front of me to apply this on the go!
I also decided to grab another one of the Dior Backstage Face & Body Foundation ($53, available here) which is another fantastic all-around, travel-friendly foundation that is as low-maintenance as it good as it gets.
Overall, this has been one of the busiest and most jam-packed haul I've done in a while. What did you end up picking up from the Sephora spring VIB sale?