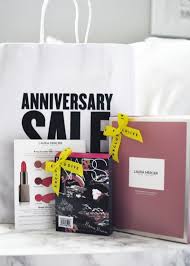 The NordStrom Anniversary Sale is always an exciting time as it offers up a few opportunities to splurge on high-end goodies beyond your usual/favourite stores.
I have long been a fan of Nordstrom as I find it less snobby than Holt Renfew and generally more helpful and interesting than Sephora on most occasions.
I dropped by NordStrom the day before the sale became available to the public and was really stoked by the selection.
I allowed myself to get a few items to celebrate the closing of my condo (and thus a depleted bank account) and I'm pretty excited by my mini haul.
With a planned renovation in mind as well as a new mortgage and home maintenance investments in mind, I'm pretty happy with the bargain I scored during this sale.
Although I'm not usually a NARS fan, I had to get the NARSNaked Paradise Lip Pigment Set ($48, NordStrom). I'm a fan of these lip pencils and this value sets offer 4 full-sized versions for a mere $48! That's $12 each and is probably one of the best bargain of the entire sale! I'm a fan of nude colours and this set offers a mix of nude and slightly darker/berry colours. Though I'm not to keen on the darker colours, I can always plan on using them for the holiday or cooler season!
The second item I scored was the Laura MercierPrime and Perfect Collection ($50, NordStrom). This set features two mini setting powders from the brand and the colt-favourite primer. I wasn't the biggest fan of the primer but the powder seems really popular and I really liked the smaller samples I've tried in the past.
Although there were a bunch of other nice-to-have sets to add to my collection, I'm pretty happy with this mini-haul! It was a great way to celebrate a milestone and this felt like a sufficiently novel treat that didn't really break the bank!
Be sure to keep an eye out for their makeover, and gift with purchase dates as you can score some extras with your purchase! Laura Mercier was offering a mini beauty bag with purchases over $100 while I was there!
Did you pick up anything from the Nordstrom Anniversary Sale? Do you plan on picking anything up in the coming weeks?