Joining the range of sunscreems from Shiseido is the new ShiseidoUrban Environment Oil-Free UV Proctector ($40, available here) which is meant to protect the skin from pollution and aggressors while protecting the skin. A new claim for this particular launch is that the sunscreen works to absorb excess sebum/oil on the skin to achieve a more matte finish.
As a long-time user of the original ShiseidoUltra Protection Cream ($47, available here), I was very pleased to give this a go. The original blue tube is my current sunscreen of choice so I'm thrilled for the super timely arrival to give this a shot.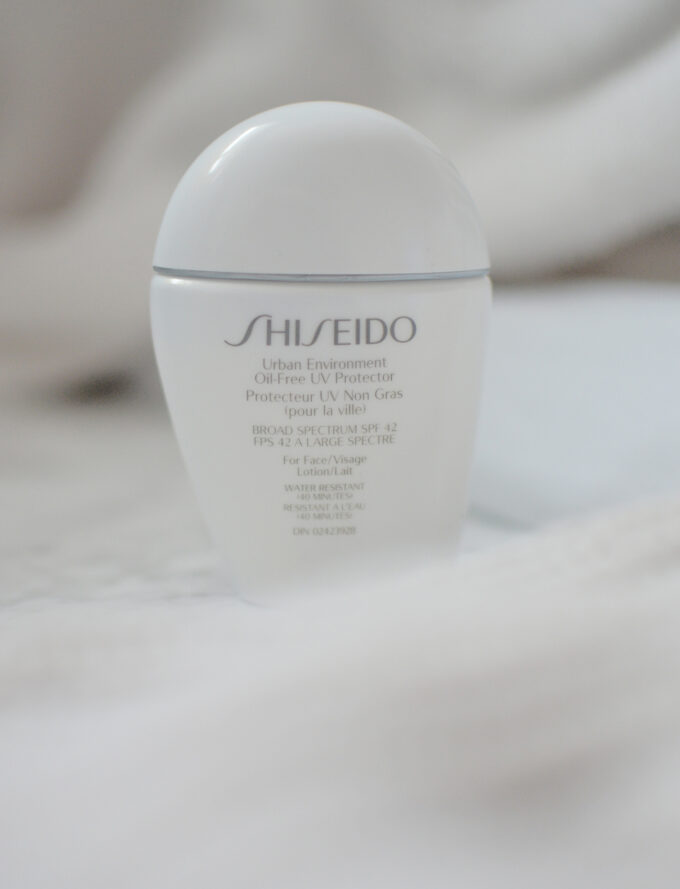 The ShiseidoUrban Environment Oil-Free UV Proctector comes in 2 versions, one for the face and one for the body. I've never had issues using a body sunscreen on my face so I wouldn't worry so much about buying the face vs. body versions. The face version that I have, comes in a 30ml bottle and has an SPF42 water-resistant formula (up to 40 minutes).
I found the ShiseidoUrban Environment Oil-Free UV Proctector to be even more liquidy than the blue version which is saying something as the other one is fairly watery compared to a regular cream-like sunscreen. There is an obvious sunscreen smell and applies on the skin like a serum base. It does absorb quickly but I was disappointed to see the obvious white tint which is common but definitely not something I was excited to see. The sunscreen dissolves on the skin fairly quickly which means I don't have to wait for it to dry before starting my makeup routine.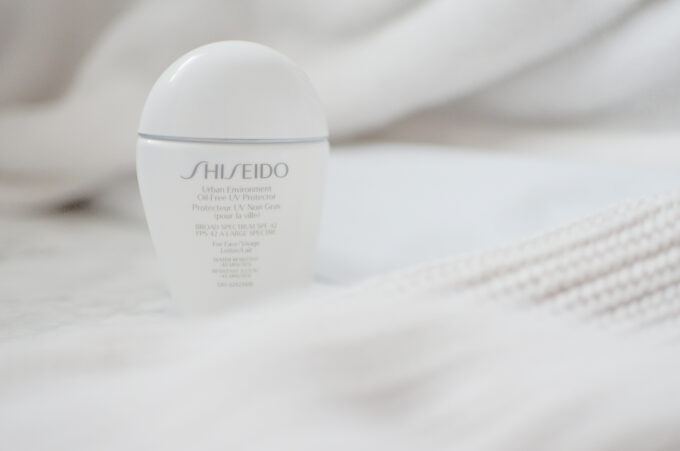 I can't comment too much on the oil-control property as I only get very oily only during the summer but I'm keen to bring this with me on my upcoming trip to Thailand and let you know how it goes. With regards to the "urban environment" claim, which aims to protect your skin from pollution and aggressors, I wouldn't put too much weight behind it – I've used a few other products (notably the ClarinsMulti Active range) and I don't think you can see or feel a massive difference in your before and after. I personally didn't so I would advise not to put too much weight behind it.
Ultimately the ShiseidoUrban Environment Oil-Free UV Proctector is a great addition to the range and one that would suit you if you like a lightweight sunscreen that feels less like sunscreen but more of a moisturizer.
---
Disclaimer:
This post features product(s) provided for editorial consideration. All opinions are my own. For more information about my review policy, please
click here
.
---