Spending only $90 for almost $300 worth of stuff is definitely not a hard decision to make and seeing this year's Sephora Favorites Superstars set made me realize that I was in danger of purchasing 3+ backups. Someone stop me!!
No products found.
If you've been a long-time reader, you'll know that value sets are one of my favorite things to buy given that you get to test and play around with so many new products at a fraction of the cost.
I am a huge fan of the Sephora Favourites range of value sets because they include a myriad of products/brands and are typical includes the biggest brand names, and most-loved products from those brands.
Sephora Favorites Superstars Set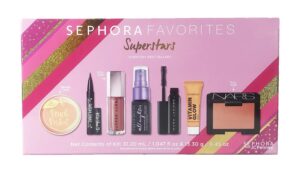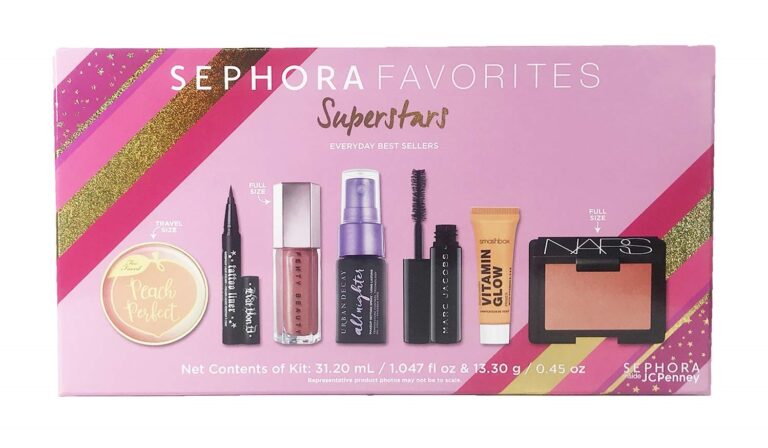 Having been really disappointed by last year's set, I was stoked to see Sephora revamp the whole set, and introduced brand new products in the lineup except for one (it's the Stila Stay All Day® Waterproof Liquid Eye Liner which I'm actually thankful for!!).
The carefully curated set includes best-sellers and highly-raved products at Sephora so you know you're getting a great deal buying this set rather than separately.
Included in this set are 7 full-sized products. If there is a link associated with the product name, you can check out a review that I've put together on the blog!
Lancôme Drama Liqui-Pencil Extreme Longwear Eyeliner in Noir Intense
Laura Mercier Matte Radiance Highlight
Stila Stay All Day® Waterproof Liquid Eye Liner in Intense Black
Tarte the sculptor contouring face slenderizer in park ave princess™
Tarte The slenderizer bamboo contouring brush
Touch in Sol Stretchex Stretch Lash Effect Mascara
In the past, the value of the set has ranged somewhere around or over $300. This year's set is equally as impressive with just as many full-sized products and variety that doesn't make this set any redundant.
I'm really thrilled to see Sephora take out the NARS Orgasm/Laguna duo (this is the most repeated duo and most commonly included in value sets) and took out a lot of products that are specific. Also, despite the exchange rate, I'm really glad that Sephora didn't hike up the price of their products unlike some of my other HG products which have seen a $3-6 price hike in the last six months!
I won't go over each product individually because that will make this post incredibly long, but I figured I'll share some of my favorite pieces or highlights in the set!
I'm so stoked over the fact that Sephora has kept the strobing theme by including two highlighter products: Clinique Chubby Stick Sculpting Highlight and the Laura Mercier Matte Radiance Highlight. I've used the Laura Mercier powder before and am pretty excited about giving the infamous Clinique Chubby Stick a shot because I've heard amazing things about it!
I really like that Sephora included two eyeshadows – one neutral and one darker to pair or used individually for different looks for the holiday season. The NARS Dual-Intensity Eyeshadow in Himalia can be used dry or wet and is a lovely neutral warm-toned brown while the Urban DecayEye shadow in Lounge.
Thank you, Sephora for including a full-sized Beauty Blender because I cannot part with mine ever since I got it at IMATS in September! If you have been wanting to try this out, you need the set urgently!
Definitely very thrilled to still see the Stila Stay All Day Waterproof Liquid Eye Liner in Intense Black which is my HG eyeliner and saw a $3 price increase this year (Not cool!) and the addition of the brand new Lancôme Drama Liqui-Pencil Extreme Longwear Eyeliner in Noir Intense which doesn't budge even with the makeup remover at Sephora.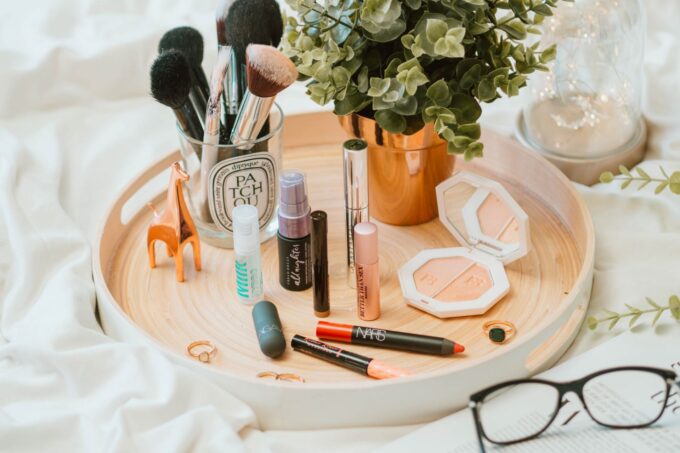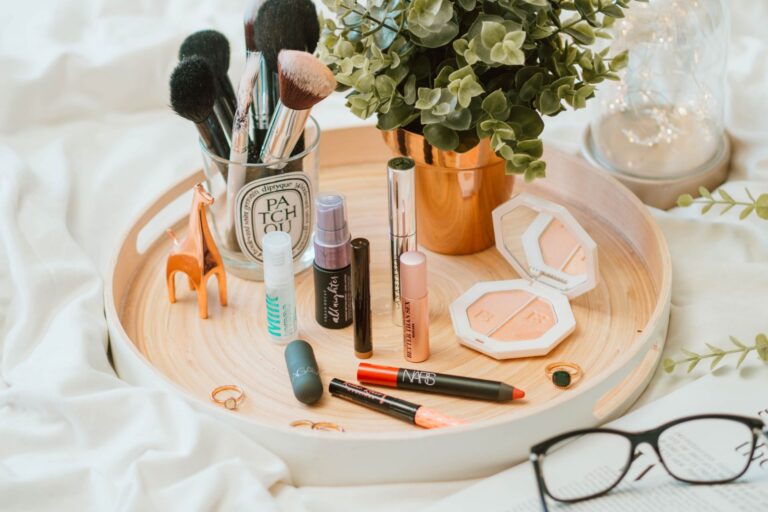 As usual, I'll probably do a review on a couple of these products so stay tuned for that! In the meantime, I already have my eyes on the Extend Your Style Set which includes a whole bunch of travel-sized dry shampoo and the Soko to Tokyo which has a whole bunch of Asian skincare products!
What do you think of this year's Sephora Favourites Set? Will you pick one up? What are you most interested in trying out?