Shopping for the Sephora Favorites sets during the holidays has become somewhat of a tradition. The value that you get out of it is often quite unbeatable and I simply can't resist having tons of new items to play with.
My favorite from every holiday season is typically their biggest, called the "Superstars" that features at least 10 items including a bunch of full-sized ones!
For 2023, we have the Sephora Favorites Superstars Everyday Must Haves this year featuring 10 deluxe-sized and 3 full-sized best everyday products you can't miss out on!
I've been extremely loyal to the annual Sephora Favorites sets – I purchased them (usually multiples of them) throughout the year. I only remember skipping one or two years,.  Most times, every time a new set comes out, it's always so much better than the previous year's.
I have to say, I think the 2023 Sephora Favorites Superstars Everyday Must Haves set is the best from the last 4 years (So much so that I might end up buying 3 of these as a treat for myself!)
I'm genuinely very glad that Sephora hasn't raised the price of these sets since I started out with makeup.
Sephora Favorites Superstars Holiday Set
Similar to the themes from past years, Sephora stuck with a formula that's worked and made sure they've got a product that will sell impressively. The carefully curated set features 10 generous sized deluxe items, and 3 full-sized items.
I love that the set is skintone-neutral – as far as I can tell most of the items with specific colors chosen by the brand comes down to a matter of preference. For the most part, everyone can definitely rock a red lipstick and neutral/champagne-colourd eye makeup!
By the way, did you know you can repurpose the box after you're done unboxing the fabulous holiday sets? I like to use them to line my IKEA Alex Drawer – they are the perfect height, very sturdy and are already well-decorated! All you have to do is trim the lid and use the box to organize you're makeup!
Another way to get the most bang for your buck when buying holiday sets, is to break them out and gift specific items to different people! They make for the perfect office Secret Santa gift. and makes the recipient think you went out of your way thinking about them! Gift giving seriously cannot get any easier than this!
The Product List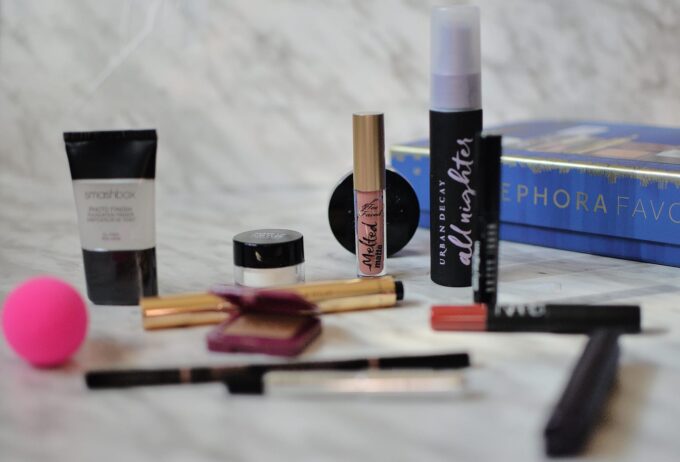 Anastasia Beverly Hills Brow Wiz in Medium Brown (Full-sized)
Bobbi Brown Long-Wear Cream Shadow Stick in Golden Pink
Kat Von D Beauty Lock-It Setting Powder
MAKE UP FOR EVER Ultra HD Microfinishing Loose Powder
Marc Jacobs Beauty Highliner Gel Eye Crayon in Blacquer
Nars Velvet Matte Lip Pencil in Cruella
Smashbox Photo Finish Foundation Primer
tarte™ lights, camera, lashes™ 4-in-1 mascara in black
Too Faced Melted Matte Liquified Long Wear Matte Lipstick in Sell Out
Urban Decay All Nighter Setting Spray
Yves Saint Laurent Touche Èclat Radiant Touch in 2 Luminous Ivory (Full-sized)
The Sephora Favorites Superstars Everyday set comes jam-packed with everything for the face, eyes and lips. I find this year's set to lean heavily more towards face makeup which I don't mind.
There are plenty of products included in here that are highly-raved about must-have, and plenty of my own favorites. I love that they've changed up the variety and that there are minimal repeats (aside from my favorite beauty blender) it appears everything else is new!
I was curious about the decision to include two setting powders here – I love the Make Up For Ever offering, but have been curious about the Kat Von D. I almost wished they included a concealer (like the NARS Creamy Concealer) or a highlighter (Laura Mercier's offering would be fantastic)in place of two setting powders.
I love that there isn't anything that caters to a specific skintone. I can see how the full-sized YSL Touch Eclat shade would be unsuitable for darker skintone. I'm a fan of the YSL Touch Eclat and on its own it costs about half of the entire set so it works out really nicely.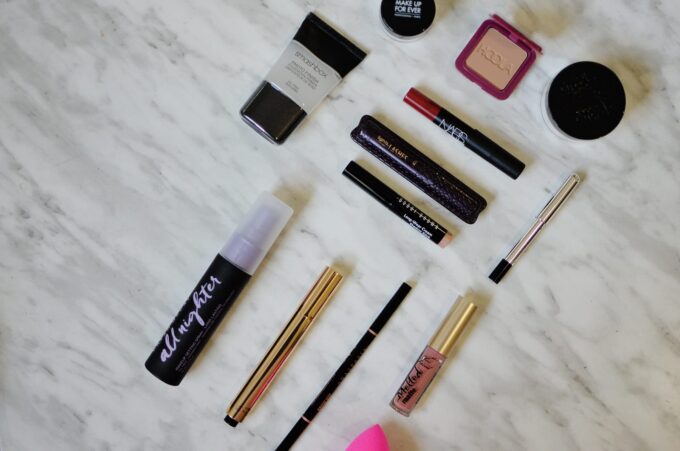 The eye makeup items are also quite solid – the Brow Wiz and cream eyeshadow stick are some of the most popular favorite products which everyone talks about a lot! I thought it was smart to include both a reddish lip shade and a neutral one.
It solves the problem of having one-color-fits-every occasion mindset! I don't really like the NARS lip offering so I may trade it with a more neutral shade.
Again, another one of my favorite holiday products that I can't wait to play around with! I love new goodies and I can see myself reaching out for every day!
What do you think of the Sephora Favorites Superstars set? Are you planning on shopping for it this year?