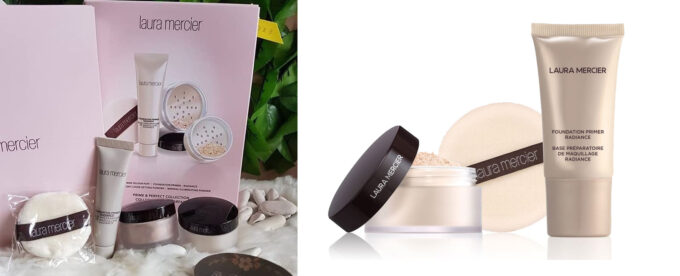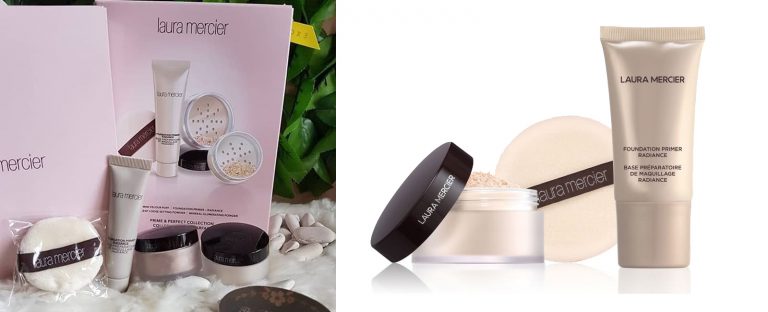 The NordStrom Anniversary Sale is a good opportunity to pick up new items and value sets from brands that I normally wouldn't splurge on. Laura Mercier is a brand I love to shop for every once in a while as their face products are some of my favourites but the price points mean I typically have to wait until a sale to actually get something. The Nordstrom Anniversary Sale was the perfect excuse to pick up this limited edition NordStrom-exclusive Laura MercierPrime & Perfect Set ($50, NordStrom) for a bargain!
The Laura MercierPrime & Perfect Set comes with the mini version of the popular Translucent Loose Setting Powder ($30-51, NordStrom) and Mineral Illuminating Powder in Candlelight ($37, NordStrom). It also comes with the puff (which apparently is quite a best-seller) and a mini of their cult-favourite Foundation Primer in Radiance.
For someone who's mostly used their foundation and highlighting powder, this set was a good way to explore more of the complexion range without breaking the bank. Although both products are considered "mini", if you add the volume of both products, you definitely get a pretty awesome bargain.
The powders are very finely-milled as you would expect with powders in this price range. I like that it's not at all too reflective in flashback photography and mattifies the skin while giving it a more even-looking finish.
The Translucent Loose Setting Powder is one of those powders that you can tell immediately will be a staple in your routine. The finish is even and lasts all day long. I hate when my powder starts to get patchy because it's been on the skin all day. I also like that you really need a little to get the coverage you need.
As for the Mineral Illuminating Powder in Candlelight is one that I feel a bit torn by. On one hand, the texture and finish and coverage of this powder are equally impressive. I didn't feel this powder does a great job at "brightening" the skin underneath. I think where this powder really shines is when you use it over a brightening (pink-based) undereye concealer. The powder helps keep the skin even and prevents any creasing, or any eye makeup from transferring. You don't need all that much product either with this so even this mini will last quite a while.
As for the primer, I felt this was the biggest downer. I know this is a favourite product of many but I personally felt this primer didn't do much for me. Either on its own or under any complexion products. I think this one where I'm glad I only got a sample so
Have you tried any of these Laura Mercier products? What will you be purchasing at the NordStrom Anniversary sale?