My relationship with dry shampoo is non-existent which means my collection of dry shampoo is at an all-time high of zero. Well, that's not really true. I've tried a couple of from the drugstore like the Herbal Essences (which actually had a really terrible pump that broke practically after using the can 3 times – total waste of money there!) and also Ruth Crilly's COLAB Dry Shampoo. However, with the beauty world always raving about so-and-so brand that costs an eye-watering $30+ to buy, I always crawled back to the old baby powder to suck up all that oil from my hair.
When Sephora released this year's collection of the Sephora Favorites products, I was immediately excited to see the dry shampoo collection. In the past, they've always had a skincare, makeup, and lip set but I believe this is the first time they've had any products for the hair which meant it had to be added to the shopping cart! The Sephora FavoritesExtend Your Style Set ($39, available here) was something I hoped would help alleviate problem.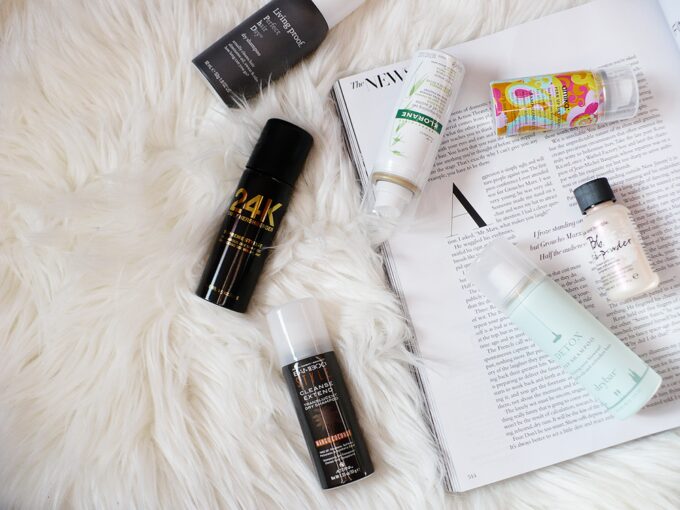 For $39, you get to try out 7 different high-end dry shampoos, both in spray and powder format. I bought this set during the VIB rouge sale so after the 20% discount, this became that much more affordable considering the price of a single full-sized on will set you back just the same amount. The seven products included are:
I don't use dry shampoo regularly so the mini sizes are more than enough for the occasional touchups or when I'm traveling. The different formats also means that they are practical for different functions. I've been going through each of these one at a time – saving them for future uses – but I can tell you that so far, both the Bumble and Bumble and Drybar are taking the top spot as my favourites!
I've found that this set has sold out several times online, so I can only guess that it's quite a popular one. One reviewer on Sephora calculated the approximate value of this set to around $80 (vs. the $91.50 value that Sephora estimates) which is a really great value if you have been wanting to try a couple of these brands out without shelling out too much money. I find that Sephora Favorites sets to be some of Sephora's best-selling products and I've discovered a number of favourites through it. If you're running low on your favourite dry shampoo or looking for a few travel-friendly sizes to take with you on your next trip, this is highly recommended by me!
Have you used dry shampoo? Which brand is your favourite? What do you think of the Sephora Favorites Extend Your Style set?