For an authentic Dubai experience, there's no further place to look other than doing one of the well-known Dubai Desert Safari Tour. If a desert adventure, adrenaline-rush, one-of-a-kind experience and jaw-dropping views are your kind of thing, then this is the perfect full-day itinerary for you. Red sands as far as the eye can see, Bedouin camps dotted all around the desert, the eerie quietness of the desert, and the howling of the winds will get all your senses tingling before you even get started!
Our group agreed on getting a full-day safari experience. We were picked up promptly at 9am at our hotel, and driven to their rental area which was about a 45 minutes ride. As we were waiting for the vehicles to become available for the dune bashing, we were offered to do the ATV rides as well – pretty fun and unique experience which costed AED100 (roughly $33). It was a little pricey for what it is, but when else can you say "I've rode an ATV in Dubai?" There's a lot of sand sculptures for sale here and I bought one for my family! I had some coconut water while waiting for the quad bikes to be ready.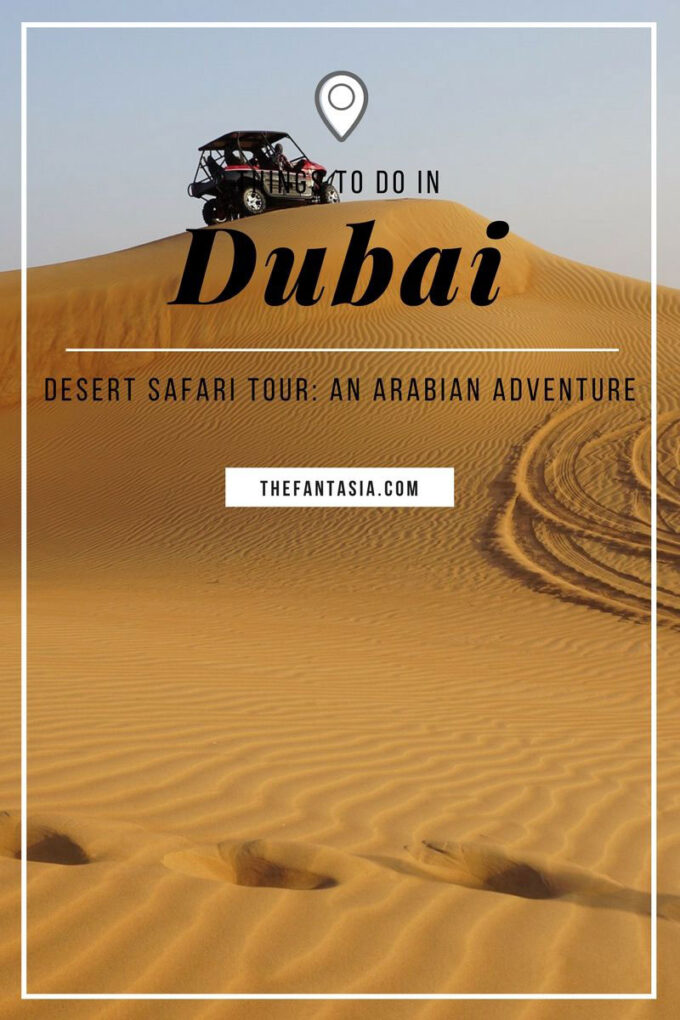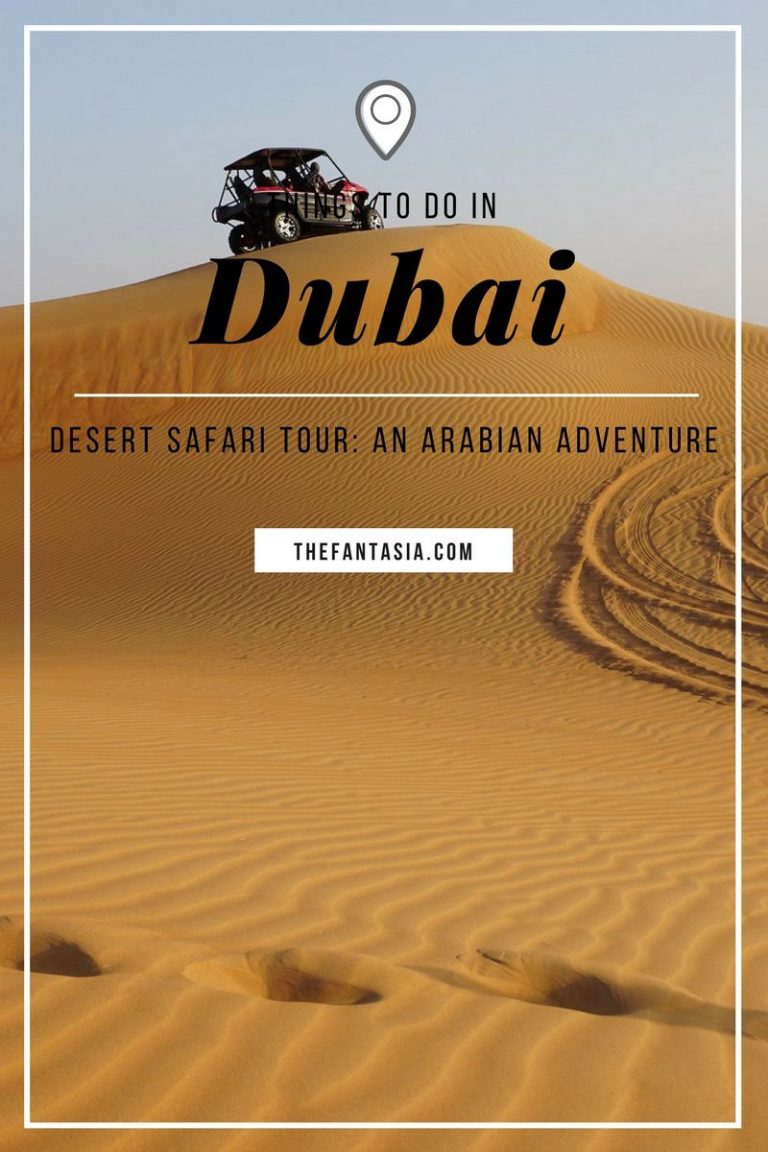 An Arabian Adventure for all Ages
The Dubai Desert Safari tour is something that everyone passing through Dubai should do irrespective of your fitness level, age or travel style. Dubai's desert is quite something and a desert safari experience is not something you'll regret!
Most hotels can organize this tour for you the day before, or you can arrange it yourself. Most tour operators in the region know how popular these tours are so there are plenty of options to choose from including a half day (morning or evening), or overnight. There are also plenty of additions (for an added fee) including the quad biking or sand skiing that you can add on the day of the tour.
Dubai Desert Safari Experience
After a brief waiting period, we proceeded to start with our desert safari tour which included dune bashing, BBQ dinner, belly dancing show, camel rides, and picture-taking opportunities throughout the tour. The dune bashing actually lasted almost an hour, and it was a thrilling experience. I advise not to have a full or large meal prior to this otherwise you'd spend the whole time feeling quite sick – some granola bars, nuts, or sandwiches should be fine!
The drivers had no GPS, and all around, you can only see red sand. It's amazing that they are able to navigate their way around the desert without getting lost while bashing the sand dunes! Dune bashing may look and sound scary at first, but all the cars are fitted with a roll cage and have functioning seat belts.
The sand was actually redder than the pictures show and surprisingly chilly – we had to have our sweaters on so it's a good idea to bring a layering piece. Another important item to bring is sunglasses or a hat – something to protect your face from the elements and blowing sand.
The biggest inconvenience I felt through the entire experience was how crowded the desert was. Although it is a vast desert, you could see other cars/operators around which I think made it feel less of an authentic experience. Plus, I'm concerned about how much damage is being done to the area with so many jeeps, cars, quad bikes and people running around the desert.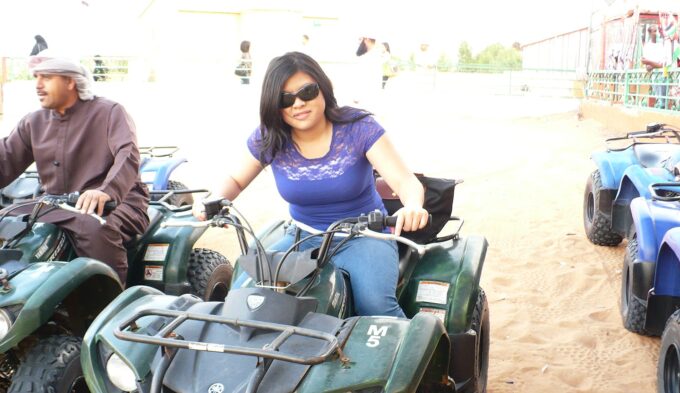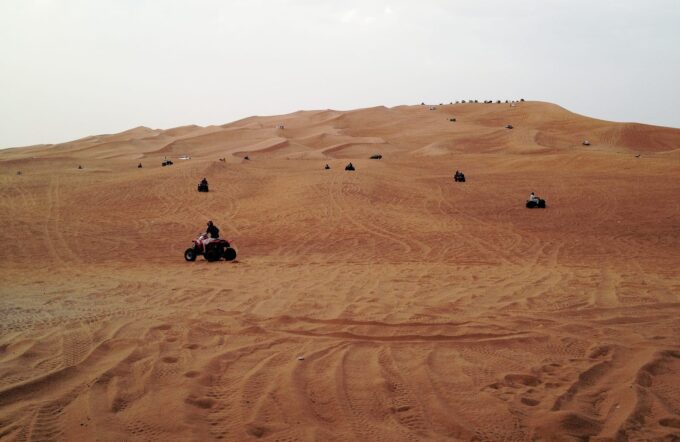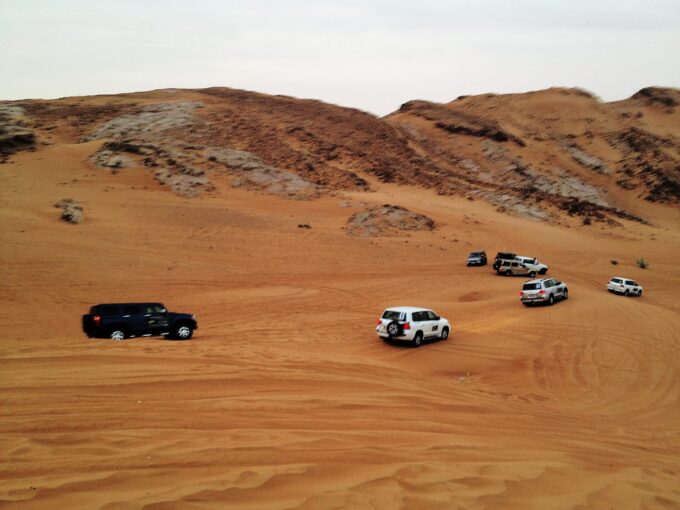 A Taste of Dubai Hospitality
Included in most desert safari package, is a taste of Dubai hospitality provided through a traditional dinner served in the camp with other guests. You could pay an extra fee to ride a camel which we paid for but did not enjoy as much – you went around in circles outside the gate for about a minute. It was highly overpriced and not an authentic experience to say the least – there seems to be a feeling to upsell the tourists as much as possible.
We continued into the evening with a belly dancing show and dinner, which was a self-serve buffet with plenty of food with options even for vegetarians. There are a number of booths and stalls around the camp, so you can enjoy shisha, a quick camel ride or henna painting as you relax into the evening.
We finished off the evening by being driven to a different spot in the desert, where you can lay down on the cool sand, and look up at the clear night sky. There were still light pollution around the camp and the desert so we couldn't get pictures worth sharing, but it is still something unique that I would not have otherwise experienced!
I can't remember which company we did our tour with but TripAdvisor recommended Desert Safari Dubai. For reference, we paid USD$60 a person and that was for 11 people back in 2012. So the tour must have costed USD$660 or close to AED2310 for 11 people. I highly recommend taking a desert safari tour if you can – it was a memorable experience and something you can't always do!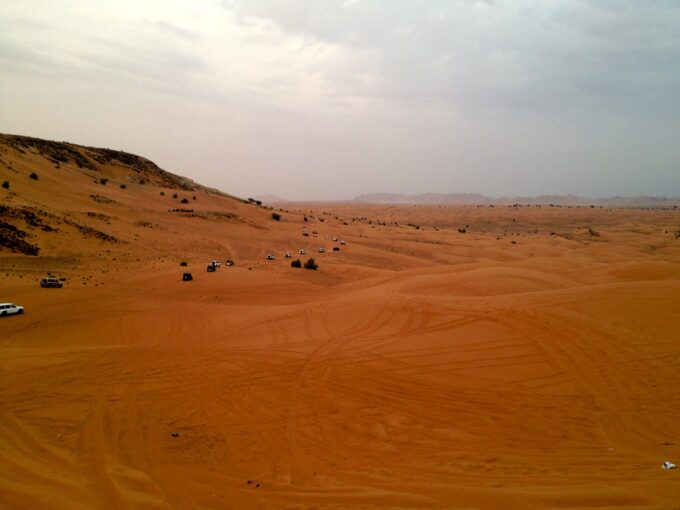 We were driven back to the city, but instead of being dropped off at the hotel, we wanted to see the Dubai Fountain at the Dubai Mall. We were pretty exhausted at this point and slept through most of the ride. Loved seeing the fountain which reminded me of the ones in Singapore (Sentosa Island). Now that I have seen both, I can quite say that I liked Singapore's better as it was more interesting with the colors. The only difference between Singapore's and Dubai is that the one in Dubai had music playing along.
What You Need to Know
Getting to the desert: your tour operator should be able to arrange pickup and drop-off at your hotel or convenient locations around Dubai; no need to make your way there yourself!
Camera: Don't skip bringing your camera or iPhone – they said the sand can damage your camera, which is absolutely true but not as long as you look after it properly. I brought my iPhone for the experience
Don't forget to bring: Sunscreen, hat, sunglasses and a layering piece. Protect your body from the elements and blowing sand (because getting sand in your eye really hurts). The desert cools down significantly during the evening, so bring a sweater
Currency: The United Arab Emirates Dirham is known as the Emirati Dinar trades for CAD$1 = AED2.95. It is currently pegged to the USD dollars at a rate of 1 USD = 3.6725 AED.
Getting Around: Dubai has an extensive, brand-new and very modern public transportation system. I never took it as my group preferred to travel by taxi given the short amount of time we had in the city.
Don't Forget: While Dubai (and the UAE) is a progressive Arab nation, showing and respecting local customs never hurts. When dressing err on the side of conservative where possible. Although the city is highly accustomed to tourists, and there are plenty of expats around, Dubai is still a country that observes a more strict view of the world
One more thing: Dubai is one of those places where you can skimp once in a while. Attractions like the Desert Safari Tour or Burj Khalifa shouldn't be skipped, but the malls can be!