The AlgenistOvernight Restorative Cream ($108, available here) is a rich, super moisturizing night cream packed with alguronic acid. Unlike the hyaluronic acid which is used a lot in most skincare products for its hydrating properties, this is only the first time I've ever heard of the alguronic acid and its properties. Alguronic acid has powerful regenerative properties and is often used for restoring the skin's elasticity, and cellular reproduction system. I had an opportunity to try this product thanks to a free perk code from Sephora, and I don't usually like recommending skincare (especially since they cost an arm and a leg) mostly because skincare is very subjective and different to each individual. However, this is probably one of the better night creams I have come across and I felt that it is absolutely worth sharing especially if you are in the market for a luxury night cream.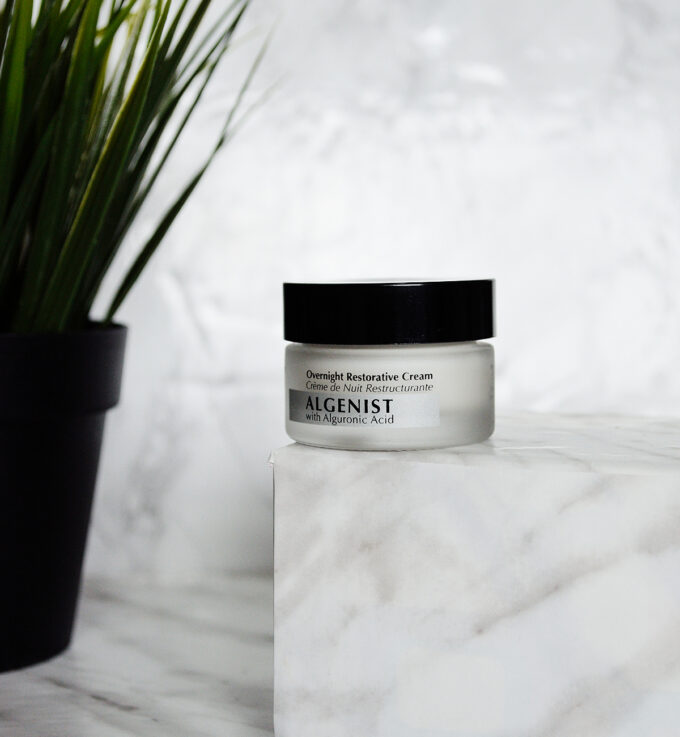 Rich, intensive, and very moisturizing, this moisturizer/night cream is the liquid gold of my night time regime. I use this night cream very sparingly because I am very paranoid that it will run out. The scent is very light and pleasing. The cream goes on like a lightweight balm, and absorbs very quickly into the skin. A little of this product goes a very long way, and I find tapping the product is far more effective than rubbing it. Having used this product for a while, I have noticed that my skin is a lot more glowy, supple and hydrated. I credit all those improvements to this amazing moisturizer since I have not made significant changes to my skincare routine. It doesn't have a heavy/greasy feel to it like most other night creams.
This would be a great moisturizer/night cream to try if you are in need of a new moisturizer that is rich, and lightweight. If you hate that greasy feeling or the heaviness often associated with night creams, this is a product worth checking out, especially given this amazing beauty deal!
Where to Buy: Sephora ($108)
What do you think of this beauty deal from Sephora? Will you be trying it out? Share your thoughts with us in the comment section below!