If this past weekend's spring-like weather have got you pulling out the bright nail polish, wedges, and tucking away that parka, then this collection is going to get you totally excited! Guerlain is pulling all the stops, and I mean that quite literally, with a collection that is so bright and colourful, that's instantly going to make you forget about cold, grey days. The best part is that this collection has hit counters, so if you see something you like here, pop by your nearest Guerlain counter, The Bay or Holt Renfrew to check out these products!
The inspiration behind the Guerlain Spring collection is all about the celebration of joie de vivre! It's all about having a vibrant complexion and bringing that radiant glow to life. The packaging, from bright red chrome, to rose-gold to an updated compact look, Guerlain has brought out only the best for this season's look! The Guerlain Spring Glow collection features a complete full-face selection of beauty products which I'm excited to walk you through!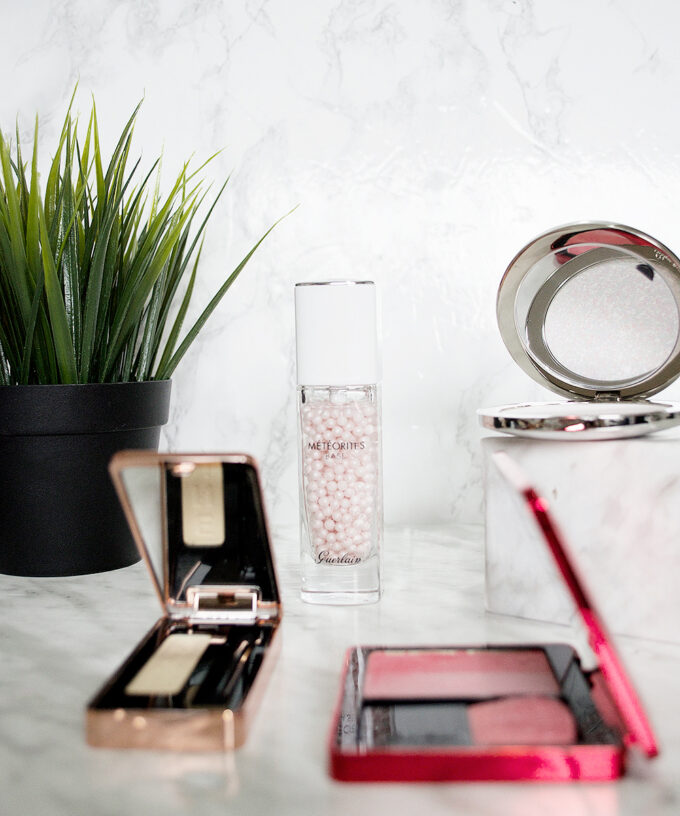 Météorites Base
The beautiful GuerlainMétéorites Base ($81, available here) is a light-diffusing, and skin-perfecting base that is infused with a high concentration of pearlescent particles, a blend of powders/polymer and colour-correcting micro-spheres. I can't tell you how much of a pleasant surprise this product was! I had expected to feel indifferent to this primer, but it blew me away even after only using it once!
With only 1-2 pumps (that's enough for the entire face), the primer blurs imperfection and creates an illusion naturally healthy, and radiant skin. I've been struggling with dull, tired skin compounded by the fact that I've not been eating as healthy as I should, so my skin looks so ragged. This primer is an instant fix for tired skin, and I can't say I've come across anything like it – while most primers hide pores, and evens the skintone, none actually creates an illusion of a healthier skin so that even before the foundation, my skin looks so much healthier that even my colleagues even noticed!
Météorites Voyage
The iconic GuerlainMétéorites Voyage ($210, available here) météorites pearls has an update from last year's Météorites Compact Light Revealing Powder. I was incredibly impressed by the previous formula and raved because it was my Photoshop powder which puts Hourglass' Ambient Powders offering completely to shame.
This year, the Météorites Voyage is completely unforgettable – the refillable compact (refills are $74) has miniature coloured pearls pressed together in a brand new silver/white case. If you haven't heard or tried the famous Guerlain products that feature these colour-correcting pearls, you need to! They are somewhat of an icon and have cult-ish following in the beauty world. It's a status symbol that says, "You've made it!" in the beauty world!
Guerlain suggests to apply the powder in a G motion over your face, starting with the forehead, cheekbones, nose and finishing off at the chin!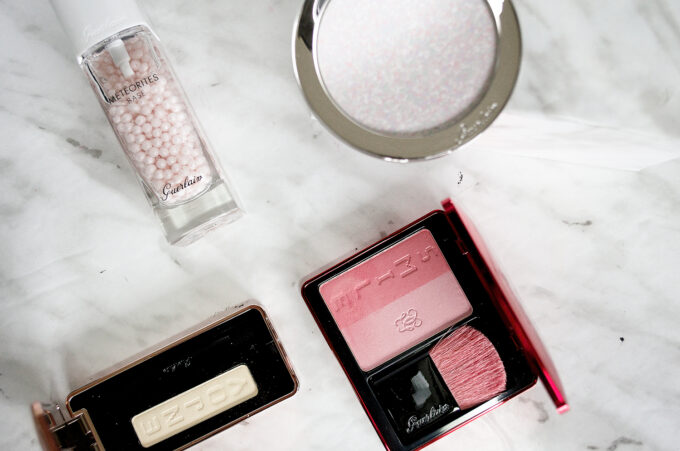 Rose Aux Joues Blush
Continuing with making the cheeks pop, the Rose Aux Joues Blush ($73, available here) with the split-colour, combines two universally beautiful, and brightening pink shades that is just all about spring. The blush is encased in a bright red, chrome compact with a matching blush brush and has the word "Smile" printed on it to remind you to smile before applying the blush. The colour is a shade of universally flattering pink that suits a lot of different skintone.
Unfortunately, the quality between the two was surprisingly different. The darker shade was exactly what you would expect from Guerlain – light, smooth and pigmented. The lighter shade was much more chalky and less pigmented. As a result, you will definitely want to swirl the two colours together to get the right colour payoff.
Ecrin 1 Couleur – Enjoy
The lovely buttercup, light yellow long-lasting eyeshadow, Ecrin 1 Couleur – Enjoy ($39, available here) is all about bringing the sparkle in the eyes to life. The shade is not something most brands would release as it can be very hard to pull off. However this shade is really meant to be applied to brighten and highlight, so appropriate placement is key! The colour has a light shimmer to make the eyes pop. There is a double sponge-tipped applicator included in the rose-gold packaging – one tip to apply the colour all-over the lid and the pointed one to highlight.
This collection has been such an exciting one to write about! The pieces are fun and sure to be an investment piece. As these are products from Guerlain, they are undeniably a little bit more of an investment than the typical purchase at Sephora! If there is one particular piece I would recommend getting, it would be theGuerlainMétéorites Voyage. I know, it costs several times over a regular powder but this limited-edition powder that features the colour-correcting pearls that Guerlain has become so famous for is the most unique product in the entire collection!
What do you think of the Guerlain Spring Glow collection? Which one is your favourite?
---
Disclaimer:
This post features product(s) provided for editorial consideration. All opinions are my own. For more information about my review policy, please
click here
.
---