Nobody liked the Stepmother from Cinderella, and sometimes I feel like I'm one. You know when you favour one product, or one brand so much that you forget or forego everything else in your stash. Yeah, I know. That's sometimes called "holy grail products" or "staple products" but doesn't it make you feel like a stepmother sometimes? It doesn't help that every time I type stepmother in this post, I always end up writing "Stephmother" – as if I am trying to convince myself I'm one.
Make Up For Ever has a way of making me feel like one every once in a while. 2015 was a year of a massive number of launches, and I can't imagine working in product development or marketing! Kudos to you guys! I barely have the energy left after doing two updates-type of project!
This year, a ton of my favourite products (even if I occasionally forget to talk about them on the blog) are Make Up For Ever's complexion products, primarily the bases. I truly believe that Make Up For Ever does one the most extensive range of colours, variants and problem-solving products that I've seen in the market, so it goes without saying that there's no cookie-cutter approach to their products.
You have a problem? You go to the Make Up For Ever website check out their extensive range of products, and find something that works for you! PS. The website has been updated so you can sign-up for a profile and write reviews directly on there!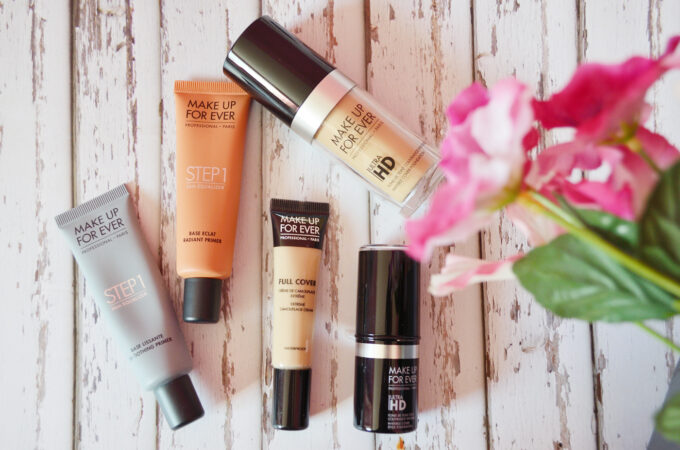 + Make Up For EverUltra HD Foundation ($50, available here)
When I received the press release about this foundation's reformulation, I was a little bit taken aback. Why take a good product and try to fix it? Well, it's obviously to make an excellent product. Oh and also to keep up with today's ever changing demands of even better camera resolution. The original HD Foundation had 40 shades, and they kept that up with this reformulation! At a glance there isn't much of a difference in the bottle but if you like the original, the Ultra HD is a must-try! The coverage is slightly less than the original so that was a little disappointing, but nothing that the Full Cover Concealer can't fix! It is also one of this year's Allure Magazine Best of Beauty award winner! On my NC25 skintone I use #125 (Old HD shade) = Y315 Sand (New Ultra HD shade).
+ Make Up For EverUltra HD Invisible Cover Stick Foundation ($50, available here)
Alongside the Ultra HD relaunch, the brand also brought out the Make Up For EverUltra HD Invisible Cover Stick Foundation which with a sheer to full-coverage multi-purpose stick foundation that you can stick in your bag. What I like about this is how much control you have over the coverage – a sheer touch up? Covering a really bad skin day? Missed a spot because you were running late? It's the product you want to have handy on you when running between work and an evening of fun with your girlfriends. It's so slim and tiny that it will fit virtually into any purse so there's no excuse! On my NC25 skintone, I use 125 = Y315 Sand and 118 = Y325 Flesh.
+ Make Up For EverStep 1 Primers ($43, available here)
When I was referring to that no "cookie-cutter approach" from the brand, I definitely was referring to this product. The Step 1 Primers come in 13 different variants, divided into two separate sub-categories: textures and tone. The range was created to target specific skin "issues" that one all-you-can-do primer might not be able to fully issue. You can mix and match the primers between the two categories, and there's just so many ways you can use this product, it's almost like the Starbucks drinks for makeup – you can combine any two (or more!) to your heart's content!
+ Make Up For EverFull Cover Concealer ($37, available here)
When I have a really bad skin day, this is the concealer I turn to. It's no longer the MAC Pro Longwear Concealer – because my skin loves this product and the Make Up For EverFull Cover Concealer hides even the reddest and vein-iest thing on my face without fail. Each and every time I wear this, I get so blown away that I almost think it's not real.
What are some of your favourite Make Up For Ever complexion products? Which ones are you most interested in trying out?
---
Disclaimer:
This post features product(s) provided for editorial consideration. All opinions are my own. For more information about my review policy, please
click here
.
---