Colleen Rothschild is currently running a winter sale on winter skin savers, moisturizers & exfoliators. If you live in a cold climate, it's a good time to stock up on skincare goodies!
Best Choice
Don't Miss
Also Consider
Colleen Rothschild Beauty Radiant Cleansing Balm, 3.30 Ounce
Colleen Rothschild Beauty Intense Hydrating Mask, 2.4 Ounce
Colleen Rothschild Beauty N 9 Face Oil, 1.01 Ounce
Best Choice
Colleen Rothschild Beauty Radiant Cleansing Balm, 3.30 Ounce
Don't Miss
Colleen Rothschild Beauty Intense Hydrating Mask, 2.4 Ounce
Also Consider
Colleen Rothschild Beauty N 9 Face Oil, 1.01 Ounce
In this review, I will test the much-hyped beauty brand of Colleen Rothschild. 
Lately, this brand has been making waves in the beauty community. They have been getting fantastic press from established beauty blogs. Even the likes of Vanity Fair magazine have been praising Colleen Rothschild.
I decided to see what all the fuss is about by giving you a quick outline of what Colleen Rothschild has established. I was excited to test some of their best-sellers. I also took the time to get to know a bit of history behind Colleen Rothschild. 
This Colleen Rothschild review is divided into the following sections:
Review of Colleen Rothschild Products
I will hereby present you with a quick review of Colleen Rothschild products. By testing the best-sellers, we will get a solid idea of how these products work.
Due to summer days approaching, I was planning on taking my skin-care routine up a notch anyway. Since my skin tends to be on the sensitive side, I am the perfect candidate for experimenting with a new routine.
Colleen Rothschild Beauty Radiant Cleansing Balm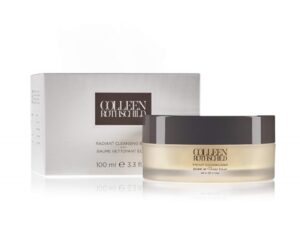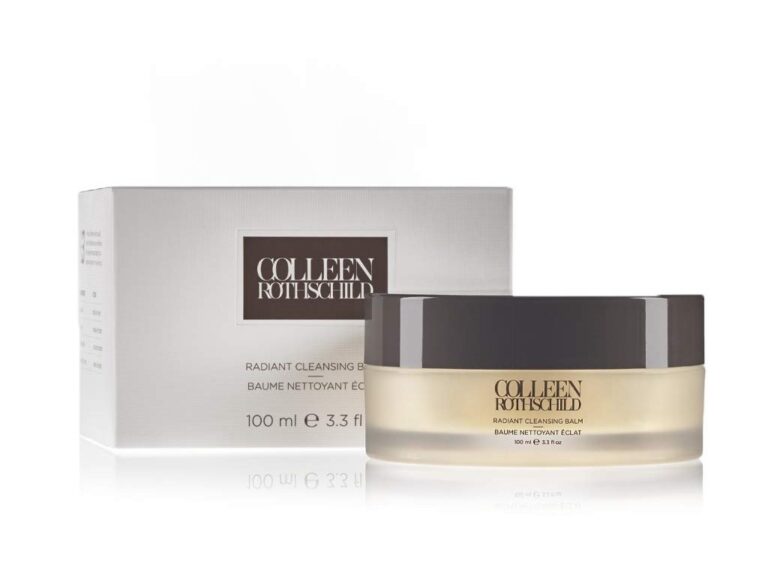 Right off the bat, we start the list off with a winner. I would have never guessed that a facial cleanser could be so multi-dimensional. While the price of the Radiant Cleansing Balm might seem a bit steep at first, trust me when I say that this is far from just a cleanser.
The creamy texture of the balm feels amazing on the skin and all the make-up residue from the day gets gently removed. Here is where the multifunctionality of the product comes into play. After using the cleanser, your skin will not only feel clean but also very well hydrated.
After a week of use, the price of the product was all but forgotten. Throughout the years I have had problems with mild adult acne. The problem tends to intensify after a new skincare routine.
Absolutely not the case here, my skin has improved drastically in a very short amount of time. This is one of the products that will stay in my skincare rotation.
Colleen Rothschild Beauty Intense Hydrating Mask



If you are like me and tend to suffer from dry skin from time to time, the Intense Hydrating Mask is your product. The winter period especially tends to be destructive on even the most cared for skin. The spring is an ideal time to provide your skin with a hydrating routine.
The loyal customer base of Colleen Rothschild often mentions just how fast the routines work on your skin. This is one hundred percent true. While quick-fix solutions are hard to come by in the beauty world, this is an exception. Leave the mask on for overnight and you will be stunned with the results.
By morning your skin has soaked in all the precious fluids and vitamins. The mask also has a lovely tightening effect which will work wonderfully on those stubborn wrinkles. Your skin will feel ready to take on the world with a healthy glow All in all, I absolutely understand why this mask is one of the trademark products of Colleen Rothschild.
Colleen Rothschild Discovery Kit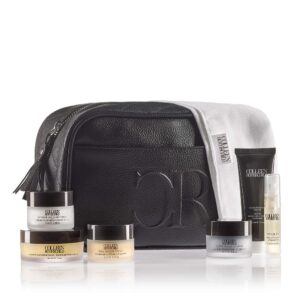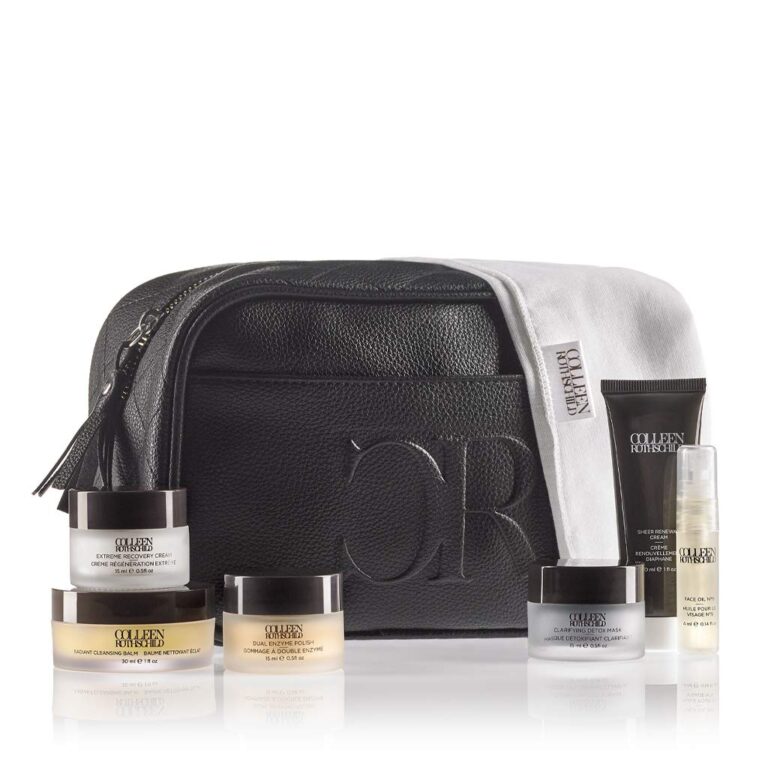 When it comes to cosmetics, discovery kits are an amazing trend, and Colleen Rothschild's Discovery Kit is no exception. When you want to give the brand a genuine try but have not decided on which products you specifically need, this is the perfect solution.
You will get a fantastic starter pack of a great skincare ritual. The included written instructions of use are especially helpful for building a genuinely great care regime. The products are packaged in a gorgeous cosmetic travel bag. Due to the fantastic packaging, this would also make for a perfect gift for your fellow beauty enthusiast.
Colleen Rothschild Retinol Oil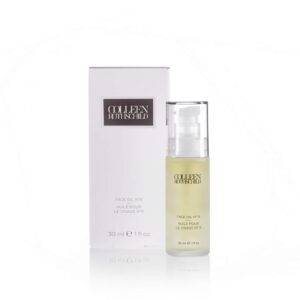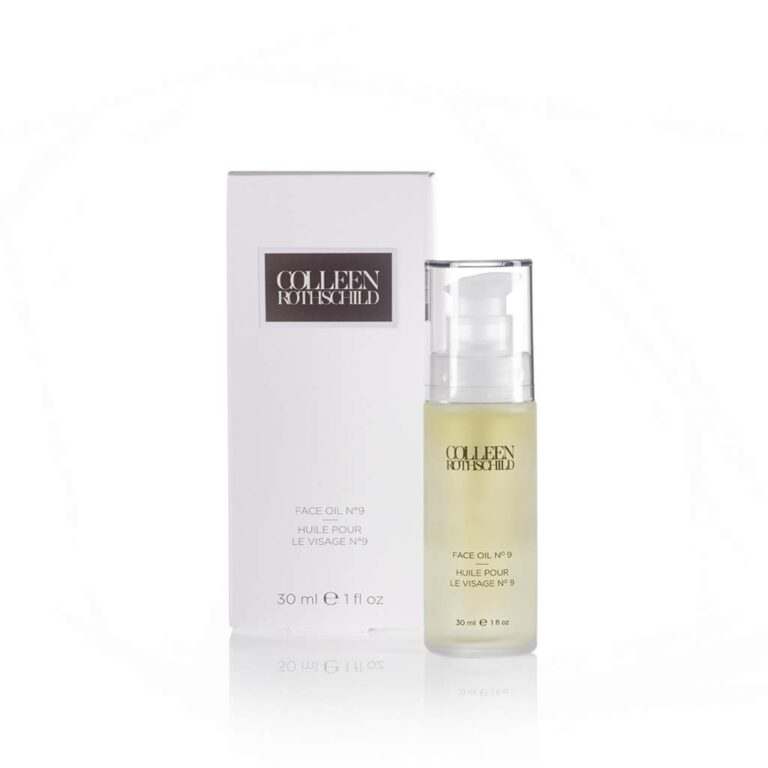 Retinol has been described as having an almost miraculous anti-aging and moisturizing benefits. I have tried various retinol oils to combat my dry skin before. Usually, my dry skin reacts to oil-based products by having an adverse reaction and going completely oily.
I was so relieved to see that this is not the case when it comes to this oil. The oil nourishes and exfoliates the skin without leaving it too greasy. Long-term users have mentioned that the oil does wonders for their overall complexion. From my short experience with Colleen Rothschild's Retinol Oil, I have no reason to doubt the long-term effects of this oil.
Who is Colleen Rothschild?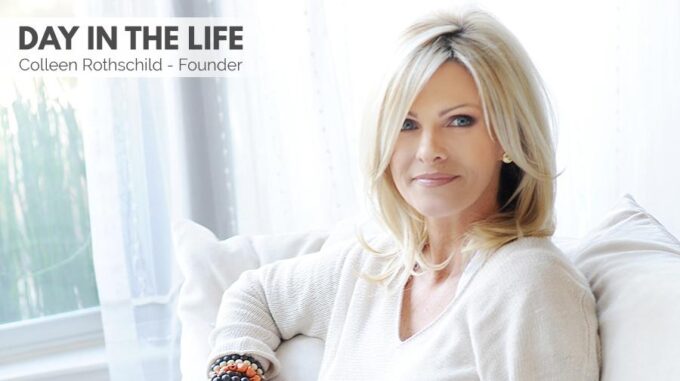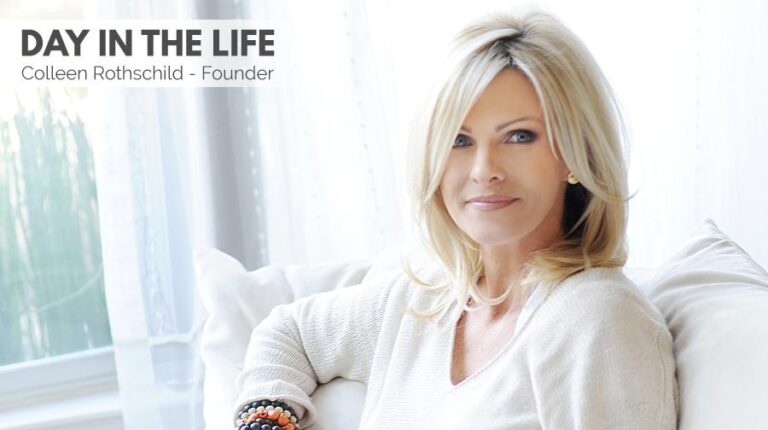 Colleen Rothschild has been working in the beauty industry for 20 years. After working behind the scenes in the industry for a vast amount of years, Mrs. Rothschild set out to launch her beauty brand. Her in-depth experiences in the industry allowed her to understand all the needs of a modern beauty-enthusiast.
Mrs. Rothschild has always been driven by her passion for improving how women view themselves. The Colleen Rothschild brand is innovative and modern yet somehow retains an intimate quality. This is possible only due to extreme love and effort poured into the brand my Mrs. Rothschild. 
Are Colleen Rothschild Products Safe?
Colleen Rothschild's skin and hair care products are safe to use. All the products of the brand are a perfect blend of natural ingredients and the innovations of modern science. Mrs. Rothschild has 20 years of experience in the cosmetic industry.
She has perfected the art of developing products suitable for a wide array of customers. Whether you are suffering from allergens or have extremely sensitive skin. Trust us when we say that you will find a product suited for your skin and hair from the wide range of products available.
The customer service of the brand is exceptional. If you have any questions regarding the ingredients used, do not hesitate to contact Colleen Rothschild.
Colleen Rothschild is also environmentally conscious and forward-thinking. The brand deeply condones animal testing. Each product of the line is one hundred percent cruelty-free.
They have yet to release a vegan-friendly product though. I will get to that in a later chapter.
Considering that the brand is not all-natural, the level of safety is still magnificent.
Advantages of Colleen Rothschild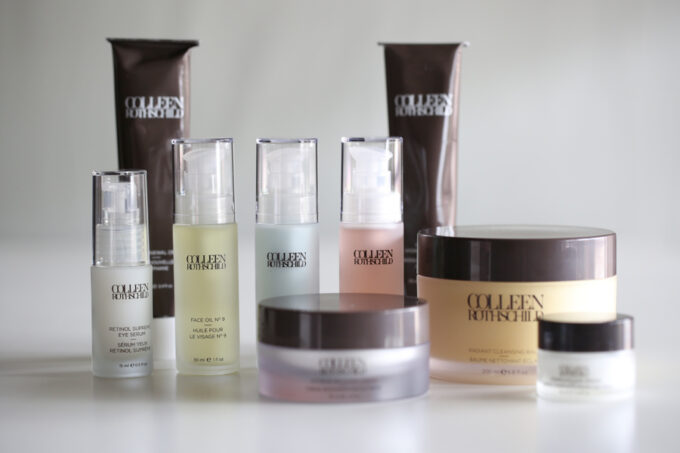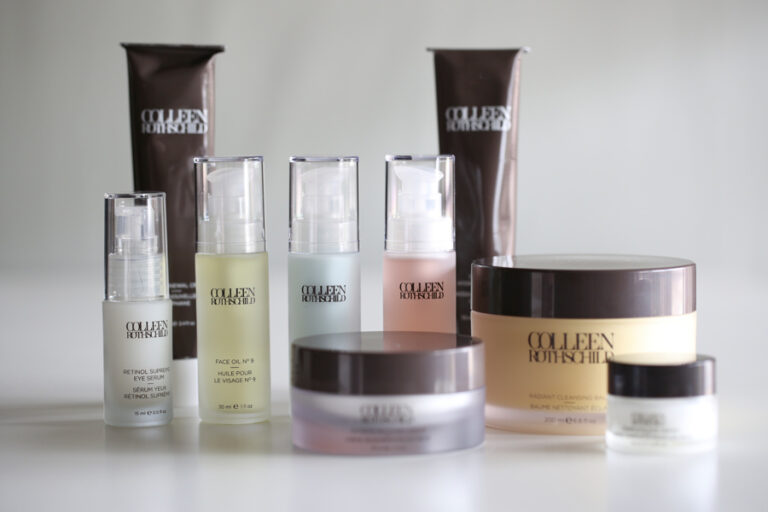 Excellent customer service
Simply put, the care this brand has for their customer is exceptional. Should you have a question about a certain product, the e-mail or call shall be answered in a professional manner. The consultants will gladly assist you by providing tips for your routine. Colleen Rothschild does not have an extensive employee list.
Meaning that each and every member of the team takes time to provide the best possible care for the client. Should you be dissatisfied with any aspect of a product, they will gladly offer you a full refund on your order. This is not one of those hot air offers, they are genuinely confident in all their products.
You will feel a personal touch when interacting with the team. This is the reason that I would advise ordering directly from Colleen Rothschild. The guarantees and the service are worth it.
The design
Every product from both the hair care and skin care line is beautifully packaged. The bottles look sleek and minimal and only contain important information. This seemingly unimportant detail is a huge factor when you are considering Colleen Rothschild products as a gift.
User experience of the website
Just as the design of the bottles, the official home page of Colleen Rothschild is beautiful and exceptionally organized.
The homepage excels in functionality, being very easy to navigate. I was especially impressed by the listing that allows you to choose your specific skin concern. After your selection, you are presented with a list of suited options for your concern.
There is also an up-to-date blog with posts directly from the founder, Mrs. Colleen Rothschild. Overall, the webpage does a wonderful job of conveying what to expect from Colleen Rothschild.
Wide range of skincare products
The range of high-quality skincare the brand has is astounding. If you feel as if your skin issue is not listed on the official webpage, contact the company directly. They will be glad to offer you a free professional consultation and advise you on the best product and regime for your concern. Whatever concerns you have with your skin, Colleen Rothschild is highly likely to have a suitable product.
Disadvantages of Colleen Rothschild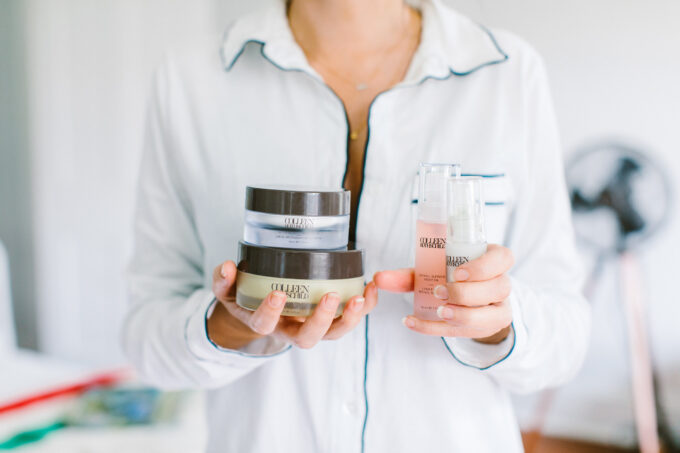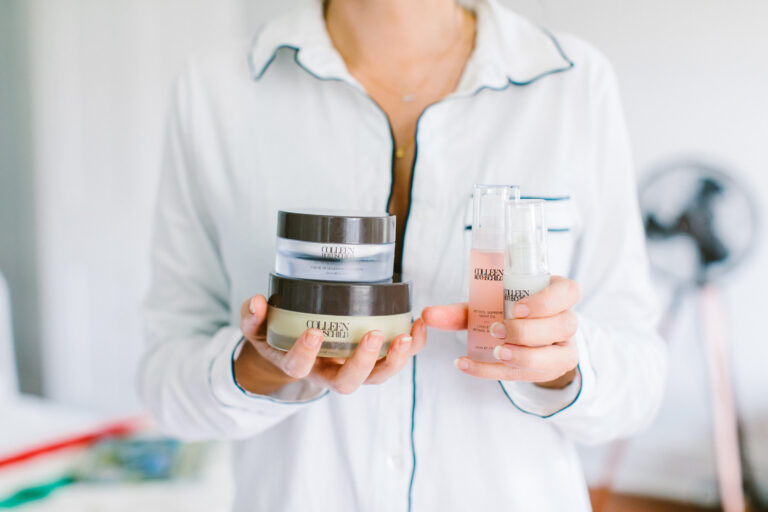 Lack of hair care products
Although there are several products for hair available. It is clear that Colleen Rothschild has established itself in the niche of skincare products. The products available for hair are rather basic. If you have specific hair-related concerns, you would need to incorporate products from other companies as well.
To be fair, what they have available so far is great. I tried the restorative shampoo and found the product to be great.
Since I was so amazed by the skincare from Colleen Rothschild, I would be more than happy if they would expand their range. I, for one, would surely be trying out the releases if they ever expanded their range of hair products.
Lack of vegan-friendly products
Even though Colleen Rothschild clearly condones animal testing, the brand is not vegan certified. Many of us have opted for a vegan lifestyle and will unfortunately not be able to test these wonderful products.
Since the company has such a wide range of loyal customers, I have high hopes that they will release a vegan-friendly line in the near future.
Conclusion: is Colleen Rothschild Worth it?
All in all, I was very satisfied with my review of Colleen Rothschild. Colleen Rothschild has carved itself a beautiful niche in the category of skincare. The easy-to-navigate website leaves a great first impression and you will easily find what you are looking for. The purchasing experience is fantastic. All the necessary information (shipping, ingredients, refund terms) is easy to find. The products themselves are also great.
The general price of the brand is a bit higher compared to drugstore cosmetics. However, I would say that the quality is worth the price. Colleen Rothschild clearly has a vision of offering excellence in customer service and the final product. The main thing I noticed is just how quickly all the tested products make a visible difference.
I will be keeping some of the products of Colleen Rothschild in my skincare rotation. If you are looking to upgrade your skin routine, Colleen Rothschild range is surely worth a try.